Embedding ESG principles in construction
01 Nov 2022
Long Read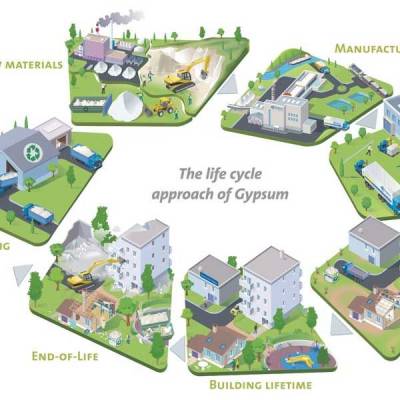 With the growing consciousness around the planet and the repercussions that human activities have on it, sustainable initiatives emerged as key focus activities for businesses. Nonetheless, in most cases, these initiatives did not always translate into holistic action with measurable goals. However, the past couple of years has been a welcoming change. Green initiatives are no more a smaller segment of the larger business model but are now taking centre stage as a core part of the larger business objectives of organizations. This has especially been observed during the pandemic. According to a Kantar study, consumers are more concerned about sustainability since the pandemic than they were before the outbreak. Similarly, in a study conducted by pollsters Ipsos Mori, 65 per cent of global respondents said, climate change must be prioritized in the economic recovery after the pandemic.
In line with this, businesses are gradually adopting sustainability and developing products and services to holistically contribute to it. One industry that has been a prime contributor to global warming but is at the threshold of redemption is the construction sector. New ways of developing green lifestyles such as 'Biophilic Design' - an innovative technique to design buildings, where nature is at the heart of the construction, are being introduced and adopted worldwide. Incorporating these new ways is the first step to a long-term solution and paves the way for a more sustainable outlook in the construction industry. Spanning the world at large, green construction and green buildings are becoming increasingly popular and escalating in demand.
The reason behind the success of green buildings is that they are constructed in such a way that inefficiencies are minimized and advanced materials science is utilized to reduce overall emissions even during construction. Both in their production and installation, modern green building materials can significantly cut overall carbon dioxide emissions. For instance, when compared to the industry standard, green buildings that have earned the Green Star certification in South Africa have been found to save between 30 and 40 per cent energy and carbon emissions per year, as well as between 20 and 30 per cent potable water. Thus, at Saint-Gobain, we aim to have all gypsum boards, gypsum tiles, plasters & glass products range verified under Environment Product Declarations (EPD) to ensure sustainable practices. An estimated 80 per cent of products are verified with EPD basis life cycle analysis. To further tackle the issue at a grassroots level, Saint-Gobain Gyproc also practices, responsible sourcing with 88 per cent suppliers covered by the supplier charter.
An interesting thing about green design is that the measures taken to preserve the environment from excessive carbon dioxide production also have the added benefit of lowering the owner's overall maintenance costs. This change is also at the back of the fact that green architecture, by definition, is built to last without requiring constant maintenance or refurbishment, and to operate in harmony with nature rather than against it. Thus, brands are incorporating sustainability in their products and as a core value for the business. For instance, at Saint-Gobain Gyproc, the development of innovative and efficient interior building solutions is undertaken while remaining resolute in its commitment to seeing its sustainability strategy succeed in practice. Gyproc integrates this approach at each stage of the product's life cycle and strives to minimise the environmental impacts of these products at every single juncture, making sustainability a prime factor for the brand.
As the demand to minimise carbon and emissions footprints grow, adopting new technology, tools and softwares to boost productivity and provide smart solutions has become a vital aspect of 'green' architecture. This is true for residential, commercial, and industrial construction projects. A case in point is the Green Building Council, present in India for approximately two decades, and has aided the country's architecture in becoming more sustainable. The fact that India had 24.81 million gross square metres of LEED-certified space at the end of 2018 is proof of the country's growing interest in this change.
At an organizational level, we at Saint-Gobain are very well aware of the environmental implications of our business and hence have achieved and set significant goals for enabling the transition. Today, Saint-Gobain Gyproc is estimated to reduce 18 per cent CO2 by 2025. In addition, the brand also aims to actively promote usage of Biofuels and renewable energy in manufacturing.
Businesses from all industries are concentrating on the "E" branch of the ESG (Environmental, Social, and Governance) tree for all the right reasons. Businesses of all sizes are demonstrating their commitment to, among other environmental goals, the development of renewable energy infrastructure and the reduction of carbon footprints. The social and political principles, which are equally important to international regulators, must be respected nonetheless. Businesses that disregard issues relating to diversity, equality, and inclusion (DEI), data privacy, and human capital may place themselves at considerable financial risk as well as risk to their reputation and other legal issues. At Saint-Gobain Gyproc we are aware of the holistic picture for ESG and while environmental policies are a priority, we have also focused on the other pillars of Social and Governance. For us at a social level, there is a strong focus on "Gender Diversity", "Gender Neutral" policies for paternity leave & adoption leave. Speaking on a governance level, we also practice training and education around the Code of Ethics under the Principal of Conduct and Action along with Codes on "Human Rights", "Anticorruption", Respect for Law, Fight against discrimination & Harassment.
It is an undeniable fact that choosing the eco-friendly route is currently the need for our planet. While consumers at an individual level contribute in their way, it is the responsibility of larger organisations to make the choices easier for their consumers. The introduction of products and services aligned with green efforts at its core helps consumers also have the option to be environmentally aware of their choices. While doing so, the industry-wide impact is also reduced. These green buildings and construction is the choice we must make for a better tomorrow.
About the author: Sudeep Kolte, Vice President Sales and Marketing at Saint-Gobain India – Gyproc, has been in the sales and marketing field for almost 20 years, at various. His robust knowledge entails business & strategic leadership, brand stewardship and channel management.
Related Stories