Hartek Solar Named Top 3 Rooftop Solar Installer in India by Mercom
01 Jun 2023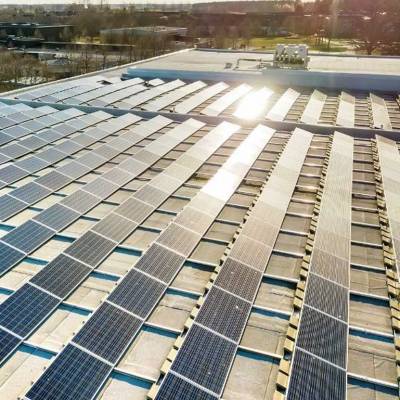 Hartek Solar announced today that it has been recognized as one of the top three rooftop solar installers in India for the year 2022 by Mercom, a prestigious organization in the field. This is the first time that Hartek Solar has secured a spot in the top three, reflecting its significant growth in the industry. The company reported a remarkable year-on-year increase of nearly 169 per cent in rooftop installations.
Hartek Solar attributes its success to its strong emphasis on the on-site CAPEX (capital expenditure) model. By adopting this approach, the company has effectively executed numerous projects, including notable achievements such as a 525 KW capacity solar power plant at the Golden Temple in Amritsar and the largest 2 MW floating solar plant in northern India located in Chandigarh. Additionally, Hartek Solar has been awarded a contract by SJVN Green Energy Limited to construct a 22 MW floating solar PV power project at Nangal Pond in the Bilaspur district of Himachal Pradesh. Upon completion, this project will become the largest floating solar power plant in North India.
In a press release, Hartek Solar highlighted its expertise in delivering comprehensive end-to-end services, which encompass the design, engineering, procurement, construction, and commissioning of rooftop solar systems. The company specializes in designing, engineering, and installing industrial, residential, commercial, and floating solar rooftop systems. It has successfully installed over 80 MWp of rooftop solar capacity across the country.
Simarpreet Singh, the Founder and CEO of Hartek Solar, expressed his gratitude for the recognition, stating, "We are extremely honored to be recognized as one of the Top 3 Rooftop Solar Installers by MERCOM India. We remain committed to achieving the ESG and SDG goals for various industries and buildings. This recognition is a reflection of our team's passion, technical skill, and commitment to sustainability. We believe in the power of solar energy to create a greener future and are proud to contribute to India's clean energy goal. Being the preferred sustainability partner, we continuously strive to raise the bar by delivering innovative and reliable solar solutions. This recognition inspires us to continue our mission of promoting renewable energy and creating a positive impact on the environment."
The ranking of the Top 3 Rooftop Solar Installers (On-Site CAPEX Model) is a highly esteemed industry accolade determined by an independent panel of experts. The assessment takes into account various parameters, including the number of installations, project capacity, technical expertise, customer satisfaction, and overall performance.
Related Stories