Indore Metro gears up for main trial run after successful pre-testing
01 Sep 2023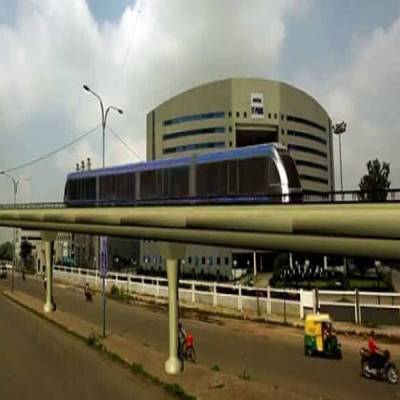 The MP Metro Rail Corporation Limited (MPMRCL) has successfully completed pre-testing trials for the Indore Metro Train and is now preparing for the main trial run scheduled to commence by the end of this month.
Senior officials from MPMRCL have reported that the pre-testing trials for the Indore Metro train, comprising three coaches, were conducted on the 'Super Priority Corridor,' covering a distance of 5.8 kilometers with five stations: Gandhi Nagar, S-6, S-5, S-4, and S-3. During these trials, the train operated at a speed of 3-4 kmph. The subsequent trial runs will begin at approximately 10 kmph and will gradually progress to reach its maximum speed of 40 kmph over the next five to six months. This process will ensure that all safety, security, operational, and regulatory clearances are obtained before the commencement of commercial operations.
Senior officials have identified two potential dates, September 27 and September 30, for the commencement of trial runs for the Indore Metro train. The final date for the flag-off ceremony will depend on the availability of Chief Minister Shivraj Singh Chouhan.
Initially, the trial runs for the Indore Metro were expected to begin on September 15. However, the schedule was adjusted due to important events such as the 'Jan Ashirwad Yatra,' a public address by Prime Minister Narendra Modi in Bhopal on September 25, and the participation of President of India Draupadi Murmu in the India Smart Cities Award Contest (ISAC 2022) scheduled for September 27-28 in Indore, along with ongoing festivities.
Significant progress has been made in completing approximately 85-90% of the work on all five stations along the 'Super Priority Corridor.' The remaining tasks are being expedited to meet the trial run deadline. The flag-off ceremony for the trial run is expected to take place at the Gandhi Nagar station, with the main program being held at S-3 station, where finishing touches are being applied.
According to Harshika Singh, the Additional Managing Director of MPMRCL and Commissioner of the Indore Municipal Corporation (IMC), efforts are underway to coordinate the Chief Minister's availability for the trial run flag-off event. It is likely to be scheduled for the last week of this month, based on his schedule.
Related Stories