Innovations galore at bauma 2022!
01 Nov 2022
Long Read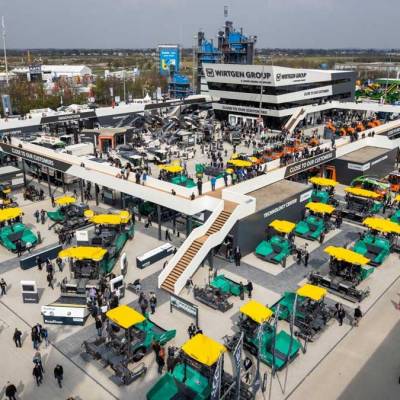 A legendary event in the world of construction equipment, bauma 2022 featured 200,000 sq m of hall space, 414,000 sqm of outdoor space and 3,000 exhibitors from 58 countries.
bauma, the long-awaited trade fair for construction machinery, building material machines, mining machines, construction vehicles and construction equipment, returned to the exhibition grounds in Munich from 24 to 30 October 2022.
The last bauma was held before the pandemic back in 2019 with a total of 3,684 exhibitors and more than 600,000 visitors from 217 countries.This year, too, it was a packed schedule with plenty to see and do across the week. There was also a comprehensive support programme to maximise everyone's time at the show.
This year's key themes were 'Construction Methods and Materials of Tomorrow','Mining – Sustainable, Efficient and Reliable', 'The Road to Zero Emissions', 'Way to Autonomous Machines' and 'Digital Construction Site'.
New tech on offer
Below, we offer a glimpse of what some of the exhibitors displayed. Electrification and the digital construction site showed dominance across multiple booths.
The Liebherr stand was the easiest to find as it was the biggest single structure on the outdoor grounds. From its renowned Unplugged series of zero-emissions machines, Liebherr showed six new products from the piling, drilling and lifting segments, including the LRH 100.1 and LRH 200 piling rigs, which can operate for up to five hours in battery mode, with a 200kWh battery package, or up to 10 hours with a 400kWh battery option. Liebherr also presented an R 9300 Generation 8 hydraulic excavator. Replacing the existing R 9250 excavator in the 250-t class market, the R 9300 encompasses the OEM's most advanced design principles and technology platforms to further enhance machine performance, efficiency and safety.
The Zeppelin stand featured more than 70 pieces of CAT construction equipment, attachments and technology. Among the highlights were nine-tracked and four-wheeled next-generation excavators, ranging from 15 to 95 tonne. CAT's on-show technology included the Cat Command Station, which enables operators to work remotely and safely, whether it be close to the machine or many kilometres away, while seated in a virtual cab with familiar controls and display.
Highlights from Hyundai included a broad excavator range, wheeled loaders, articulated dump trucks (ADTs) and even a concept hydrogen fuel cell wheeled loader. Hyundai's two new ADTs, the HA30A and HA45A, with payloads of 28 and 41 tonne respectively, have been designed with sloping rear chassis frames, enhancing stability by distributing more of the load on the centre of the machine.
A must-see from Komatsu was the monstrous PC4000 electric mining excavator. The difference with this machine is that it is loaded with technology, including enhanced machine control and KomVision, which offers operators a 360° bird's eye view for safer machine operation.
Hitachi Construction Machinery, Europe (HCME), celebrated 50 years in the market at Bauma. The HCME display at the trade fair comprised a specially selected line-up of new models, showcasing various technologies and representing the future of construction machinery. The company also debuted the smallest Hitachi wheeled excavator – the ZX95W-7 – in addition to the ZX210LC-7 medium excavator customised with a Leica 3D machine control system and two specially adapted machines reinforced for demanding demolition projects.
The Doosan stand demonstrated a rapidlyexpanding product range. Visitors got the chance to witness the new DX1000LC-7 100-tonne crawler excavator, the DL580-7 wheeled loader and a new 4×4 version of the Doosan DA45-7 articulated dump truck. The company's new 2 to 5-tonne mini-excavators and new 10-tonne midi-wheeled excavator were shown for the first time.
Several new products from Sanymade their European debut at the event, including the electrically driven SY19E mini excavator equipped with battery power that is said to last for an entire working day in addition to the reduction of pollution and noise emissions. The next generation of wheeled loaders – the SW305 and SW405 –also made an appearance. The STH1440 and STH1840 are said to feature comfort with a cabin and industrial design coming from Germany.
With more than 90 exhibits – including no fewer than 33 world premieres – Wirtgen's 13,000 m2 of stand space was second only to Liebherr. Wirtgen displayed its KMA 240i cold recycling mixing plant, which makes it possible to produce high-quality mixes from recycled construction materials. The Super 1900-5(i) and Super 2100-5(i) pavers were on display at the Vögele stand, as well as the latest generation of the AB 500 and AB 600 extending screeds.
Hamm offered a glimpse of the future of compaction with its electricallypowered HD CompactLine tandem rollers. According to the company, as well as being more sustainable, its e-tandem rollers are ideal for projects where less noise and/or low vibration levels are specified.
Kleemann's new Mobirex MR 130(i) Pro mobile compact crusher is also fully electric, allowing for materials processing with reduced energy consumption per tonne of material.
Ammann provided visitors the opportunity to examine and demo the as1 Argon View – a new user interface for the as1 Control System for asphalt and concrete mixing plants. The company featured asphalt-mixing plants including the ABP HRT (high recycling technology) plant, in addition to scale models of several plants.
Bomag presented modern technologies and machines for use in asphalt and earthworks. Together with the Fayat Road Equipment Division, Bomag covered the entire spectrum of machines and solutions for road construction. Among the highlights, Bomag was the BT 60 e battery-powered tamper and the BR 96 single-direction vibratory plate.
XCMG featured a line-up of nearly 50 construction equipment products and core components with 41 span-new models debuting at the show, which are all customised for the European market. In excavation, XCMG featured a total of 13 excavator products, including the XE80E excavator Kubota engine (EU stage V). With a weight of nearly 9 tonne, it's coupled with three sets of hydraulic pipelines and two sets of electric proportional joysticks.
Manitowoc used its attendance to launch its latest rough-terrain crane: the Grove GRT8100-1. This exciting upgrade of the hugely popular GRT8100 will be available in 2023 and offers a series of improvements over the original. Many of the enhancements stem from a new chassis that shares commonality with the chassis from the proven 120-t capacity GRT8120. There's also an updated engine and transmission package, and a new, wider cab with enhanced operating features.
MB Crusher brought the new MB-HDS220 padding bucket for loaders and skid steers. Compact, versatile and extremely manoeuvrable, the new MB Crusher MB-HDS220 padding bucket is designed to make work easier, reduce processing time and save on operating costs. Designed and conceived for gardening, landscaping and urban construction sites, the new MB-HDS padding bucket is the solution for all construction sites that need to combine efficiency and versatility in a compact piece of equipment.
Zoomlion Europe displayed the brand-new ATC 1000 all-terrain crane, designed and built in Italy for Europe. Completely equipped with European-made components, this crane is on a par with the latest innovations in terms of safety and reliability, while being the most competitive solution to increase profitability.
John Deere Power Systems (JDPS) provided a look into the future of John Deere's engine and drivetrain technology. The company displayed its John Deere Next Generation Engines and shared the JDPS' alternative fuels strategy, electric drivetrain, and latest in battery advancements. The next-generation engines are said to provide operators with lower operating costs and meet global emissions requirements.
The new, upgraded second-generation versions of JLG's 45ft and 52ft electric articulated boom lifts, the 45ft EC450AJ and 52ft EC520AJ, were showcased at Hinowa's stand. The two models use the same base machine with a slightly longer boom on the EC520AJ. As with the first generation JLG 450/520AJs, they use a dual sigma type riser, topped by a two-section telescopic boom and jib with 145° of articulation.
Doka, the international formwork and scaffolding expert, unveiled a new slab-formwork system family. The revolutionary system, DokaXdek, consists of three complementary elements: the DokaXdek table, DokaXdek panel and DokaXdek I-frame. This highly versatile system has been designed to address current and future issues such as safety, ergonomics and economy on construction sites worldwide. Uniquely, the system has been developed in parallel to seamlessly combine for maximum versatility, streamlined work processes and increased cost-effectiveness.
BKT Tires, one of the world's largest manufacturers of tyres for off-highway machinery, highlighted its range of giant products. These include the Earthmax SR 468, the largest tyre ever produced by BKT. Designed for use with rigid dump trucks, the display will include the 40.00 R 57, which has a height of 3.5 m, width of 1.13 m and weight of 3,800 kg. The tyres feature the 'All Steel' structure that delivers resistance to punctures when used in rocky terrain.
Another tyre major, Triangle, displayed a host of products for construction, including the TB599A E4 tyre for rigid dump trucks and TL578S E4/L4 for articulated dump trucks. The stand also included the newlyintroduced TL578S underground mining radial. Tyres for underground transportation products must be manufactured with thick anti-scratch compounds.
The Goodyear GP-3E for wheel loaders, articulated dump trucks and graders made its European exhibition debut. GP-3E features an innovative lightweight tyre design with an optimised cost per hour, supporting sustainability goals as well as low vibration levels that offer a high level of comfort for the driver.
Hexagon Geosystems promised simple-to-use technologies that can enhance workflows and collaborative deployments, as well as a range of digital solutions, enabling safer and more sustainable heavy construction operations. Hexagon has revealed that solutions will include machine control, cloud enablement and connectivity, office solutions for construction management, safety awareness systems, reality capture solutions for the creation of digital twins and new and exciting innovations that help you master your next construction project.
Trimble provided a close-up view of its civil construction solutions, including planning and design software, machine control and real-time connectivity.
Continental presented new features for its innovative ProViu 360 surround view system, increasing safety levels in the construction and mining sectors. Equipped with the feature Worker Detection, the ProViu 360 system sets new standards for surround-view camera systems when it classifies a detected object near a construction machine as a person and warns of possible collisions.
With the DM 1 Pace, Husqvarna Construction expanded its offer to customers needing battery-powered products for heavy-duty jobs. This includes the recently developed battery core drill, which is powered by Husqvarna's own Pace battery system. With the i-Series and Pace systems, Husqvarna Construction offers two proprietary battery solutions.
The clear focal point of this year's bauma was digital solutions. All exhibitors agreed that digitalisation is a 'megatrend' in the construction machinery industry.
Related Stories