JCB India launches three new excavators
01 Oct 2022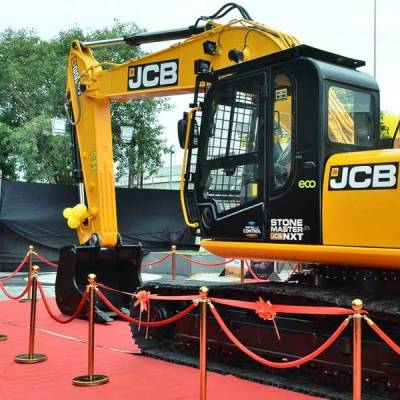 JCB India, India's leading manufacturer of earthmoving and construction equipment, launched three new excavators for infrastructure and mining and quarrying applications at Udaipur. These machines will be built at JCB India's state-of-the-art factory in Pune and will be sold to customers not only in India but also in global markets.
The new series known as the premium line consists of The JCBNXT 225LC M, JCB315LC HD and the JCB385LC. These machines are designed for arduous and tough Indian operating conditions in the most demanding of applications. They are capable to perform large-scale earthwork applications, quarries, and mining applications. JCB NXT 225 LC was showcased at Rajsamand.
Speaking at the occasion, JCB India CEO and Managing Director, Deepak Shetty said, "India is going to be a growth driver for the world in the coming decades, and much of this growth will come from Infrastructure development in the country. There are projects of significant national importance that are gaining encouraging momentum across the country. Large-scale infrastructure development will require larger and more productive machines, and this new range of excavators addresses that need. Projects such as Bharatmala, Sagarmala, new ports and logistic hubs will future create greater opportunities"
The JCBNXT 225LC M is a 22.5 tonne machine and has a heavy-duty dig-end for the next level of durability for high uptime and lower repair costs. The machine is powered by a Cummins 148hp, 626Nm torque engine with an inline fuel injection system. This robust fuel system significantly helps in ease of maintenance and repairs.
Shetty further added, "In our history of being in India for over four decades, we have always innovated for the benefit of our customers. The JCB NXT 225LC M is the result of the feedback that we received from our customers who wanted a robust fuel system. This machine is designed to work in demanding site conditions and deliver higher productivity and equipment uptime"
Enabled by Intellicontrol System, has 10 working modes, which can be selected depending on the type of application. EcoHydraulics and Intellicontrol systemhelp in improving fuel economy and gives fuel savings of up to Rs 1.7 lakh per year. For faster completion of projects, the machine comes with a Power Boost feature and a 1.05 cu.m heavy duty bucket with an increase of 5% in output and lift capacity.
The JCB NXT 225LC M is also low on maintenance as it has an extended service interval of 500 hours for engine oil and 5,000 hours for hydraulic oil. This is a next generation "Intelligent" machine that has "InelliControl and Advanced LiveLink 4" for ease of use along with remote monitoring and safety. Intellicontrol monitors the operations and maintenance parameters of the machine to ensure high uptime. It gives feedback on the performance in real time and helps operators make decisions based on scientific data. The machine has air-conditioning as standard for operator comfort.
With Livelink, JCB's advanced Telematics technology gives live updates on the service, operations and security of the machines. Over 210,000 JCB machines are monitored in real-time with live updates being sent to customers and dealers. JCB India has over 60 dealers across India. Over 6500 service engineers are employed at these dealerships for professional product support.
Related Stories