Mumbai to build Bowstring Bridge to connect coastal road
01 May 2023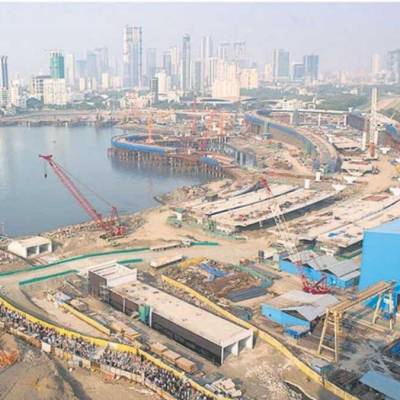 A 'Bow String' bridge will be constructed at the northern end of the Mumbai Coastal Road Project (MCRP) to connect the high-speed corridor with the Bandra-Worli Sea Link (BWSL).
The MCRP, spanning 10.58 km from near the Princess Street flyover near Marine Drive to BWSL, is being built by the BMC to improve north-south connectivity and ease vehicular movement.
The community had requested that the gap between the pillars be 200 meters, but the BMC had recommended 60 meters. After fishermen protested, Chief Minister Eknath Shinde intervened in January 2023 and increased the gap to 120 meters.
The BMC then removed one pillar to allow for wider navigation space for boats, resulting in a decision to build a "Bow-String" girder bridge, which holds spans together using high-tension chords, forming an arch-shaped girder from the outside and tightly holding the bridge's ends to the surface without the need for a base support like that on pillars.
According to an official, the 'Bow-String' bridge was chosen because it doesn't require additional piling work and the removal of one monopile won't pose a threat to the structure. The bridge will be held by high-tension chords and is suitable for smaller bridges without strong foundations.
The length of the bridge will be approximately 120 m, and vehicles traveling on the coastal road towards the north from Marine Drive will cross it after the traffic interchange in Worli. The design has been finalized, and the primary challenge was finding a way to fill the missing link without altering the existing MCRP design.
The BMC hopes to complete the project by November 2023, although civic sources say that the deadline may be pushed back to May 2024 due to the design change. If the remaining stretch of the coastal road is ready before the bridge is completed, the MCRP may open for vehicular movement, according to an official.
Related Stories