NTPC, Meghalaya govt collaborate to Boost Renewable Power
01 Jul 2023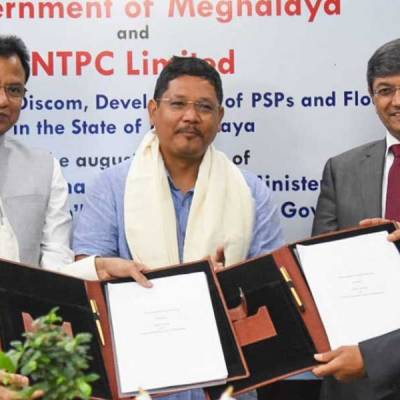 NTPC, an energy conglomerate, and the Meghalaya Government have joined forces through several agreements to enhance renewable power generation in Meghalaya.
The Memorandums of Understanding (MoUs) include Power Portfolio Management Services (PMS) for Meghalaya DISCOM, which will streamline the management and operations of the Meghalaya Distribution Company. The agreements also pave the way for the establishment of Pump Storage Power Plants (PSPs) and floating solar projects in the state. Furthermore, the potential of small hydro projects will be explored.
The MoUs specifically highlight the development of PSPs and the implementation of floating solar projects in Meghalaya. It is worth mentioning that the Central Electricity Authority had previously issued norms for field efficiency tests for PSPs.
The partnership aims to tap into the untapped potential of small hydro projects and examine the feasibility of setting up PSPs to generate electricity. The water will be pumped back into reservoirs like Umiam to meet peak demand. Additionally, the possibility of installing floating solar power units in Umiam and other water bodies will be explored.
According to an official statement, the PMS MoU between the Meghalaya government and NTPC in New Delhi will improve the management and operations of Meghalaya Discom, ensuring efficient power distribution and enhanced service delivery to the people. The agreement also focuses on improving the power portfolio management of Meghalaya Energy Corporation (MeECL) by leveraging NTPC's manpower and expertise. Simultaneously, it aims to optimise MeECL's power resources and incorporate more renewable energy into the power mix. The partnership will also reduce transmission losses and enhance power infrastructure.
Chief Minister Conrad K Sangma expressed his thoughts on the partnership, stating, "The signing of the MoU will significantly improve the overall power situation in the state. Our commitment to enhancing power connectivity in Meghalaya is reflected in these positive interventions."
Power Minister Abu Taher Mondal also acknowledged that the partnership would help address the power challenges faced by Meghalaya.
In a recent development, NTPC Green Energy expressed its intention to expand its operations into the offshore sector in India.
Related Stories