Placebo steel girders for L&T's Tapi bridge project
01 Apr 2021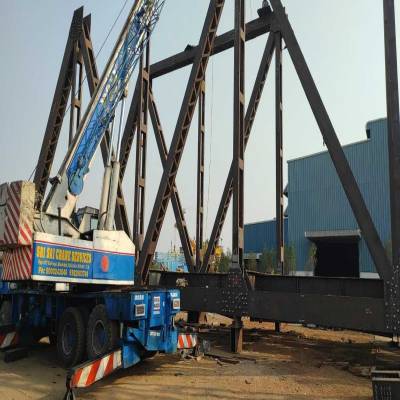 Placebo Fabtech Private Limited (PFPL), Hyderabad-based RDSO-approved large scale industrial heavy structural steel fabricator with a monthly capacity of heavy fabrication of upto 1,200 mt, has bagged its biggest open web girder manufacturing order worth Rs 15.10 crore from L&T its for CTP15-A Project at Tapi, near Surat.
The company has secured a total of 15 trusses, each weighing 161 mt. These trusses will be used in the structural steel girder work for the special steel bridge work at Tapi bridge on the Western Dedicated Freight Corridor. According to a statement from the company, the first of the trusses is ready for trial assembly of its Open Web girder of 48.5 m span of the Open Web girder with a height of approximate 11 m.in its Hyderabad factory.
V Subramanian, PFPL's President━Marketing, informed the media that the company is committed to timely delivery "despite the fluctuations in prices of steel and other raw material, which has resulted in tough times for heavy structural fabricators since September 2020. We are confident of delivering the balance 14 trusses hand-on-hand to L&T."
"We have worked very hard to ensure that our quality matches the stringent quality standards and delivery schedules of L&T," CH ChandraShekar Reddy, PFPL's Managing Director, stated.
PFPL is a subcontractor for flyover projects in and around Hyderabad.
Written from a company news release.
Related Stories