PWRD acquires construction of Trumpet Interchange in North Guwahati
01 Apr 2023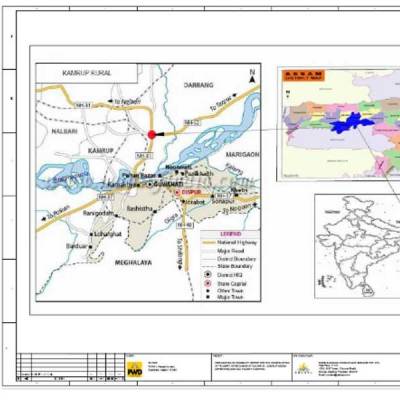 https://www.assamtenders.gov.in/nicgep/app?component=%24DirectLink_0&page=FrontEndAdvancedSearchResult&service=direct&sp=SsmYUtHLfmefursU%2FEQOLhA%3D%3D
Assam, one of the seven sisters of North-Eastern India, is popularly known for its tea estates, stunning wildlife, and picturesque views. However, for a state that boasts rich diversity, the condition of the road infrastructure paints a completely different story. In their quest to ramp up road infrastructure, the government of Assam came up with plans to build roads, four-lane bypasses, and five ropeway projects, and for this, the state has received Rs 38,000 crore from the center. Some of these projects consist of the proposed Northern Guwahati Ring Road, which would be 55 kilometers long and cost Rs 255.61 crore and would also include a bridge over the Brahmaputra. Traffic from West Bengal and Bihar would have direct connectivity thanks to this initiative. By diverting traffic around the city, it will also ease traffic congestion in Guwahati.
Even though fly-overs and foot-over bridges are being built all throughout Guwahati city, some parts of West Guwahati, like Lokhra, still consider having proper, good roads to be a luxury. The poor, crumbling roads in Lokhra, which is quickly developing into a bustling commercial and residential neighborhood, have been a major source of worry for the locals. One of the reasons being stated for the government's blatant failure is that The PWRD road network needs an annual investment of about Rs. 4000 crore to reach the targeted state by 2024; however, the financial resources allocated to the road sector have not yet reached that amount. Additionally, private investment in the state is not increasing either. However, under the Smart City project, a number of initiatives have been launched, including the beautification of the Brahmaputra riverfront and Borsola lake, the Gandhi Mandap garden, the construction of a memorial to Mahatma Gandhi atop Sarania Hill, the installation of 30 bio-toilets, and the installation of 20 water ATMs.
The Chief Engineer, PWRD (EAP) Assam, had undertaken the construction of the Trumpet Interchange at the Gauripur junction of North Guwahati in EPC mode. It's been sanctioned at Rs. 255.61 crore. This trumpet interchange will connect Gauripur in North Guwahati to NH-17 with the under-construction six-lane road of the bridge on the Brahmaputra, with the goal of boosting the handloom sector. Travel time to North Guwahati will soon become easier as it will reduce travel time from Guwahati to North Guwahati and connect the NH 31 junction to just seven minutes as opposed to 45–60 minutes.
Essential details
Tender Number: CE/EAP/Trumpet/110/2023/3
Tender value: Rs 255.61 crore
Bid submission date: 19/04/2023
Bid due date: 17/05/2023.
Related Stories