Rajkot Cricket Stadium decks up with energy efficient LEDs
01 Feb 2023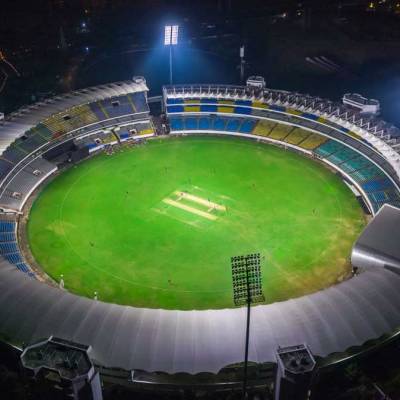 A modern stadium with good lighting ensures a great viewing experience for sports enthusiasts and enhances the on-field experience for athletes, referees, and broadcasters alike. About a decade ago, the Rajkot Cricket Stadium was known as one of the best sports lighting installations, lit up with conventional luminaires. The new lighting installation now primes the Saurashtra Cricket Association as a critical host for all international formats of the game.
The stadium had an infrastructure with four high masts and conventional luminaires, and new installations needed to be done using the existing infrastructure. The challenge was fulfilling ICC's Guidelines on recommended lighting levels on the existing mast structure with a limited selection of luminaires. Bajaj Electricals is a front-runner in the outdoor lighting space with a diverse portfolio of products and the capability of handling such large illumination projects. This makes them the perfect partners to light up world-class sports arenas. They customised the design to suit the existing infrastructure of the site. They selected the Bajaj Amaze Premium series, suitable for high-quality HDTV transmission for the ultimate LIVE telecast experience. They successfully replaced the conventional luminaires with LED luminaires with the 448 double modules 1300W LED Flood Light Luminaires.
They observed another challenge at the site – the canopy obstruction over the spectator's stand. This was efficiently resolved with the help of Bajaj's skilled and specialised lighting product designers, who achieved excellent results in the field of play (FOP) area, ensuring high-quality HDTV transmission. The vertical illuminance on air (above the FOP area till the boundary, fencing & spectators stand) provides clear visibility of the ball while it is in the air. This is done with accurate lighting design considering the main and auxiliary cameras. The resolution is a boon for cricket lovers who can enjoy the minor details of the action on the field.