Southern Railway GM urges swift transformation of Puducherry Station
01 Jul 2023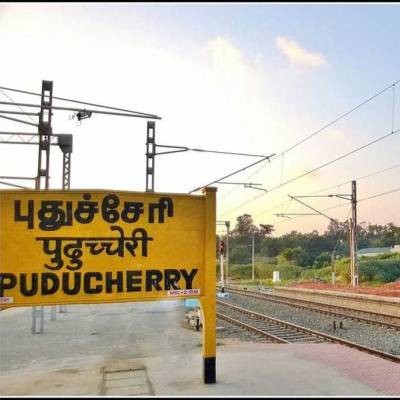 RN Singh, the General Manager of Southern Railway, has given instructions to the agency responsible for the redevelopment of Puducherry railway station to expedite the project and transform it into a modern rail terminal.
During a test run of the newly launched steam heritage special train from Chennai to Puducherry, Singh was briefed on the progress of the project by representatives of TUV India. TUV India is the project management services company overseeing the entire redevelopment process, including design formulation and commissioning, in collaboration with Engineering Projects India, the EPC contractor based in Chennai.
The steam heritage special train is a unique hybrid that combines ultra-modern coaches with a retrofitted driving trailer car from the MEMU, giving it the appearance of a steam engine. This special train emits simulated "smoke" as it arrives at or departs from a station. Accompanied by Southern Railway officials, Singh and his entourage departed from Egmore at approximately 9:30 am and arrived in Puducherry slightly after the scheduled time of 12:30 pm.
During the visit, Singh received a presentation on the scope and magnitude of the project. The estimated cost of the Rs 720 million projects includes the redevelopment of Puducherry railway station with state-of-the-art facilities. These amenities encompass congestion-free entry and exit points, separate areas for arriving and departing passengers, spacious concourses to avoid overcrowding, integration with the city on both sides wherever feasible, and convenient connections to other modes of transportation such as buses. The project also prioritises accessibility for individuals with disabilities, the harmonious coexistence of the railway station and real estate projects, the implementation of green building practices, and more. The project follows the Design, Build, Finance, Operate, Transfer (DBFOT) model.
Puducherry is one of the 62 railway stations selected nationwide for redevelopment under the Smart City Projects initiative on a Public Private Partnership model. The Rail Land Development Authority (RLDA), an organisation under the Ministry of Railways, serves as the nodal agency for the redevelopment of railway stations throughout the Indian Railway network. The plan aims to recover the entire redevelopment cost by leveraging commercial development of available railway land and airspace surrounding the station.
After the review, the General Manager of Southern Railway proceeded to Villupuram junction, which is currently undergoing modernisation and upgrade works as part of Phase I of the Amrit Bharat scheme. This scheme focuses on the modernisation of 1,275 railway stations across the Indian Railway network, including 60 terminals in Tamil Nadu.
Additionally, Singh met with Chief Minister N Rangasamy and provided an update on the ongoing development work in Puducherry and Karaikal. The Chief Minister expressed his support for the efforts of Southern Railway in developing Puducherry and requested an additional train service between Puducherry and Mangaluru, as well as a daily train service between Puducherry and Hyderabad. Singh assured the Chief Minister that he would consider these requests.
Related Stories