SSAB India moves to new new office in Mumbai
01 Aug 2021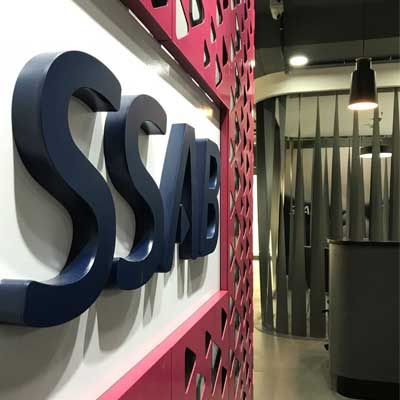 SSAB India has moved to its new office in Mumbai with a beautiful view of Vashi creek.
The most important fact that made the new workplace impressive is its interior design decorated with special steel products. Office panels, designer screens, ceiling elements and some custom designed furniture are made of Hardox and Strenx Steel.
The outstanding steel applications in the new office were designed and implemented by the architecture company Modez Consultant LLP.
Director-India, Subodh Shinde says, "While discussing the interior design alternatives with our partner, we have focused on creating an ambiance full of with the spirit of company vision and also having the opportunity to showcase our products. Various interior design items made of our products gives us the great opportunity to demonstrate creative steel applications to our customers who will visit us in the office. In addition to that, it is also a live proof to show the workshop friendly characteristics of our products, as they were cut, bent, twisted and shaped in different forms in an easy way. The visitors would be able to see different applications of our products in the office entrance, in the meeting rooms, in the open area, and even on the ceiling. In addition to that, custom designed steel furniture at our office is a good reflection of our innovative and creative mindset. We aimed to show that our steel is not only hard and tough but also flexible and easy to process. We are looking forward get back to normal soon and welcome our customers or visitors to our new office to let them meet with our special products in every corner."