Tirupati to get electric bus
01 Sep 2023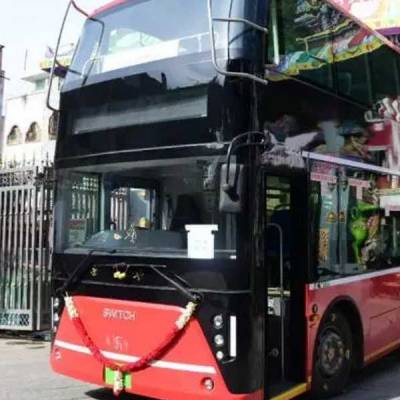 The vibrant and bustling pilgrim city of Tirupati is poised to witness a transformative change in its public transportation system with the imminent introduction of a state-of-the-art electric double-decker bus. Valued at an impressive 2 crore rupees, this electric vehicle (EV) arrived in the city on Thursday and has been acquired by the Tirupati Smart City Corporation Limited.
The addition of this double-decker EV bus is expected to revolutionize the commuting experience for residents and visitors within the city. The Municipal Corporation of Tirupati (MCT), led by Deputy Mayor Bhumana Abhinay Reddy, expressed their commitment to providing sustainable and eco-friendly transportation options to the community.
In collaboration with the Andhra Pradesh State Road Transport Corporation, the MCT will operate the EV double-decker bus along key routes within the municipal limits. Deputy Mayor Abhinay Reddy underscored the city's dedication to enhancing its public transportation infrastructure and described the introduction of the double-decker EV bus as a significant milestone. He noted that Tirupati had thus far lacked a comprehensive public transportation system and emphasized that the new addition would offer a comfortable and eco-friendly means of transportation, thereby reducing the dependence on auto-rickshaws.
The introduction of the electric double-decker bus aligns with Tirupati's vision of embracing sustainable and environmentally conscious transportation solutions. As the city gears up to welcome this modern addition to its public transportation fleet, residents and visitors can anticipate a more convenient and eco-friendly mode of travel.
Related Stories