TN govt and UNEP launch green initiatives to Combat Climate Change
01 Aug 2023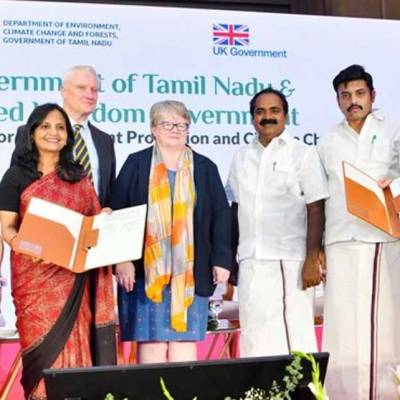 Tamil Nadu government partnered with the United Nations Environment Programme (UNEP) to launch a series of eco-friendly initiatives. The State Environment, Climate Change, and Forests department introduced these initiatives at a special event held in Kalaivanar Arangam. The launch was graced by the presence of Inger Anderson, the Executive Director of UNEP, along with Tamil Nadu's Environment and Climate Change Minister, Siva V Meyyanathan, Denmark's Minister for Development Cooperation and Global Climate Policy, Dan Jannik Jorgensen, and TN Additional Chief Secretary, Supriya Sahu.

Earlier this year in March, UNEP and the Tamil Nadu government signed a three-year agreement to support the state in implementing clean, efficient, and equitable cooling measures, preparing for the challenges of rising extreme heat.
According to the agreement, UNEP and the Tamil Nadu government will collaborate on various important issues, including sustainable cooling, effective plastic waste management, and promoting environmental education.
As part of these efforts, approximately 25 schools have been chosen to adopt various green practices, such as incorporating solar lighting and solar pumps to enhance energy efficiency, setting up solar borewells, adopting rainwater harvesting, composting, creating vegetable and medicinal plant gardens, and planting fruit-bearing trees. Additionally, they will work on reducing water consumption, recycling wastewater, and creating a plastic-free environment. The hope is that these schools will serve as inspiring examples for other educational institutions. Moreover, they will be ranked based on a green index to compile a repository of information on eco-friendly initiatives. The government has allocated Rs 0.5 million for this scheme.
Two key initiatives, Tamil Nadu's "Meendum Majappai" movement for plastic waste management and UNEP's Tide Turner's Plastic Challenge, will jointly contribute to raising awareness within the community and encouraging behavioural changes regarding single-use plastic, as stated in an official release.
Related Stories