Top 10 Road Contractors in India
01 Jan 2022
Long Read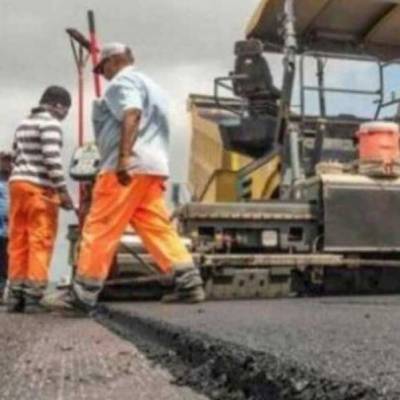 Roads represent a pivotal element in financial advancement and progress, as well as providing significant cultural advantages. They are critical to national augmentation and enhance escalation. Furthermore, a road network is critical in the battle against deprivation, since it provides exposure to job, economic, health, and academic facilities. Roads connect various populations and regions, promoting commercial and cultural prosperity.
In the construction of roads, a contractor's contribution is to execute the operational procedures that are essential to complete the work. Contractors' functions and obligations appear in a variety of facets of a project, including project design, supervision, surveillance, worksite safety, and legal concerns. There are many road contractors in India contributing their piece of expertise carving the best roads for the nation. Here we list down the top 10 road contractors in India.
1. Larsen & Toubro
Larsen & Toubro is an Indian-based multinational company that specializes in engineering, procurement, and construction (EPC) projects, as well as high-tech manufacturing and services. It has operations in more than 50 countries throughout the world. L&T has been able to achieve and maintain supremacy in its key areas of industry for more than eight decades due to a robust, consumer-centric strategy and a never-ending pursuit of world-class standards. Some examples of L&T road projects include Delhi-Agra Road, Mumbai Coastal Road Project, etc.
2. Dilip Buildcon
Established in 1987, Dilip Buildcon primarily focuses on road projects and is the market leader executing EPC projects. Listed on both BSE and NSE, the company is based in Bhopal, Madhya Pradesh. Dilip Buildcon along with its strategic partnership has undertaken a ₹ 1,000-crore highway project in Rajasthan under the National Highways Authority of India (NHAI). The initiative would be constructed using the EPC approach. Dilip Buildcon's priority has transitioned to national highways, particularly the Expressway. Lucknow-Sultanpur, Bangalore-Nidagatta, and Ambala-Kaithal are some examples of road projects implemented by Dilip Buildcon.
3. Afcons Infrastructure
Based in Mumbai, Afcons Infrastructure Limited was incorporated in 1959. Afcons is a company serving the construction and engineering sector. The firm is concerned with the development of infrastructure facilities such as roads, bridges, metros, viaducts, ports, etc. 3-grade separator and Airoli Bridge are some examples of the work done by Afcons Infrastructure.
4. IRB Infrastructure Developers
IRB Infrastructure Developers Ltd. was established in 1998 and has since grown transforming as India's renowned and greatest infrastructure construction corporation in the BOT arena. The company is dedicated mostly to the road and highway industry. The organization's key competence is its expertise to build, operate, and transfer (BOT) road and highway projects, notable portions of the Golden Quadrilateral and National roads. It built India's first BOT project (the Thane-Bhivandi Bypass) and has one of the country's greatest BOT assets (operational and under-construction projects). The company also maintains infrastructure resources to deal with leasing agreements, ensuring long-term viability among every stakeholder.
5. HG Infra Engineering
H.G. Infra Engineering Limited (HGIEL) is a construction business that focuses on highways, roads, and bridges. Based in India, it was founded in 2003. HGIEL pretty much started executing civil building works, such as runway extension and grading, railways, and site advancement. Now it has extended into water pipeline projects. Chittorgarh – Udaipur, and Balotra to Sanderaoare some completed road projects by HG Infra Engineering.
6. NCC Infra
Established in 2005, NCC Infra is a construction company based in Hyderabad. It serves diverse sectors of infrastructure including roads, water, irrigation, housing, electrical, railways, and power. The corporation has risen to the top of the market for BOT services, real estate, and foreign businesses. NCC Infra aspires to take each prospect to revolutionize road and highway systems throughout several nations, as it has a strong reputation of fulfilling massive deals on time. Some well-known road projects by NCC Infra include the Construction of Ahmedabad – Vadodara Access Controlled National Expressway NE-1, 4 Lane Elevated Highway Project on NH-7 in Bangalore City on an EPC basis, etc.
7. Hindustan Construction Company
The Hindustan Construction Company (HCC) is a 96-year-old company headquartered in Mumbai. It concentrates on the nation's infrastructural development industry, which includes Engineering & Construction, Real Estate, Infrastructure, and Urban Development & Management. Transportation, nuclear power projects, water solutions, buildings and industries, and hydroelectric power projects are among the corporation's areas of expertise. Major road projects by HCC are Mughal Road, Chennai Bypass, Delhi Faridabad Elevated Expressway, and Mumbai-Pune Expressway.
8. TATA Projects
Tata Projects is among India's highly recognized and speediest corporate infrastructure enterprises. The company has completed enormous, intricate urban and industrial infrastructure projects. The business offers turnkey solutions for the development of roads, bridges, completely embedded rail and metro systems, commercial buildings and airports, as well as electricity production, transmission, and allocation structures, chemical production plants, water, waste management, etc. Chennai outer ring road is one of the road construction works by TATA Projects.
9. Gayatri Projects
Gayatri Projects Ltd. is the premier entity of the Gayatri Group. It has operations encompassing infrastructure, power, hotel, real estate, and industrial. Gayatri Projects Ltd has accomplished numerous projects involving diverse spheres of infrastructure emergence, including motorways, irrigation projects, mass excavation, ports, airports, and industrial civil works. As a consequence of the diversification by the company, it is less reliant on any particular area or project type. Some of the road projects by Gayatri Projects include Nagpur – Mumbai Expressway near Shiridi, Purvanchal Expressways around Lucknow, Jammu Ring Road, and Bihar State Road Projects.
10. JMC Projects India
JMC has been essential in rendering the national infrastructure with more functionality during the past three decades by constructing and assimilating landscape and cityscapes. JMC has built iconic structures all around the country. Recently, the organization has begun to broaden its horizons by accepting business from overseas adversaries. It aspires for perfection in implementation, affordability, environmental control, security, and all compliance requisites.
Related Stories