Top Renewable Energy Companies
01 Jan 2022
Long Read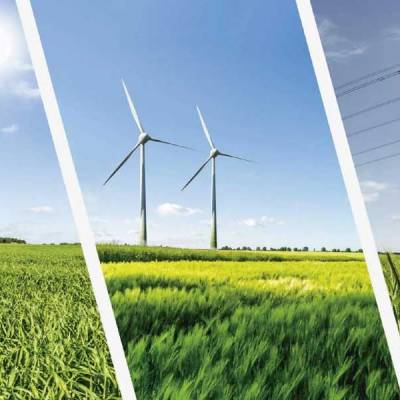 Renewable energy is obtained from natural resources which can regenerate within short period without exhausting the planet's reserves. The examples of such resources includes sunlight, wind, rain, tides, waves, biomass, etc. possess the advantage of being practically universally accessible in any kind. It is practically indestructible. Moreover, it has little impact on the atmosphere or the ecosystem.
Renewable Energy has become one major source of investment. While hardly every renewable energy sources are in the comparable phase of advancement, however there are several innovations available currently that can assist enterprises in becoming economically efficient. Never said every renewable energy resources are eligible to be incorporated as the power grid. Certain, like wind, are practically relevant in broad businesses, and some are still limited industries with a lot of room for improvement.
In 2005, India's renewable energy generation capacity was only 10 GW. Currently, this amount has expanded to 100 GW, exhibiting a 16.6% compound annual growth rate. Numerous businesses had already supported the government in accomplishing this incredible feat. Here we list down the top renewable energy companies in India.
1. TATA Power
TATA Power is the largest renewable companies in India. Tata Power owns wind power plants in seven states: Maharashtra, Gujarat, Tamil Nadu, and Karnataka, with a total installed capacity of 932 MW. Rajasthan, Andhra Pradesh, and Madhya Pradesh are the states in India that are paving the way in boosting wind power output. TPREL, a Tata Power affiliate, has dedicated the Vagarai wind farm in Tamil Nadu, as well as the 100 MW Nimbagallu wind farm in Andhra Pradesh. The corporation has also broadened its scope of operations. It now sells auxiliary energy goods and services such as solar pumps, solar modules, and cells, as well as charging infrastructure for electric vehicles (EVs). Tata Power has a massive solar generation business, with 1705 MW of capacity.
It just completed a 100 MW solar facility in Andhra Pradesh's Anantapur Solar Park. In 2017, it simultaneously completed the construction of 150 MW in Pavagada, Karnataka, 30 MW in Palaswadi, Maharashtra, and 25 MW in Charanka, Gujarat.
2. Sterling and Wilson Solar
Sterling and Wilson Solar is a subsidiary of the Shapoorji Pallonji Company, with operations in 24 countries. Sterling and Wilson Solar Limited began functioning in 2011. It focuses on humongous solar installations and oversees the entire process, from conception to building to preservation. The firm is ultimate destination for solar project solutions. The group has executed 256 projects already, with 216 of them being authorized. The remaining projects are currently being built.
3. Websol Energy Systems
Websol Energy System Limited, established in 1990 is among the most well-known Indian manufacturers in the field of photovoltaic crystalline solar cells and modules. It has the finest manufacturing facility in the business, which is located at Falta SEZ, Sector II, Falta, West Bengal. It enables the company provide the highest and most prevailing products in the market. The services provided by the company are implemented in a variety of corporate and industrial settings across the nation and across the borders. The products of the company include Multi Crystalline 4BB PV Solar Cell, Mono Crystalline 5BB PV Solar Cell, and Multi Crystalline 5BB PV Solar Cell.
4. Suzlon
Suzlon Group is a global leader in renewable energy services. Suzlon's outstanding expertise in renewable energy solutions is driving a sustainable future in 18 countries around Asia, Australia, Europe, Africa, and the Americas. The firm's broad line of tough and dependable solutions, backed by advanced research and development and over two decades of experience, are tailored to provide clients with optimal efficiency, increased outputs, and cumulative profitability. It has various accolades under its belt such as Aaj Tak Care Awards, Thomson Reuters, and Businessworld FICCI Corporate Social Responsibility Awards.
5. Renew Power
Established in 2011, Renew Power is the affiliate entity of ReNew Energy Global PLC. It is is one of India's and the world's largest renewable energy independent power producers (IPPs), boasting a spectrum of over 110 functional utility-scale wind, solar, and hydro energy facilities distributed across ten Indian states. In addition, the corporation holds and runs integrated solar energy facilities in India for over 150 commercial and corporate consumers. The company has a partnership with many leading corporate players like Mahindra, DLF, Ultratech, Aditya Birla, etc.
6. Borosil Renewables Ltd.
Borosil Renewables Ltd. is the pioneer brand of India as the only maker of solar glass. The company has created the world's first fully tempered 2 mm thick solar glass. It also manufactures solar glass with the minimum iron concentration for maximum efficacy, along with the production of solar glass that is antimony-free. Some of its prevailing products include Selene- a solar glass having anti-glare properties that is suitable for PV. Other products include a matt-matt solar glass with a high efficiency called as Shakti.
7. NTPC
NTPC is one of the leading electricity producing company in India. Now the company has introduced itself in the sector of renewable energy with NTPC Renewable Energy Limited, and it is progressing at a very good pace. NTPC is implementing a number of efforts to enhance its energy range more environmentally friendly, including increasing the capacity of Renewable Energy Sources. By 2032, the corporation expects to possess 60GW of renewable energy output, accounting for almost 45 % power producing capacity.
8. ACME Solar
Established in 2003, the ACME Group is among India's most rapidly rising solar energy enterprises. Featuring multinational corporations integrating science and invention, ACME Group engages in the production and marketing of many breakthrough environmental friendly applications within the Energy Sector. ACME Solar is the country's leading solar IPP, comprising an asset base of solar power plants having a cumulative capacity of over 5500 MWp.
9. Greenko
Greenko, based in Hyderabad is ranked among India's massive renewable energy firms, with a gross generation capacity of 7.5 GWdc spanning 15 Indian states. Greenko is substituting fossil fuels with comprehensive decarbonized energy and network resources, ensuring sustainable and economical electricity. In the states of Andhra Pradesh, Madhya Pradesh, and Karnataka, the business has already started Integrated Renewable Energy Storage Projects. The firm is dominating the Indian energy industry's automation, emission reductions, and decentralization by offering utility-scale, pure, and economical resource to address the nation's protracted energy stability concerns.
10. Azure Power
Incorporated in 2008, Azure Power is India's autonomous company providing renewable energy services. Azure Power built India's first utility-scale solar project in 2009, and after that, it has significantly evolved to become a powerhouse in the country's development and operation of renewable energy initiatives. Because of the organizational concurrent modeling, planning, and acquisition approaches, the company was able to significantly minimize net project expenditure, which included a considerable decline in balance of systems expenses.
Related Stories