Using renewable power will foster steel decarbonisation
01 Feb 2023
Long Read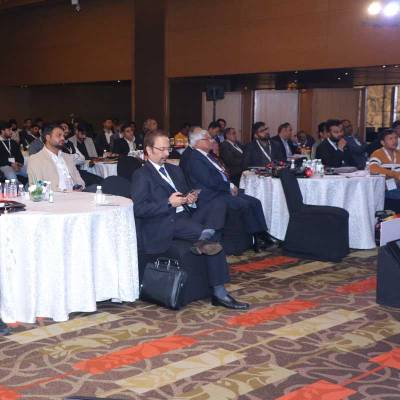 Steel veterans gather at FCC's 'Make In Steel' Conference in New Delhi
In 2018 it was estimated that each tonne of steel produced, emitted an average of 1.85 tonnes of carbon dioxide, equating to about 8% of global carbon dioxide emissions. Today, all the steel players across the globe along with Indian counterparts are increasingly facing the decarbonisation challenge.
Conference Highlights
In a steely affair amongst the steel specialists across the country ably organised by FIRST Construction Council, the 6th edition of '
MAKE IN STEEL
' Conference & Awards 2023, in association with Construction World & Infrastructure Today magazines, was held on February 10, 2023, at New Delhi with the theme 'Decarbonisation v/s Growth'. The dynamic participants prudently explored opportunities to benefit the use and quality of steel in Indian conditions.
Terrence Busuttil, Director, ConstructSteel, World Steel Association (WorldSteel) shared a global perspective of steel with the audience. In his keynote remarks, he claimed, "We expect the steel construction industry to grow by around 2% as the rate of urbanisation growth and the growing rate of domestic products around the world are generating an increase in construction. The additional factor post-COVID is related to the energy transition, as we move away from fossil fuel to renewable energy sources used for construction. When we look at buildings driven by urbanisation and population, infrastructure is further developed, and this is a megatrend that we see in construction today. This allows the steel industry to position itself in a market that is growing over time. However, the share of the steel market in construction is not high. We escalate it at about 25%, and it is very low in general across all markets."
Further, he went on to add, "We need to treat the construction industry as segments, and then target those segments. Bridges, low-rise residential buildings, high-rise residential buildings, etc. are all different segments in the realm of construction, but they cannot be treated in the same way from a market development perspective. They must be treated differently, using different tools to increase their market share."
Prabodha Acharya, Chief Sustainability Officer, JSW Steel was highly vocal while giving the Indian perspective of emissions, stating "According to the government of India, for primary steel production, last year the average reading of emission level was 2.55 tonne of carbon dioxide per tonne of crude steel. That amounts to almost 300 million tonne of carbon emissions last year in India. Even if we reduce the emission intensity by 20% by 2030, still our CO2 emission will be 500 million tonne. And when we reach 2050 at the same pace, the emission figure is going to be too high."
He opined that "By 2050 it is improbable to achieve net zero targets. With the currently known technology and the advent of expected technologies, we still will be dealing with emissions of around 25 million tonnes even by 2070". He further asserted that, "The man-made emissions need to be equal to man-made removals of emission to achieve net-zero. We either have to opt for nature-based solutions like planting additional trees or implement technology-based solutions like carbon capture and storage. But, as of now, we don't know when that is going to be implemented."
He went ahead to add some important points with the audience and stated that "For planting more trees, there will be a requirement of almost 2.5% of forest land for the steel sector to achieve net-zero. We will need 2 million hectares of land for tree plantation. But even with these challenges in our hands, we cannot afford to stop the growth of the sector."
While giving his expert advice on decarbonisation v/s growth theme, Dr. Mukesh Kumar, Sr. Advisor, JSP Group stated, "It has to be seen on an apple-to-apple basis as we are comparing Europe with India. In India, regeneration has not started as yet. Our scrap aggregate is only around 22-24 million tonnes whereas the world market is huge. All international players are heading towards decarbonisation by using renewable power generation."
On sharing his experience of working with the ministry in the past five years, he stated that "By 2047, the steel demand will be around 500 million tonne, but the steel scrap availability will never go beyond 120 million tonne. I feel all the ministries like steel, MNRE, external affairs, finance need to ensure that the India steel industry's interest is not damaged, but is protected."
RK Vijayavergia, Consultant, SRTMI & Ex-Executive Director (Operations), SAIL on the back of his vast experience stated that "To head in the right direction towards achieving net-zero, firstly we need technology to avoid the emission, and secondly, to manage emission in such a way that we prevent them from entering the atmosphere. Technologically derived electric arc furnaces can be used as the most sustainable option in particular. But going for 100% electric arc furnace is normally unrealistic."
Speaking on the challenges, he said "We are having our plants in operation for several years. As new green technologies are available, within the plant, we will have units that will be producing green steel. There may be difficulty in identifying green steel within the combined set-up of conventional mills and the new green technology producing steel. If we adopt hydrogen-based technology in the future, we have to prepare ourselves now. And to run these plants, we need new-age skills in hydrogen generation, hydrogen transportation, hydrogen storage, and hydrogen reduction."
Speaking on the sustainability of steel, Deepak Vaidya, Business Head, Outokumpu appealed to the audience stating, "It is not only about the technology used for producing steel that is going to help us. Working on sustainability is the moral responsibility of all the stakeholders involved. In India, we should also consider small-scale hydro plants to produce electricity used for producing steel."
Touching upon the ideal choice of material in construction, Shailesh Bhandari, Managing Director, Electrotherm India stated, "The total cost of the project will not go up by more than 1-2% if epoxy-coated bars are used on the construction. The government has made it mandatory in all the coastal areas in the state of Gujarat to use epoxy-coated bars. Even in the Mumbai metro rail project, there is a lot of consumption of epoxy-coated bars. In the future, to reduce the carbon footprint, the only way we can decrease this is by decreasing the consumption of steel during the refurbishment process."
The man involved in the making of the Chenab Bridge, Shashank Rajbhoj, AGM-Design, Afcons Infrastructure commented, "I have witnessed that government is more inclined towards concrete structures. But for sea bridge projects having around 500-metre long span, erecting them in steel is a more economical option. We should promote steel works in such cases, as we can avoid the foundation work being done in rivers and sea. In fact, steel structures can also be used in various infrastructure projects. If engineers in our country are given proper guidance, we are very well equipped to execute complex steel structures."
AK Verma, GM-Design, Rail Land Development Authority said, "For station structure buildings, the main challenge is to execute construction while the trains are running. And hence, the concept of modular construction is of paramount importance to us. In Indian Railways, the majority of the FOBs are carried out in steel. Similarly, we are also planning the air concourses and through routes to be constructed in steel, as it is light in weight, launching steel is easier than concrete, and it helps in speeding up of construction."
Sanjiv Garg, Managing Director, Pipavav Railway Corporation shared some great insights on steel used in railways. He claimed that "Considering the high-speed rails that the government is envisaging, the rolling stocks and rails would require more superior and advanced technology of steel. We are moving into a new era where we will be running trains at 200-250 km/hr within the next 10 years. Therefore, the technology will change and the conventional steel technology will no longer sustain."
Throwing light on the current predicament scenario of freight wagons, he said, "For freight wagons, steel is the mainstay for its manufacturing. We are now moving into areas of special types of wagons for carrying special commodities which need special grade steel. In such a scenario, we will need the private sector to come up with the technology to provide us with the wagons that are required. Currently, the current production capacity of wagons in India is 30,000 wagons which are distributed unevenly across 15 producers, but all of them are dependent on the cast iron wheel sets manufactured by Rail Wheel Factory in Bangalore and Rail Wheel Plant, Bela in Bihar, both of which have a limited capacity of around 20,000 wheel sets per annum, and this is inadequate to meet the current demand."
While concluding he said, "Indian Railways is likely to soon float the tender whereby private industry can set up a wheel set manufacturing plant and Railways will give a guarantee of buying back of atleast next 20 years capacity."
Pankaj Gupta, Founder & CEO, ROARK Consulting Engineers was very much candid in saying, "In government projects, steel is only used where it is forced to use like in larger spans. There is no promotional element as well for using steel in government projects. However, during the COVID phase, the Delhi government ordered to erect hospitals using steel as an integral part, as there was a need for faster construction."
Make In Steel Awards Highlights
The deserving steel companies and the game-changers in the steel sector were duly awarded for their exceptional work done during the past year. The 'Make In Steel 2023 Awards' was judged by an expert jury panel that recognised every aspect in detail of all the award categories.
List of Awardees:
| Name of Person/Company | Award Category |
| --- | --- |
| Dr. Sanak Mishra, Former Secretary General & Executive Head, Indian Steel Association | Lifetime Achievement Award |
| Dilip Oommen, CEO, ArcelorMittal Nippon Steel India | Man Of The Year Award |
| Naveen Jindal, Chairman, Jindal Steel & Power Ltd | Entrepreneur of the Year Award |
| Sunvik Steel | Green Factory Of The Year |
| Tata Steel Ltd | Fastest Growing Steel Company - Large Category |
| Jindal Steel & Power Ltd | Second Fastest Growing Steel Company - Large Category |
| JSW Ispat Special Products Ltd | Fastest Growing Steel Company - Medium Category |
| Tata Steel Long Products Ltd | Second Fastest Growing Steel Company - Medium Category |
| Shyam Steel Group | Third Fastest Growing Steel Company - Medium Category |


TMT Rebar Report 2023
FIRST Construction Council (FCC) unveiled a comprehensive 'TMT Rebar Report 2023' during the conference. It is part of the many infrastructure research studies and reports curated by FCC to help the industries with an update on respective materials and products. It acts as a source for all information needs of the construction companies and the industry's stakeholders, the catalyst for adopting best practices, the torchbearer for all policy initiatives needed to enhance the importance and welfare of the industry, thus, being the industry's unified voice.
Related Stories