Video Roundtable: Emerging trends in warehousing & importance of MHE
01 Jun 2021
Long Read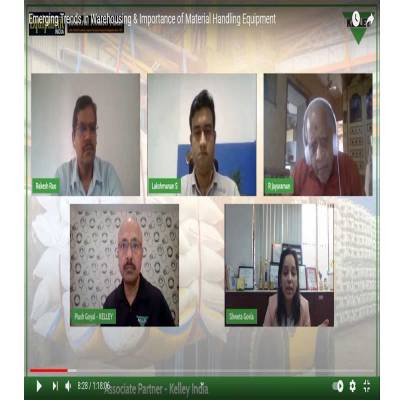 Warehousing and logistics are considered to the backbone of any growing economy. India, with its unique advantage of a diverse talent pool and huge local market, is well-poised to attract global manufacturers who are evaluating the China-Plus-One strategy; thus, leading to rise in warehousing and logistics demand. For many companies, the success of their business depends on the productivity of their warehouses. Material handling equipment (MHE) today are an essential component of any well-organised warehouse. It is for this reason successful businesses invest time and money to improve their material handling systems to enhance warehouse efficiency.
In this context, Industrial Products Finder (IPF) and Equipment India (EI), along with Kelley Material Handling Equipment India as the Associate Partner, hosted a video roundtable—Emerging Trends in Warehousing and Importance of MHE—on June 23, 2021 to discuss some of the emerging trends in warehousing and importance of material handling equipment for safe, seamless and efficient transport of products in the warehouses.
Moderated by Rakesh Rao, Executive Editor of IPF, the video roundtable included speakers from the who's who of the warehousing and material handling space. Eminent speakers included: Lakshmanan S, VP & Head – Ecom Fulfillment Services (EFS), Ecom Express; Piush Goyal, Managing Director, Kelley Material Handling Equipment India; Prof R Jayaraman, Head – Capstone Projects at Bhavan's S.P. Jain Institute of Management and Research (SPJIMR); and Shweta Goela, General Manager (Corporate Strategy), Safexpress.
Speaking on the present status of warehousing and logistics sector in India, Goela, who is also an APICS certified supply chain professional with over 17 years of industry experience, had this to say: "Indian warehousing sector depends on various sub sectors like e-commerce, logistics, etc. for development. Right now, the Indian logistics sector is at a nascent stage. The domestic warehousing and logistics is fragmented with 90% of the industry controlled by unorganised players. This has led to higher logistics cost. In India, the logistics cost is around 13-14% in comparison to other developed countries, where it is around 9%."
Goela thinks that government policies like grant of infrastructure to warehousing have changed the landscape of logistics in India. "This has resulted in sector being attracted by quite a few international players for investment. A total of $470 billion FDI has been attracted during the April to March 2020-2021 period. The government has also released the framework on the logistics policy. So things are going in the right direction", added Goela.
Said Lakshmanan S, "Earlier, this sector was mainly focussed on metros and tier I cities. However, nowadays the sector is focussed more on tier II and III cities. A lot of traction is put on storage for the warehousing sector. The warehousing sector is bifurcated into 55% for retail and industry warehousing, 15% for cold storage and 15% for agriculture. During Covid-19 pandemic times, we have seen growth of e-grocery items, which is growing at 60% year on year (YoY)."
Kelly's Managing Director Goyal has more than three decades of experience in handling sales, marketing and product development of material handling equipment and construction equipment with leading corporates. Speaking on how are transformations in warehousing leading to changes in the requirements of material handling equipment, he said, "Warehouse designs could be different from factory designs. In case of e-commerce, the size and weight of boxes are going to be small. When we talk about big companies like Tata Motors, Ashok Leyland, Volvo, etc., the size of boxes could be much bigger. So the requirement of material handling equipment would be different from application to application. Hence comes different types of automation. In the warehouse, if the software is not working properly, it can create a havoc. If there is no shelter/door, there could be energy loss. It all depends on facility to facility and application to application."
There is a high amount of uncertainty in demand and supply due to the Covid pandemic. So how critical is for warehouses to maintain operational efficiency? Prof R Jayaraman, who has also been associated with Tata Group companies like Tata Steel, Tata Communications and Tata Teleservices, said, "In the industry, efficiency is contextual. Over the years, the industry has developed. The need is to have more warehouses. You need to have decentralised warehousing system, where stocked goods are at three levels. The more the levels, the more the complex will be your warehousing/distribution system."
Government schemes: Taking the industry forward
Manufacturing is likely to gain momentum due to government's initiatives like Atmanirbhar Bharat programme, PLI scheme, etc. and global companies' China-plus One policy. Lakshmanan said, "These government schemes will boost the production in our country. So more warehouses will be required to store raw materials. The retail sector has consolidated a lot of warehousing space during Covid and pre-Covid period. On e-commerce front, the speed to market are decentralising. Any brands are available anywhere now. These schemes are definitely beneficial to the industry. There will also be job opportunities."
Said Goela, "GST is making the B2B ecosystem evolve. The companies are consolidating their warehouses, and are making their distribution system more operationally efficient. All these opportunities are going to help India evolve faster. As you know, 90% of the industry is unorganised, so that level of automation is going to happen in the next few years."
Automation: Need of the hour
On the changes one can expect in warehousing and MHE sectors in the near future, Prof Jayaraman said, "The changes are taking place in the warehousing space. The changes are driven by complexity in the market. India is slowly and gradually becoming the manufacturers to the world. So to do this, we are going to need a lot of changes in the MHE sector. Even the market volumes are increasing. So the old warehouses have to be transformed as they cannot handle large volumes. With the advent of Internet of Things and automation, the use of MHE has become much easier than it was before."
Goyal said, "Different kinds of the MHE are the need of the hour. The introduction of the Kelley air-powered dock leveler revolutionised the industry as we know it today. Kelley dock levelers continue to feature innovations that are stronger, longer-lasting and more dependable for a more productive workplace. From economical mechanicals and economically efficient air-powered dock levelers to high-capacity hydraulic units, there's a Kelley leveler for every loading dock. These are the trends of the future. The need is the have dock levellers for all types of vehicle – small, medium, large."
He added, "Kelley HVLS fans produce a massive, cylindrical column of air that flows down to the floor and outward in all directions, consistently circulating air in large spaces. These advantages come with reduced energy consumption, as well. By having big fans working with the HVAC system to better regulate temperature from floor to ceiling, a facility can raise the thermostat setting 3-5 degrees, creating the potential for up to 4% energy savings per degree change. And integrating your Kelley industrial fans with iFAN software allows for central monitoring of fan activity for optimum performance and energy efficiency."
Goela concludes, "The year 2021 is expected to increase the city needs of warehousing requirements. Logistics and warehousing set up has to be equipped with modern storage requirements. Keeping all the constraints in mind, we need to ensure that we provide quality services. We need to be prepared and develop the kind of infrastructure for the growing needs."
Related Stories