Yashobhoomi: World Class Conference Tourism Infrastructure
01 Sep 2023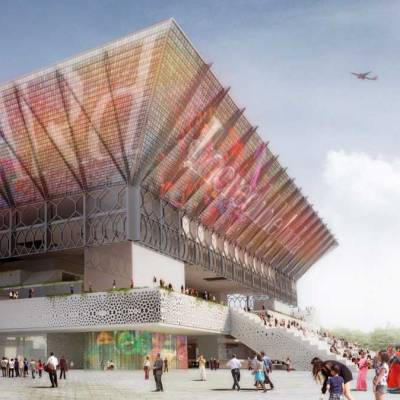 After medical tourism and religious tourism, India promises to be a major destination for conference tourism with the launch of the first phase of the India International Convention and Expo Centre (IICC) in New Delhi's Dwarka.
Named Yashobhoomi, the centre is part of a plan to put Delhi on the global conference tourism map, besides generating thousands of jobs and helping traditional artisans and craftsmen find an international audience for their skills.
Globally, destinations in Spain, UAE and USA are considered the best MICE (Meetings, Incentives, Conferences, and Exhibitions) venues. Asian cities in China, Thailand, Malaysia and Singapore also attract large event holders. India has typically lagged behind in this space, with only an estimated one per cent of the worldwide opportunity, because of smaller facilities that lack world-class infrastructure.
All this stands to change with Yashobhoomi. Spanning 8.9 lakh square metres, with a built up area of more than 1.8 lakh square metres, Yashobhoomi is India and Asia's largest convention centre by area, and among the world's largest MICE facilities, not to mention a first in mega MICE-purposed real estate in India. Yashobhoomi's first phase comprises a convention centre, two exhibition halls and underground parking for over 3,000 cars. The list of amenities includes electric charging points, cafes, restrooms and a one-kilometre-long foyer to link spaces.
Standout features
Conceptualised in 2017, Yashobhoomi has been a long time in the making. But the wait has been worth the while. What stands out about the first phase is the way the project "integrates traditional architectural elements with a contemporary vision", according to 
Dishu Kukreja, Principal Architect, CP Kukreja Architects.
"Classic features such as jaalis, stepped wells, green open spaces, and a lotus motif on the retractable roof of the indoor arena have been reimagined through innovative forms and spatial arrangements," narrates Kukreja.
Within the structure, several design and material choices are also inspired by the country's rich culture. For instance, the main auditorium's terrazzo floors with brass inlays, suspended sound absorbent metal cylinders and lit-up patterned walls, and the Grand Ballroom's petal-themed design on the ceiling.
To read the full story, CLICK HERE.