Zojila Tunnel completion deadline extended to 2030
01 Aug 2023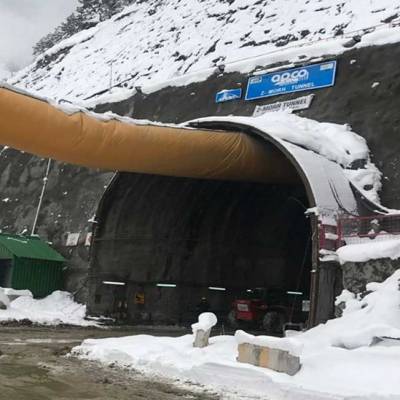 Officials have recently announced a revised completion deadline for the ambitious Zojila tunnel project, which is of utmost importance for establishing year-round connectivity between the Kashmir valley and the Ladakh region. The challenging terrain and adverse weather conditions have pushed the completion date to December 2030.
The Zojila tunnel holds significant importance as it is considered the longest and highest-altitude tunnel in Asia. Once completed, it will drastically reduce the travel time across the treacherous Zojila pass from four hours to a mere 15 minutes, making transportation more efficient and convenient.
However, the progress of the project has been hampered by the region's unforgiving conditions, including the threat of avalanches and harsh weather, leading to several work stoppages. Currently, only about 40 per cent of the 13-km-long tunnel has been constructed.
Captain IK Singh of the Border Roads Organisation explained that the original completion target of December 2026 had to be extended to December 2030 to account for these challenges.
The Zojila tunnel will play a crucial strategic role as the Zojila Pass, situated at an elevation of 11,578 feet on the Srinagar-Kargil-Leh National Highway, becomes impassable during winters due to heavy snowfall. This isolation cuts off the Ladakh region from Kashmir, affecting both local communities and military movements. The tunnel will offer an all-weather route, providing a solution to the hindrance caused by winter closures.
The tunnel, stretching from Baltal in the Ganderbal district of central Kashmir to Minimarg in Drass town, Kargil district of Ladakh, includes an approach road of 18 km, making the total length of the project 31 km.
To ensure efficient construction and minimise risks, the tunnel is being built using the Austrian tunnelling method, a technique widely used in Europe and North America. The construction has made significant progress, with 6 km already cut, and work is proceeding rapidly from both ends.
The foundation stone for the Zojila tunnel project was laid in 2018, with the Cabinet Committee on Economic Affairs approving its construction, operation, and maintenance at an estimated cost of Rs 68 billion. Once operational, the tunnel will provide a much-needed lifeline for the region, facilitating smoother travel and trade even during harsh weather conditions, benefitting locals, tourists, and military operations alike.
Related Stories