Handling materials in times of physical distancing
01 Jun 2020
Long Read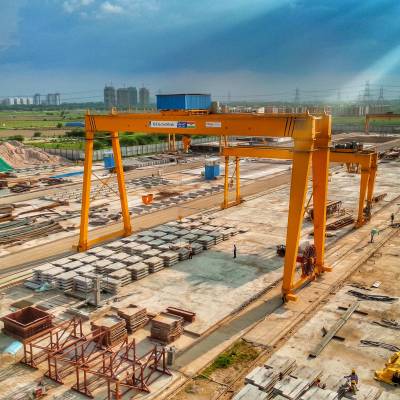 Photo courtesy: Electromech
As the COVID-19 pandemic took over India, multiple lockdowns halted work on real-estate and infrastructure development. However, some sectors have worked through the lull—warehousing, logistics and some mines—primarily to handle essential commodities. How might the pandemic impact growth in these sectors and what can the Government do to help?
Mining
Coal mines and iron mines worked with 30 per cent manpower at the outset of the lockdown and gradually stepped up, shares Samar Pal, Divisional Head/Mining Division, Liebherr India. Despatches from Coal India subsidiaries were slower owing to a slump in demand for power. However, given the necessity of these sectors, Pal does not expect their proposed capital investment for 2020-21 to be cutbut possibly deferred. That means some orders may still materialise.
thyssenkrupp Industries India has received few fresh orders during the lockdown to add to those in the pipeline. "Our new orders include wet ball mills for flue gas desulphurisation (FGD) projects, pulleys for coal mining projects, and a mine plan study for the introduction of continuous mining equipment in a coal mine," shares Indranil Roy, Director, Material Handling Equipment, thyssenkrupp Industries India.
Roy is hopeful about new orders materialising in the next three to four months. However, "insufficient manpower due to the migrant worker crisis could be extremely challenging for the expansion of capital goods industry in the mining sector this year, especially considering that distress in the construction sector will contribute to constrained cash flows," he opines. "With this, downstream industries like power plants and steel plants may also be affected."
Pal expects lower demand for steel in view of the distress in the auto and construction sectors, and cash constraints. To boost productivity and metal production, salvage metal exports and save the Indian raw material market from being delinked from international pricing, he advocates lifting restrictions on transportation, ports and vessels, making available manpower and prioritising the auctioning of mines in Odisha, pending since March 2019.
Incidentally, cement was not labelled essential and, hence, Pal expects cement production to fall by 70-80 per cent in 2020 and 20-25 per cent in 2021 because through production has resumed, manpower and logistics are still a cause of concern. This year, he expects demand will contract by at least 9 per cent as against the projected 6 per cent growth.
Ports 
COVID-19 has changed the priorities for ports, shares Sudhir Kanvinde, Executive Director, Indian Ports Association. "From the perspective of material handling, while the digitalisation of ports had started well before the outbreak, the focus is now oneliminating physical touchpoints," he explains. "So, we seek to digitalise everydocument pertaining tocargo transfers, including the bill of lading,to move from digitised ports to fully automated ports. We are looking at linking logistics with the Port Community System (PCS) 1x tofacilitate the movement of containers and introduce facilities likecontainer recognition for accurate positioning in the yard, artificialintelligence in x-ray scanning for image analysis, etc."
Beyond these digital opportunities, "starting May, TIL Ltd has been getting new inquiries for reach stackers, cranes from the domestic market, mainly in the port, roads and steel plant sectors," shares Anil Bhatia, Vice-President, Sales & Marketing, TIL Ltd. "Apparently, steel exports have picked up."
TIL Ltd has also been getting global inquiries for reach stackers, driven primarily by its competitive pricing, an outcome of over 50 per cent localisation, shorter delivery times and stringent adherence to quality standards in line with those at Hyster's Nijmegen plant in the Netherlands, adds Bhatia.
Rail
Avinash Chand Rai, COO, Adani Ports Mundra, believes the time is ripe for road to rail conversion for the movement of containers, and attributes this to the positive move by the Railways to bring in empties to help ports evacuate cargo during the lockdown.
Essentially, customers have seen the merit in moving goods by railways, opines Bhatia. "With no passenger trains running [during the lockdown], freight has been moving at upto four times the usual speed. We expect to see some shift in freight movement to road to rail."
For this shift to concretise, Rai feels the Railway Board should reconsider container cargo rates. "Container is the only business where the Railways earns money on both ends," he says. "On other goods, the Railways charges freight on only one side. Container cargo is the only cargo which runs on a 100 per cent empty return ratio."
Other sectors
No company that CW reached out to reported cancellation of pre-COVID-19 orders. VG Sakthikumar, Managing Director, Schwing Stetter India, Convenor for Membership Committee, ICEMA, and Chairman of the Mechanisation Committee, Builders Association of India, spoke of the postponement of orders placed by crane rental companies that are currently facing cash flow constraints as their contractor-customers have cut back on the equipment they hire. Incidentally, in the short to mid-term, Manoj Agarwal, CGM, Marketing & Product Support, ACE, sees greater opportunities for rental companies s as companies will prefer to rent equipment than buy to cut their capex.
For now, work has resumed. TIL Ltd has shipped pre-lockdown orders of reach stackers and cranes, both overseas and within India. It has resumed production in its Kharagpur factory as have all of Manitowoc's factories, including the Chakan plant, as have Electromech and ACE, after implementing precautionary measures for the safety and well-being of employees. "Supply chains are getting back on track, though they have still not picked up pace, adds Tushar Mehendale, Managing Director, Electromech.
Some companies serving the infrastructure development segment have even bagged orders during the lockdown. XCMG despatched excavators even in April to priority infrastructure projects with special permissions to continue work. A few fresh orders of ACE are dependent on the start of activities on customer sites.
Going forward, companies don't expect the going to be smooth. "We expect to see additional headwinds in Q2 and Q3 as we transition out of the lockdown and into the new normal," says Prashant Suryawanshi, Managing Director, Manitowoc Cranes Potain India.
While the recovery will be slow, Sakthikumar says it will be aided by "introducing more packages to instil confidence in stakeholders. From March to now, much has changed; those with projects to roll out will avail of the interest cut, the moratorium on EMIs and extra credit lines, while others may be more cautious."
Easing funding will help as well. "Banks and NBFCs are still not in disbursal mode; they are extending credit only to sure-shot customers," says Sakthikumar.
"Rental associations like the Crane Owners Association of India and the Construction Equipment Rental Association of India have requested the Government to ease liquidity by deferring the repayment of their monthly EMIs against equipment financed and are also seeking favourable CC limits/loans from banks under the MSME package," adds Agarwal.
The biggest positive is that super companies, at least, are still in growth mode. "We expect market leaders in all the industries we serve—heavy engineering, power generation, steel, automobile and infrastructure construction—to continue with their expansion plans," says Mehendale.
COVID-19's impact on Chinese material handling machines
Preference for domestic sourcing by cautious companies
Asim Behera, Chief Operating Officer, Daifuku India, believes "cautious sectors will prefer procuring within India as COVID-19 has disrupted global supply chain patterns." So, he feels the pandemic might actually be the catalyst 'Make in India' needed.
Impact on entry of Chinese equipment companies
Samar Pal, Divisional Head/Mining Division, Liebherr India, believes China will lie low for some time. Contrarily, Manoj Agarwal, CGM, Marketing & Product Support, ACE, expects Chinese companies to be aggressive as they usually are in India. Behera also expects no let-up in the activity of Chinese companies like BYDthat were already setting up base in India prior to the lockdown.
India is one of the world's biggest and most vibrant markets with a great future and so, naturally, XCMG, which is a top brand in China, would like to make an impact here, reckons VG Sakthikumar, Managing Director, Schwing Stetter India, Convenor for Membership Committee, ICEMAChairman of the Mechanisation Committee, Builders Association of India. "However, our experience with Schwing Stetter, Germany, suggests that any company with a global footprint looks to first gain volume in a new market, then establishes a manufacturing centre; if that centre offers a quality plus cost advantage, those products are eventually exported worldwide. Today, Schwing has started exporting 'Made in India' products to Europe and North America, besides Asian and African markets.XCMG launched an imported excavator in India six months ago. Already, it has moved to import Indian engines and send the finished excavator back to India as a first step towards localisation."
Negative sentiment towards China
Pal sees an opportunity for India to take advantage of the negative sentiment towards China globally, to become a raw material source for automakers in Wuhan, and for Indian and Korean manufacturers looking to shift sourcing from China to India. India could also focus on attracting companies looking to shift production out of China following the pandemic. (Japan has earmarked 2.2 billion dollars to facilitate this shift.)
Agarwal believes customers are opting for alternatives to Chinese products wherever available.
Related Stories