How are construction cos managing operations at sites?
01 Jun 2020
Long Read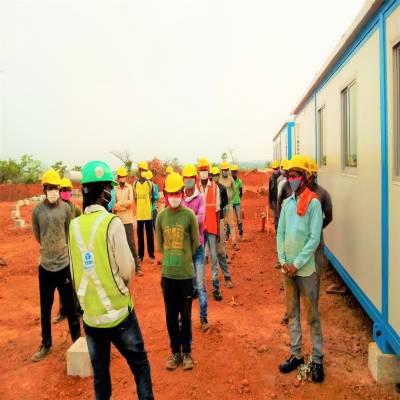 Photo courtesy: Tata Projects
In general, the pandemic and subsequent nationwide lockdown disrupted the growth of infrastructure companies for FY2020. It is estimated that 85 per cent of infra companies expect a
substantial hit to revenues
of about 55-65 per cent in the April-June quarter.
CW spoke to India's leading contractors to understand the challenges faced by them, measures undertaken to overcome these and to ensure safety at sites, as well how they are working towards revival. 
With the entire country in a lockdown, all construction work across most of Larsen & Toubro's (L&T) projects came to a grinding halt. Only a few projects continued, providing essential services like its O&M commitments to keep water infrastructure facilities functioning; at a few other projects, at the behest of the clients involved, India's largest construction contractor was able to complete some monsoon preparation works. "Today, with India in unlock mode, our concerted efforts are to resume operations and try and make up for lost time," says SN Subrahmanyan, CEO & Managing Director, L&T. "The fact that labour has gone to their native places and that local labour is expensive is not helping. We had about 230,000 workmen at our various projects when the pandemic broke out. Today, we are down to just about 100,000, so output has reduced to that extent. But we are confident that a reverse migration will soon take place, that labour will return in adequate numbers in the right mindset for projects to start operating at full steam."
From March 22 almost till the end of April, both tolling operations and construction have been significantly affected from the imposition of lockdowns, initially by the state governments followed by the Centre. "Although construction activities resumed in the fourth week of April, because of the exodus of migrant labour and disruption in supply chains, progress is subdued and has been substantially below optimal levels till now," shares Yogesh Kumar Jain, Managing Director, PNC Infratech.
The lockdown greatly impacted the production of GR Infraprojects as all its backward integration factories had to be shut immediately. "Factors including supply chain disruption, shortage of subcontractors and materials, and shortage of labour force all have the potential to cause substantial construction delays and project cost overruns into 2021," notes Ratan Lal Kashyap, Senior Vice President-Procurement, GR Infraprojects (GRIL). 
On-site measures
Now that operations on construction sites have begun, construction companies are taking several precautions to manage work with social distancing among labourers and incorporating several other safety measures.
Construction sites with over 50 labourers will always be a COVID-19 risk place, hence it is necessary to take all possible steps to protect the workforce and minimise spread of infection. KNR Constructions has taken a holistic approach with regard to the wellness of workers, staff and safety norms, safe distancing, and safety precautions—followed at all its project sites. "This being a continuous process, adequate steps are being taken to appoint COVID-19 supervisors with new responsibilities of educating workers on symptoms of the virus, transmissibility and safety measures like maintaining a physical distance of 2 m and adhering to other suggested practices for infection prevention and control to be followed as per the guidelines," says K Jalandhar Reddy, Executive Director, KNR Constructions. Other practices by the firm include issuing leaflets with instructions to this effect; putting in place safety accessories like sanitisers; setting up additional washbasins; providing clean drinking water and reusable masks; sanitising the entire work area, rest rooms and dormitories thrice a week; providing health-monitoring instruments, like those for measurement of body temperature; engaging a health consultant on a regular basis; making an ambulance available for emergency cases; restricting entry of outsiders; and monitoring and reports for compliance to top management. "A clear work instruction from the project manager is sent to workers to avoid assembly of a large number of workers at a specific work area and avoiding overlap of work and workforce," adds Reddy. "Discussing work progress is normally planned through video or conference calls. Also, drone cameras are being put in place to monitor progress."
L&T took on the onus of looking after workmen and their families at its various labour camps across projects pan India. "Not only were we committed to ensure their health, safety and wellbeing, all precautionary measures to break the COVID-19 chain like wearing masks, maintaining social distancing and strict hygiene protocols were all enforced," says Subrahmanyan. "This is why the incidence of positive cases among our 1.6 lakh workmen who remained is negligible." After the relaxations were announced from April 20, operations have resumed at about 90 per cent of L&T's projects with the same measures being strictly practised. 
PNC Infratech, too, is taking due precautions across both operation and construction sites, including provision of masks, gloves and sanitisers; staggering of working hours and food timings for staff and workers; provisional of additional washing facilities; and following social distancing while execution. "Thermal scanners are provided at all sites for checking the temperature of staff and workers and physical separation of suspected or sick persons and isolation rooms have been setup at all sites," Jain tells us.
Tata Projects is also taking various measures to assist its current workforce, such as providing temporary housing and food arrangements at various project sites so workers don't have to travel long distances and remain safe. "We have adhered to all government directives and regulations," shares Himanshu Chaturvedi, Chief Strategy Officer, Tata Projects. "We are ensuring social distancing measures at worksites by providing facemasks, sanitisers and washing facilities to workers, and deploying qualified medical personnel at various sites so that timely medical treatment can be made available. In addition, all our employees deployed at various offices and project sites are covered under medical and term insurance to ensure their wellbeing and provide reassurance to their families."
At GR Infraprojects' sites, medical check-ups for body temperature and blood pressure and medical camps at sites are conducted regularly. A sanitisation drive at sites and factories, camps, offices, labour colonies and site canteens is done to ensure safety for the workers and all workers are provided with necessary safety gear. "We strictly follow SOPs to effectively deal with COVID-19 at sites and offices," says Kashyap. "We also conduct awareness programmes among villagers near sites about the importance of mask and sanitisers to combat Coronavirus."
Related Stories