How to pick the right flooring solution for you
01 Sep 2022
Long Read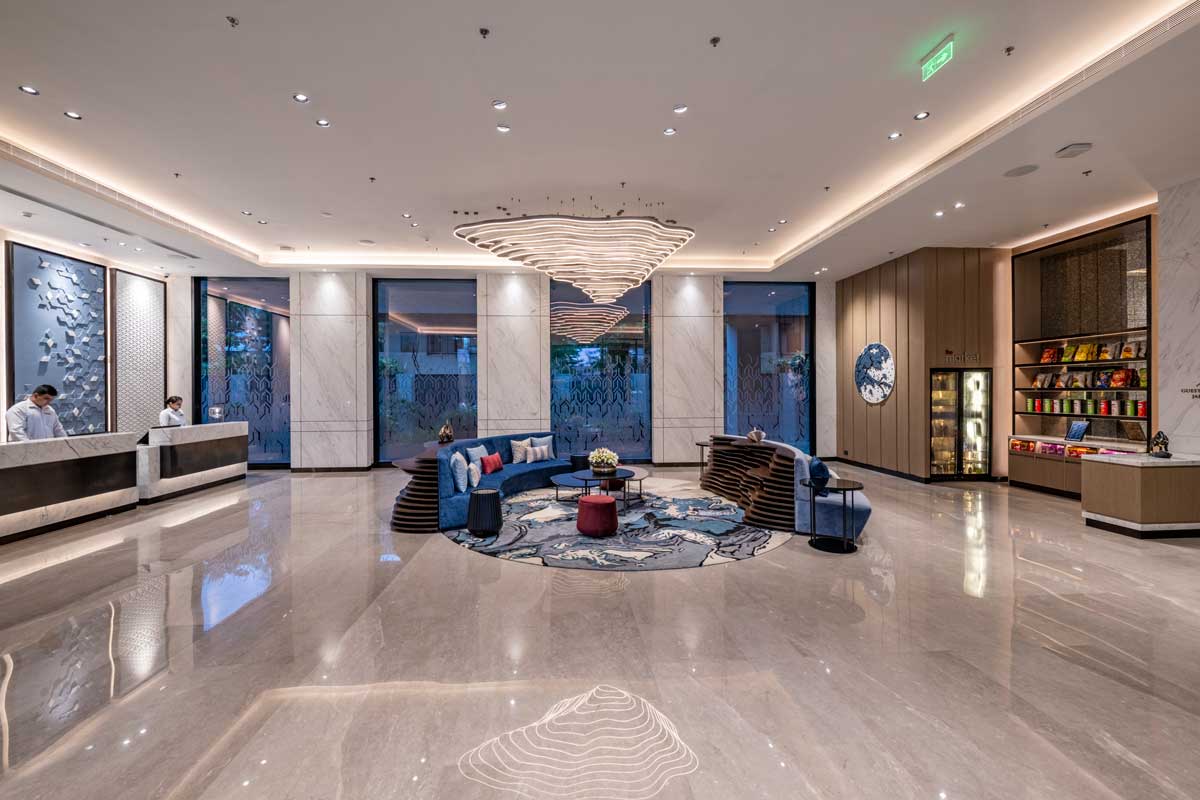 The flooring market in India is witnessing an increased demand for luxury flooring materials owing to the latest trends. The Indian tile industry today has matured and come at par with international standards, becoming a global hub with multiple manufacturing locations.
"A myriad of designs and flooring materials are available, and with this, architects and designers are constantly experimenting with newer and better flooring solutions in their projects,"says KhozemaChitalwala, Principal Architect and Designer, Designers Group. "It is a known fact that multiple Spanish, Italian, and German flooring manufacturing units are being set up in India and gradually taking over the global market."
"We strive to achieve materials that resonate with the client, the context, and the climate," says Pavithra Lakshmi, Associate, Morphogenesis. Every material comes with a cultural origin, and imbibing their traditional uniqueness with commercially poised material palettes can indigenously highlight the visual experience. The synergy among indoor and outdoor surfaces across various functional spaces is key in determining predominant factors like dust, glare and heat resistance. "The design trends in the flooring industry are determined solely by the client's brief, the overruling context and climate consciousness," she adds. The timelines and quality benchmarks, however, continue to remain a major challenge for leading large-scale manufacturers.
"With the construction industry being more in tune with the modular approach, the flooring industry could also incorporate this concept where a non-professional can install these on their own based on individual choices," suggests Chinmay Patil, Vertical Head - Medical Planning & Interiors, Edifice Consultants. "They can be easily removable, which leads to adaptive usage and lesser wastage. It would also be sustainable if more sizing options are available, that help in providing designers flexibility to use them depending on the different dimensions of spaces and reduce wastage caused by cutting tiles."
The industry needs flooring with a specified life cycle warranty. "Custom printed heavy-duty flooring tiles, tiles with no edge warping, and large format full body tiles of 20 mm thickness that can substitute granite and stone are also some improvements that can be considered," Vivek Singh Rathore, Principal Architect, Salient Design Studio, says. "A revival of the patterned terrazzo flooring is also something to be considered, along with multiple blending colour tiles."Speaking of what is popular in mixed-use constructions, he adds, "Heavy-duty self-levelling flooring using epoxy or similar materials is a trending material that makes laying and fixing easy as well as saves on-site time. Other popular materials include non-toxic nature-green certified flooring options and hybrid composite flooring with natural stone dust or stone particles that can be laid together for waste recycling and cost efficacy."
Factors in selection
Emerging flooring trends are technologically innovative and better engineered. The engineered stones, laminate planks, heterogeneous and homogenous vinyl flooring, and Marmoleum and linoleum floorings are widely utilised in recent times. "With a comprehensive approach to flooring design for our projects, we broadly integrate aesthetics, durability, flexibility, and adaptability into each," says Lakshmi. "The frontier spaces like the concierge and arrivals are stylised with statement selections reflecting our client's taste and identity." To retain the local essence within the contemporary designs, they incorporate contextual stone within the modern materials.
Circulation-intensive areas with high footfall require functional flooring, creating a demand for durable materials. "Flexible office spaces such as meeting areas that can be converted into diverse working spaces from time to time, need a modular flooring range that can facilitate cables and logistically aided zones," says Lakshmi. Other factors that play a role in determining the flooring material are the time-sensitivity of projects and other execution commitments.
In healthcare projects, user safety and hygiene are of prime importance. "Apart from heavy footfall, the flooring also needs to cater to the heavy usage of trolleys, wheelchairs, patient beds and in some cases, medical equipment being wheeled across the hospital," Patil shares. Flooring for hospitals also differs with specific space use. "Critical areas like ICUs and operation theatres should be provided with a seamless flooring, devoid of any joints, for infection control and for user safety in case of electrostatic discharge from medical equipment," he says.
Designers today opt for tiles with diverse looks and finishes. For instance, concrete finish, stone finish, and terrazzo finish tiles are popular in hospitality spaces. And as Chitalwala elaborates, "Key considerations while choosing the right flooring are ease of maintenance and durability." Given the constant foot traffic in restaurants and hotels, maximising the use of double-charged tiles can help to tackle the wear and tear. Glazing is yet another factor to consider. Tiles should have a matt finish so they do not reflect sunlight as much as glossy tiles and the visibility of imperfections is kept to a minimum.
Key factors in selecting flooring for mixed-use include factors like low maintenance, high abrasion resistance and non-glossy texture of the flooring. One can opt for ready-to-lay matrix format flooring in case of customised patterns so that on-site job work can be minimised. Rathore suggests 12-16 mm thick flooring for all public areas.
These recommendations and suggestions further translate into usage-specific solutions, as demonstrated by the case studies in this story. Certainly, making the right choice for flooring directly impacts the unique personality of a space.
Case 1: Mixed-use
Project:
 City Centre, Patna a mixed-use development with mall, hotel, office and residential
Project size: 
110 million sq ft
Cost: 
Average cost was Rs 180 per sq ft (ranging from Rs 80 to Rs 450 per sq ft)
Flooring solution: 
Multiple brands were used, majorly Donato, with customised tiles in 75 per cent of the project, says says Vivek Singh Rathore, Principal Architect, Salient Design Studio."Other solutions include Italian Marble, Varmora, Simpolo, Kajaria, EPDM which was cast in-situ rubber flooring for the kids' play terrace area, and Nasoli Stone."
Installation and maintenance: 
Laying of tiles standardly over a chemical bed with spacers and infilling with epoxy grouting.
What NOT to use:
 In-situ flooring anywhere except the parking levels, self-levelling flooring, terrazzo and pigmented flooring.
Case 2: Commercial
Project: 
Zydus, Ahmedabad
Project size and footfall: 
840,000 sq ft (450,000 sq ft of super structure); 4,500 pax
Flooring solution: 
The office spaces and workstations are installed with carpet to provide flexibility and acoustic properties whereas stone are used in the passageways to cater to the high employee movement. "Similarly, hard surfaces such as granite – locally procured – are used outdoors to withstand the weight of heavy vehicles and continuous pedestrian movements. In some portions of the landscape such as seating areas or the open-air amphitheatre, we have proposed wooden seating to tackle the heat that is typical in a hot-dry climate zone," Pavithra Lakshmi, Associate, Morphogenesis, shares. A variety of plantations and softscape have been incorporated into the outdoors to provide shade and contrast the hardscape, further reducing the heat island effect.
Varied materials have been explored and installed throughout the project due to the range of different spaces and their usage. "In-situ epoxy terrazzo flooring was proposed to solve the fluid geometry we perceive in the building's common areas due to the design and the dynamic foot traffic," Lakshmi adds, "At the same time, we also wanted to enrich the art and culture, hence, we commissioned the local workforce to implement a flooring style that is traditionally used and they are experienced in." The result is a seamless texture devoid of any irregularities following the curvature of the building.
Installation and maintenance: 
Terrazzo is a well-known traditional material that continues to be in use today. It is made of natural stones, glass or other suitable chips, which are poured with a binder such as epoxy, cement or a combination of both. The flooring is cured, grounded, and polished until a uniform textured surface is achieved. It is durable and low on maintenance due to its seamless texture. It is devoid of joints, dust-free and thus, requires minimal cleaning. The only maintenance that may be required is polishing once in a while, Lakshmi says.
What NOT to use: Due to the bespoke seamlessness that we were trying to achieve with the curves, "we avoided materials that are confined to a specific dimension, which start appearing repetitive and create odd junction details near curved portions due to their rectilinear shape,"shares Lakshmi.



Case 3: Healthcare
Project:
Mahamana Pandit Madanmohan Malviya Cancer Hospital at Benaras Hindu University Campus, Varanasi
Project size: 
586,000 sq ft; 350 beds
Flooring solution: 
"We have used homogenous full-body vitrified tiles – a type of porcelain tile relatively denser and less porous in nature than ceramic tiles – in most of the areas of the project," 
Chinmay Patil, Vertical Head - Medical Planning & Interiors, Edifice Consultants
 shares. "We have also used tiles on the walls to resist impacts and abrasions from any wheelchair or trolleys during patient transfer." For toilet or wet areas, anti-skid tiles have been provided to prevent patients from falling. Granite flooring is provided in the lobby to handle the large crowd movement. It is available in large sizes that allow for lesser joints. It also adds visual grandeur to the large lobby space. Dissipative vinyl flooring has been used in critical areas like operation theatres and ICUs. Diagnostic modalities like Linear Accelerators and Brachytherapy were provided with epoxy flooring for a seamless finish.
What NOT to use: "Any material, which is porous in nature or difficult to withstand chemical and body fluid stains are to be avoided in a healthcare environment,"suggests Patil.
Case 4: Hospitality
Project: 
Fairfield by Marriott, Mumbai
Project size: 
82,000 sq ft
Flooring solution: 
The suites and rooms have been adorned with wooden and marble finished tiles for durability and ease of maintenance, as well as for their aesthetic appeal, shares 
KhozemaChitalwala, Principal Architect and Designer, Designers Group.
 The tiles were affixed using chemical and epoxy solution and grouted using epoxy. "With easy installations such as this, easy maintenance is guaranteed," he adds.
What NOT to use: 
"Natural wood or engineered wood should not be considered for hospitality spaces as they are uneconomical and high maintenance," Chitalwalapoints out.
- MANALI HAWARE
Related Stories