Infra Trailing? Will government spending accelerate?
01 Sep 2022
Long Read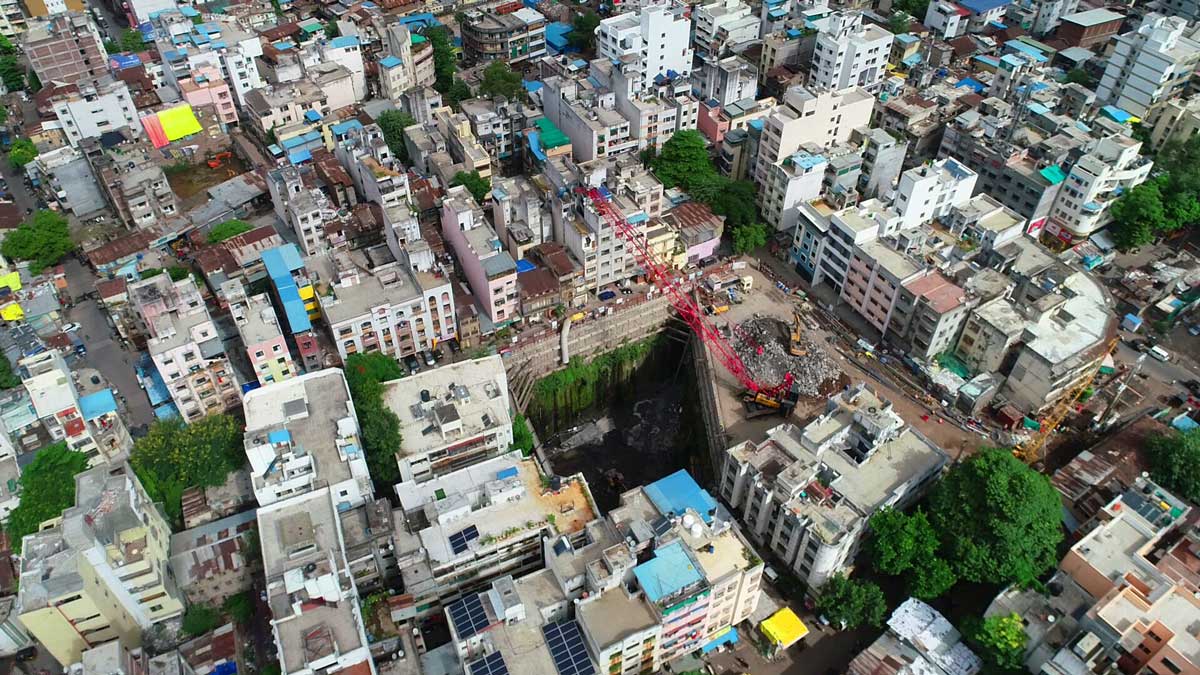 In its most important economic agenda to lift the GDP growth, the government has majorly been focusing on infrastructure. Reports indicate that since FY20, the Centre has undertaken a CAPEX of Rs 21.26 trillion in order to boost private investment and consumption through the multiplier effect. This is 14.42 per cent of India's Rs 147.36 trillion real GDP and 9 per cent of its Rs 236.65 trillion nominal GDP for FY22. The impact has been visible in the Q1FY23 numbers of infrastructure construction companies. Net profit margins have significantly improved over the pre-pandemic quarter of December 2019. And this is clearly reflecting in their bottom-lines.
The Centre has also outlined spending plans for FY23;it is believed that this will augur well for the construction companies. Sources indicate that the Centre has lined up a CAPEX of Rs 7,500 billion for the current fiscal. About Rs 1,750.64 billion of the total allocation has been utilised in the April-June period, and reportedly a total of Rs 780 billion was spent in April itself.
The Centre's masterplan also indicates a list of mega infrastructure projects. While the Gati Shakti is considered a huge step towards achieving India's $5 trillion economic goal, to achieve this target, reports indicate that India would need five times more spending towards infrastructure development. CW team queries some industry bigwigs for their views on the pace at which infrastructure works is progressing and if government spending is accelerating projects at the desired pace.
Opportunities galore
Nationwide, there are several projects coming up and this has been spurring opportunities across sectors.
Nalin Gupta, Managing Director, J Kumar Infra,
sees a great boom in the infrastructure. He attributes this to the National Infrastructure Pipeline (NIP), and the government focusing on infusing about Rs 111 trillion into the infrastructure segment. "While infrastructure projects offer great facilities and convenience for the citizens of the country, even companies like ours, in this segment, have been witnessing good toplines and bottom lines. And, this is the time for us to see good growth."
As SV Desai, Director and Senior Vice President - Infrastructure, L&T, lists,"One is the multimodal transport by Mumbai Metro Regional Development Authority (MMRDA),the Alibaug-Virar road project by Maharashtra State Road Development Corporation (MSRDC), and the Thane-Borivali tunnel." Likewise, in Phase-II development, he adds, "The Versova-Virar bridge is another large project after the Mumbai Trans-Harbour Link. While the outlay is good for the growth of Maharashtra, nationwide too, high-speed railis on the cards. All these projects definitely propel the economy of the country."
Sharing his experiences, Capt BVJK Sharma, CEO,Navi Mumbai International Airport, states, "We were fortunate to have L&T already onboard as the construction agency and we hit the ground running. We expect to complete the airport by December 2024 and cater to both domestic and international passengers and moreover the passenger handling capacity will escalate from 60 million to 90 million annually."
Observing numerous opportunities in the ports sector is Devdutt Bose, Head-Marketing & Business Strategy-Port, Tata Consultancy Engineers. He lists, "The major ports, brownfield projects, expansion projects, greenfield ports and the inland waterways. And overall, Gati Shakti is also going to integrate and bringseamlessness among these projects."
Specific to warehousing, for the last 10 years, the sector has ranked at the top of investments for foreign funds. Ecommerce and organised logistics are growing in the country and the demand for agro products has been on a rise. This is where Shantanu Bhadkamkar, Managing Director, ATC Global Logistics, sees a big demand for advanced warehousing systems. "High-end warehousing will have at least a double-digit growth rate and attract Indian and Foreign investments."
Is there a derail?
Back in time, several large and mid-size infrastructure projects have faced their own pie of delays in construction and completion. Considering the government's focus, has this been gaining pace?
Having executed three to four mega projects in the last five to ten years, Bosesays, "They have all finished on or ahead of time." He adds that the key is in the planning, cost estimation, selection of the contractor and the right set of equipment. This should be followed by regular stakeholder discussions – there should be a feeling of belongingness to the project, and this makes it a win-win situation. "Equal risk sharing is also important in a successful project," he adds.
Agreeing that times have changed, with most projects almost being on track, Desai mentions the current Mumbai Trans-Harbour Link. "It is witnessing less than a year of delay, that too, on account of Right of Way (RoW) issues only. Similarly, in the case of the Mumbai Metro project, except for the connectivity to the depot, most of the work has been completed."
Infrastructure is moving at good pace, says Gupta. "There are areas where the government is extending its support in the right way." Going forward, he believes that the Centre's approach is going to yield benefits. For instance, the national highways and the BOT model that the government has been following has now changed to the EPC mode. "Considering the financial turmoil that certain infrastructure companies went into, the government has been taking steps to ensure they are taken care of," highlights Gupta, further adding that there is potential for improvement in the pace of work. For instance, the land acquisition and utility issues need to be tackled.
The pace at which projects have been implemented over the years is phenomenal, especially in the roads sector,says Bhadkamkar. However, he points out, "There is a huge scope in the railways, and the government needs to invest in ports. While currently, the investment is more towards the PPP model, certain areas the government should invest itself in order to drive a port-led development with a larger vision."Applauding the infrastructure development in the north-eastern states, he says that "when the quality of infrastructure is such, there is optimism among the investors and businesses." Bhadkamkar further sees great potential for port-led and airport-led developments. "UDAN scheme for small airports has made our travel easy, enabled greater business opportunities, and going forward, we will see the air-cargo sector get impetus as well."
Push from government spending
Government spending definitely adds to the nation's economy and growth, says Desai."With Gati Shakti and the Logistics Policy,project completion needs to be synchronised so that itsutility can be multi-fold and at par with the desired objective. Else, there could be some attenuated productivity. We need to get the best out of the projects and focus on completing these interconnected projects together."
"The government is focusing on almost 95 per cent of the port-led projects to be executed in the PPP route, and there have been successful models throughout India," says Bose.However, the PPP framework has to be bettered, he believes. Ports is a strategic and long-term asset that gets given away for 30 years.
Considering the population, we are an infrastructure starved country, says Bhadkamkar. Hence, he believes, any investment in the infrastructure sector will give results. "This sector has a long repayment period, but the returns are next restrictedto education and healthcare. These returns are secular across all segments of the society and not limited to one particular part.
This will lead to great potential and have a leveraging effect on equipment suppliers, technology and IT providers as well as the skilled workforce segment."He adds that globally, the logistics sectorhas been observed to grow faster than the GDP – approximately 1.5 times. This demonstrates great potential for industries that rely and depend on logistics.
Stimulating the economy and creating more jobs
Ultimately, it is critical to have a look at the nation's economy. If the economy grows, the expenditure also grows without much burden. "Five per cent of our GDP goes towards infrastructure growth. This is more than any other developing country," says Desai.He believes that if the estimated additional cost of Rs 5 trillion,which is spent due to cost overruns, can be recovered without any delays to infrastructure growth, then that in itself is a huge outlive for us to grow. "I don't think the question is about optimising cost; we have to plan to minimise the cost."
It is a known fact that infrastructure has come to the rescue ofglobal recessionand has been among the only sectors that has pumped in money to increase employment growth, saysGupta.One single infrastructure project spurs an opportunity for mining, automobile, employment, education, and IT with the help of digitalisation; all sectors grow simultaneously. Evidently, infrastructure growth leads to the growth of the entire country.
Looking back at the last five to six months, the private sector has been excited to invest, says Bose."New IPOs will come up and there will be new fund requirements in the market. Also, with employment opportunities coming along with projects, there is a huge opportunity for job creation. However, skill development needs to continue as a parallel activity." He further points: Inland waterways need a focus – there has been a 90 per cent increase in cargo, but the base was low. Also, Indian waterways should have an aggregation point and each major and maxim port should have a coastal bar so that coastal trade is looked at.
Holistically, industry and industry players are coming together with the government through the logistics platform, with the announcement of theNational Logistics Policy and Gati Shakti. Now is the time for execution to take over and India's $5 trillion ambition to be a reality!
Related Stories