Elegant luxury living rooms by MADS Creations
01 Jan 2022
Long Read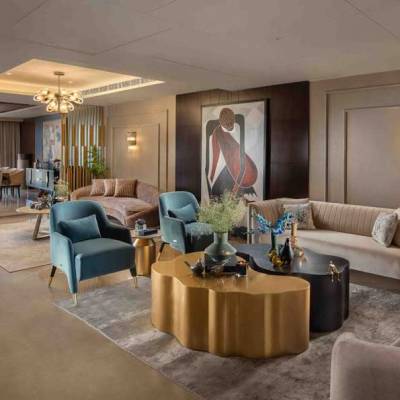 Living room is a showcase of the family's lifestyle. These spaces are kept refined and graceful, with careful planning of all elements. The furniture layout, the soothing colour palettes, beautifully crafted wall panellings, and metal screens add coziness as well as a design feature to the living rooms.
This luxurious living room has a blended theme of contemporary and classic. Couches in upholstery of multiple colours brings vibrance to the room. The sheen on the fabric of the couches, exudes a luxurious elegance to the space. The furniture of these living rooms is bold and large that gives structure to the space. A combination of muted colours in complimentary shades breaks the monotony of the room.
The décor of these living rooms has elegance and charm. Modern, abstract and beautiful wall paintings bring colour to the space. Metallic accents, décor pieces and coffee tables add a unique look to the space. These small things add to the modernity to an otherwise classic looking room.
The rooms are created in light shades and muted palettes. This allows the décor and furniture to shine through the elements. The floors are made of wood or marble that blend into the colour scheme of the space while giving it depth. Carpets bring a mild colour element to the floor and clearly mark the area creating a base for the furniture and the coffee tables. Modern partitions mark the living space.
Chandeliers form the center pieces of the room. Blending with the theme of the room, some are classic, some vintage and some modern. They are installed to suit the aesthetics of the living room. Their structure is round, square or abstract depending on the shape of the room. Similarly light panels are mounted from the wall and ceiling which give a brightness to the room as well as add to its aesthetics.
Also read:
https://www.constructionworld.in/latest-construction-news/real-estate-news/interiors/luxury-bar-spaces-by-essentia-environments/31455
https://www.constructionworld.in/latest-construction-news/real-estate-news/interiors/charming-and-luxurious-family-lounges-by-aparna-kaushik/31456

Related Stories