Global interior trends: What the world brings to India
01 Apr 2021
Long Read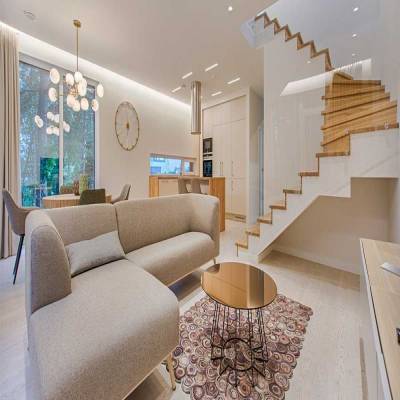 Indian interior designers are always on the top of their game and global trends for 2021 in-home designs have been keeping their creativity ticking. Read on to know which of these trends have got them excited.
Everybody was revved up about 2021, especially after spending a good part of 2020 homebound. Right from going back to the office to having a home makeover, people were looking forward to change. And home décor was high on their priority list. Runway fashion has always inspired design trends. However, in 2021 we see a substantial influence of circumstances, necessity and adjusting to the new normal. Just like the pandemic, which has been a never-seen-before experience for us, its aftermath follows suit. In this scheme of things, design trends play a pivotal role, especially the ones that are making their way into India from the global arena.
Multi-functionality
The home space has undergone a sea change in the past year. This is predominantly because the function of the home itself has changed completely. It is no longer your safety haven, a place to relax and spend family time. It is your work station, your child's school desk, a library, a coffee shop, a restaurant, a cinema hall – all rolled in one. That has made a lot of demands on design as homes now need to be multi-functional without losing their aesthetic appeal.
Aparna Kaushik, Founder, House of Aparna Kaushik, explains, "What is trending in interior design space is that it has become very inherently conscious in terms of the frills getting removed. Whatever is required gets added, and whatever is not required is really thought about whether it becomes a part of the design or not. The pandemic and therefore sitting at home has given us all a reality check. So the design process has also gotten affected to a very large extent, hence the interior design of spaces."
Design for home spaces will see a fine balance between homeliness and functionality. Optimum use of space and a nod to technology is definitely on the cards.
The colour card
As per global design trends, the colour palette is a game-changer for home interiors. Meenu Agarwal, Founder, MADS Creations, states, "We are all seeking calm and comfort, so a pastel palette and soothing environment is what we need. Some bold elements pops of colours and edgy highlights bring that much-needed cheer and sense of wow against the surrounding despair. Today, homes are being designed as an all-encompassing sanctuary for the entire family. Design that brings a healing touch is what we are looking at."
According to Monica Chadha, Co-founder and Interior Designer, Design Deconstruct, states, "Right now we are noticing a lot of the classical elements are coming back to design. They are being used to complement modern aesthetics. Another trend is a lot of open-grained wood being used. This brings a certain bit of nature in our homes, by not processing it too much."
Home offices
Given the remote working trend, clients are also opting for a full-fledged office system at home. The home office set up has to blend in with the rest of the interiors while standing out in its formal and professional tone. Additionally, it needs to be equipped with all the relevant technology. Lighting playing an important part in the design of home offices, which has to be a mix of natural and artificial lighting.
Since virtual meetings are the order of the day, the background elements prove to be equally important. Clients prefer having interesting backdrops for their video meets such as a bookshelf or artwork.
Environment friendly
"One trend that we are sure is here to stay is the use of more environmentally friendly materials and practices in construction. This is something that has seeped in through the West. People are more conscious about the impact of construction on the long term well-being of the environment. This stems right from the planning of the façade materials to using passive solar techniques in architecture. Such practices significantly reduce the demand for using air conditioning by lowering the indoor temperature," elaborates Chadha.
Indian interior designers have proved to be champion of an eco-friendly approach to design as we see a rise in awareness amongst clients towards the environment. Both are making conscious choices that work in favour of the environment and that definitely counts as a promising trend.
Priyanka Khanna, Co-Founder and Architect, 42mm Architecture, says, "I feel we are moving towards a trend where houses will be devoid of any interiors. Physically it will entail only basic furniture and plain white walls. While the ambience of modern minimalist interiors or ornate classical interiors would be created using the technology of projection mapping. Technology is advancing at a high speed, now people have far more choices than they had say 10 years ago. Now having more options has also increased disposability and increased waste generation. Projection mapping in a way provides a solution for both the aspects of adopting and transitioning to new choices without creating a mountain of waste."
Indoors meet outdoors
Cooped up indoors for long periods of time has shown an adverse effect on mental well-being. And designers can help establish a link between the outdoors and the indoors and the old and the new normal with unique design concepts. Porches, backyards and gardens can be transformed into personal spaces. Chairs and benches can be replaced with dining set-up or loungers. Glass partitions or sliders can replace solid walls for a fluid transition from indoors to outdoors.
Kaushik suggests, "There is a lot of creativity happening especially in the interior design industry. I feel the trend or what we will see in the coming time is a lot of practical design decisions. It will revolve around nature and be inspired by a lot of pastel hues and natural colours. Incorporating greens and plants indoors and getting an organic lifestyle, since now we will be spending a lot of time in that space is going to be a major trend." If one were to look beyond 2021, India stands to play an important role in defining and personalising design trends. To sum it up in the words of Kaushik, "I believe India itself is going to be generating a lot of global trends in the years to come. The beginning has already been made in terms of amazing manufacturing technologies, furniture and light factories."
Related Stories