First Komatsu 300T electrical shovel in India
01 Jul 2020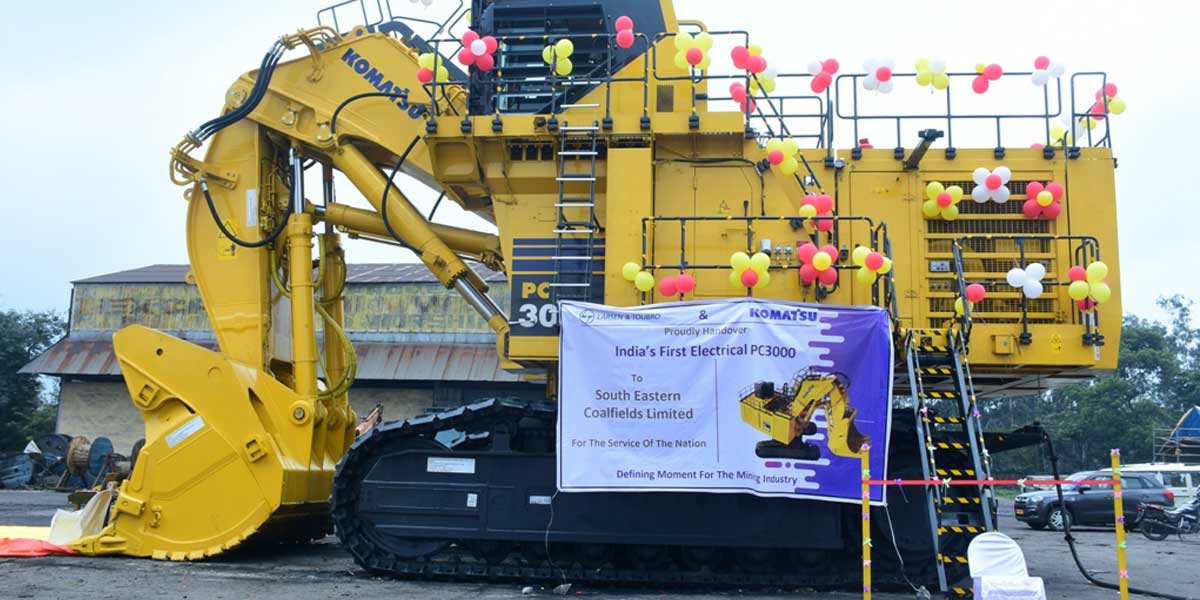 L&T Construction & Mining Machinery has brought the first Komatsu 300 ton electrical shovel to India recently. The company commissioned the Komatsu PC3000-6 electrical shovel at Gevra, India's largest mines under South Eastern Coalfields (SECL). At an event held on July 20, 2020 at the site, the mammoth machine was formally handed over to SP Singh Bhati, General Manager, SECL, by the L&T team comprising A Chakraborty and Kiran Tilaganji.
In his message, Arvind K Garg, Executive Vice-President and Head-CMB, L&T, complimented the L&T team on getting the magnificent machine ready for the operation, despite many challenges. He said the supply has reaffirmed L&T's commitment to customers and technical capabilities, and opened a new chapter in the strategic relationship between L&T and Coal India towards accelerating coal output in the country.
Despite the COVID-19 challenge, L&T team could assemble and deliver the machine within the 30-day deadline. The machine was shipped from Komatsu, Germany, in segments. The assembly, erection and commissioning at site was carried out by a determined and dedicated team from L&T comprising engineers, welders, machinists, electricians and others.
Komatsu and L&T had bagged this order from Coal India for supply, erection and commissioning of four units of PC3000-6 (16 cum) face shovel with electric drive for delivery to SECL. L&T shall take care of these equipment for four years with 85 per cent assured availability. L&T is the exclusive distributor of Komatsu Mining Equipment in India.
In the recent past, Coal India had taken some major steps of capex investments for the coming years. Reports indicate that Coal India had chalked out Rs 100 billion capex plan for FY21. This comprises Rs 3,700 crore for plant and machinery, including purchase of heavy earthmoving machinery. Coal India has also earmarked investments in transportation of coal evacuation, mine development, wagon procurement and others, including solar initiatives, research and development and exploration. Another Coal India subsidiary, Mahanadi Coalfields, laid out an investment plan of Rs 600 billion in Odisha, of which Rs 310 billion will be spent on mining and social infrastructure development by 2023-24, according to reports. The company would invest in procurement of heavy earthmoving machines for increasing capacity building of its new and existing projects, and in coal evacuation infrastructure. Coal India subsidiary Western Coalfields opened three new coal mines in Maharashtra and Madhya Pradesh having a combined annual production capacity of 2.9 million tons. The company will infuse a total capital expenditure of Rs 8.49 billion on these projects.
In the commercial coal mining, Prime Minister had recently launched the auction of 41 coal mines. With the participation of private players in commercial coal mining, the demand for mining equipment is expected to revive in future. The recent announcement by the Central Government to have more private participation in commercial coal mining is expected to open up new window of opportunities to the mining equipment players. After the announcement, the Coal Ministry has brought changes into the system for freedom of operations for improving coal production and to facilitate adoption of technology.
Related Stories