Boosting productivity through crushers and screening equipment
01 Oct 2022
Long Read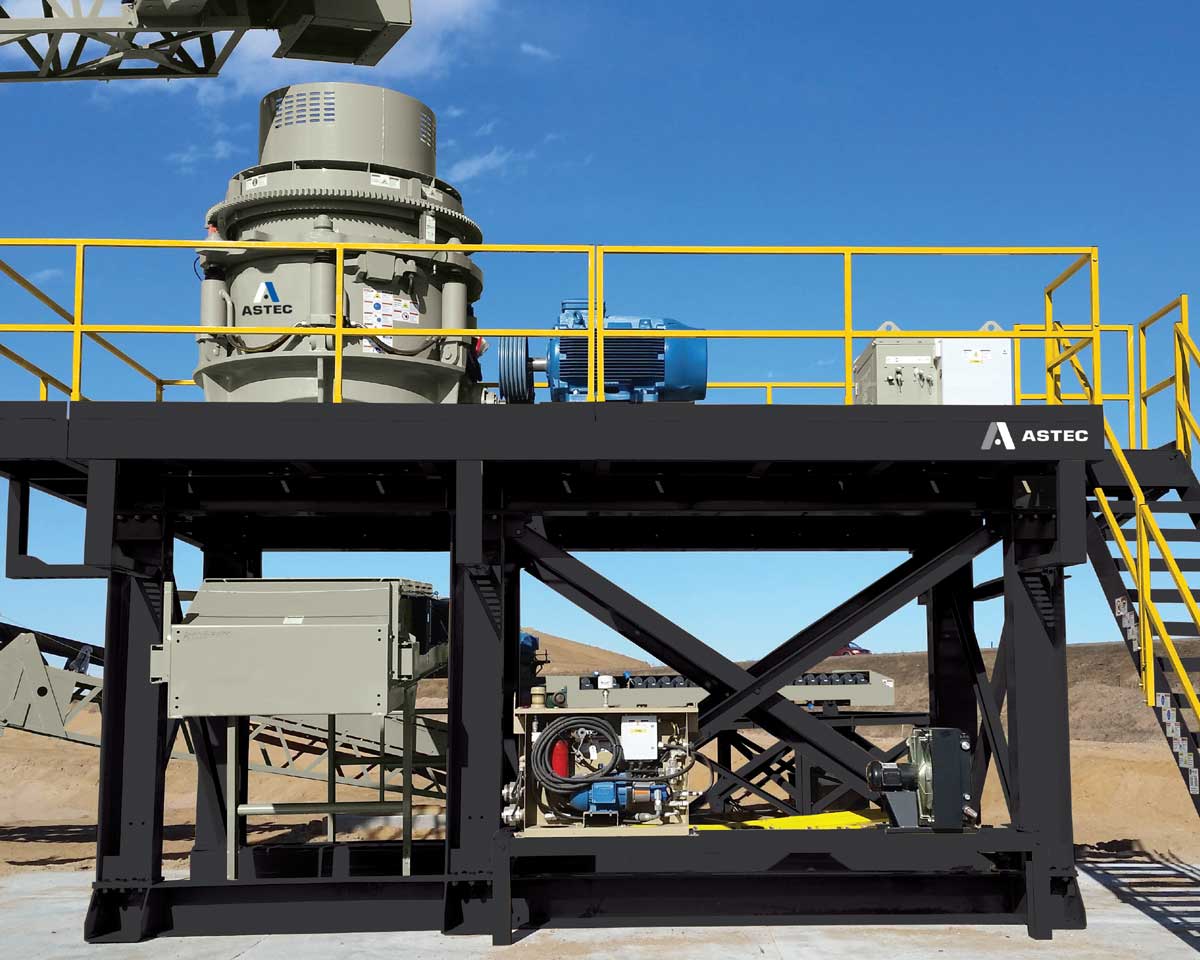 The most obvious way to increase the productivity of crushing is to ensure a steady supply of raw material,use the right equipment combination and employ high-performing, well-designed and built, strong, fine-tuned machines.
High productivity is associated with high output and minimal waste, according to Manesh Thomas, Managing Director, Modern Road Products. "Using the right combo is especially vital when you need to crush very hard materials, a very tough job for any machine."
Modern Road Products' standard set includes equipment from Astec's Telsmith range, a cone crusher model 38 SBS, VSI 2500, four vibro-screens and two high-frequency screens for the production of shaped and graded aggregates. Astec's fixed shaft cones technology distributes the crushing loads very well when encountering very hard aggregates or as per production requirements, explains Thomas. "These well-designed cones deliver better productivity and shape. Also, the Astec crusher comes with a combination of cones designed to suit different applications and materials. We can take on complex, varied production by simply changing the cone without making any modification to the crusher. Vibro-screens from Astec offer exceptional vibration being designed with fully eccentric shafts."
Feature right
Certain features of a crusher are amenable to boost operational productivity and reduce operation cost per tonne. Among these
, Kiran Jain, Director, Shri Dakshayani M Sand, and Vice President, Karnataka Quarry and Crusher Owners Association,
counts the motor size and the number of ports in the rotor design.
"Evaluate vertical shaft impactors (VSIs) for their motor size as well as their capacity as one with a smaller motor consumes less power per hour and thus boosts productivity,"urges Jain. "We prefer Proman's VSI for this reason; it helps save 10-15 per cent of our power cost."
In addition, Bobby, Managing Director, Amity Rock Products, recommends "a well-enclosed hydraulic circuit with precision controls to ensure you use just the optimum power and machine capability, and reduce downtime and wear consumption."
A VSI with more ports in the rotor design delivers more output, adds Jain. "Proman's VSI rotor design has five ports as opposed to many machines with just four ports."
Thomas suggests using a VSI based on a hybrid system and on an accelerator system for great productivity and lower operating costs. He uses Astec's 2500 VSI.
Dr S R Samal, Chairman and MD, Kalinga Commercial Corporation, which uses two sets of Kleemann crushers –jaw + cone + screen (MC110Z + MCO9 + MS 703) – in its iron ore mines in Odisha, suggests looking for a plant with lower fuel consumption, something the Kleeman plant achieves, or with unique features like a continuous feed system that increases production and reduces wear cost.
"If you're producing high quality M-sand, look for features that help ensure that the gradation is very well-controlled," saysBobby. "Having a 600 and 800 micron-sized screen to work without blinding, therefore, is crucial, as are very specific modulator and vario controls that help easily overcome these challenges."
Plants that are used to produce both sand as well as aggregate must deliver the desired quantities of each to meet the desired productivity level. "At Mathrani Infra, a Puzzolana 200 TPH three-stage crusher is producing 45-50 per cent high-quality manufactured sand and aggregates, delivering over 1,600 tonne output in a single shift," says Jitendra Mathrani, Director, Mathrani Mining Infrastructure. "The low power consumption makes the plant an economical, value-for-money machine."
Another pointer: faster machines deliver more.
"Astec's high frequency screens run on 3,800-5,000 rpm, almost four to five times higher than normal inclined screens," adds Bobby. "Further, they feature vario controls that help finetune production and quality requirements, and deliver high production and great control."
Also, machines with simpler processes can reduce the inputs needed as well as the power load, and thereby increase productivity.
At Amity Rock Products, four of Astec's high-frequency screens 2618 VM have been deployed to make M-sand as these don't need water and loading equipment, unlike M-sand plants that make use of sand-washing techniques, shares Bobby. "For us, productivity that is eco-friendly is very important. Kerala being a very environmentally sensitive and aware state, we looked at various aspects of the process and technique of making high-quality grade M-sand without the use of any water. Having no waste slurry to dispose of keeps our operations clean and green. Also, compared to waterand air classifiers, we consume a miniscule amount of power, making our operations very sustainable."
Productivity remains a desirable factor throughout the lifecycle of the crushing plant.
At Sai Srinivasa Laxmi Stone Crushers, a 2009 model Puzzolana 200 TPH three-stage crushing plant continues to work (at Karimnagar, Telangana) without any loss of productivity.
"Productivity implies that the machines are working fine without any shake and without even 1-mm variance," explains Ravindra Rao, Director, Sai Srinivasa Laxmi Stone Crushers. "Our production is comparable with the industry average. The low cost of Puzzolana spares helps ensure our productivity and profitability. We have crushed upwards of 1.9 million tonne without any major replacements."
Higher availability
It goes without saying that machine availability has a huge impact on the productivity of a crushing plant. Here, experts advise opting for machines with fewer operational parts as these tend to break down less.
"Astec's high-frequency screening technology doesn't have any mechanically moving components, unlike other systems," says Bobby. "Minimal parts and well-engineered systems mean very low maintenance and top-notch production for us. Also, the high-frequency screens' replaceable parts designed for quick replacement help ensure higheruptime and machine paybacks."
When breakdowns happen, suppliers with well-organised support systems are preferable. "Supply of quality spares and prompt machine support are other aspects crucial to ensure top performance, where Astec is very well organised," adds Thomas.
Keeping close tabs on a machine can help prevent breakdowns and improve productivity. Here, users allude to the availability of telematics to conduct preventive maintenance.
"An intelligent monitoring system (telematics) helps our site team understand the working of the machine better and identify machine-related parameters that may go wrong in advance, and maintain the machine before anything goes wrong," says Dr Samal. "While machine downtime is very minimal in the case of Kleemann, it also helps that the Kleemann service team offers round-the-clock support at the site level."
"While we have been using Terex Powerscreen models sold and serviced by Universal MEP Engineering & Services (Voltas), a Tata Enterprise, for two decades, what has helped us in recent years is the fact that the models have been upgraded with a telematics system, Powerscreen Pulse," says Vedvyas Bandihal, Senior General Manager, P & M, DRN Infrastructure.
At DRN Infrastructure, each of the three track mobile crushing and screening plants yields 200 tonne per hour of end product that meets the specifications set out for the granular sub base, wet-mix macadam, aggregates, crushed sand and so on for national highway, state highway and rural road projects. The train comprises a primary jaw crusher, Terex Powerscreen' model Premiertrack 400, a secondary cone crusher, Maxtrak 1000, and a track screen Chieftain 1700 3 deck.
"Powerscreen Pulse helps track the current location of the plants, crushing time, engine hours' run, idle hours, wearing components, etc," continues Bandihal. "We estimate that close monitoring helps boost project and site productivity by about 15 per cent. Telematics is the need of the hour, something we expect from a responsible, updated OEM to help road construction companies deliver projects on time."
It's always about productivity, after all.
Related Stories