BKT aims for 10% of India's market share of highway tyre manufacturing
01 May 2022
Long Read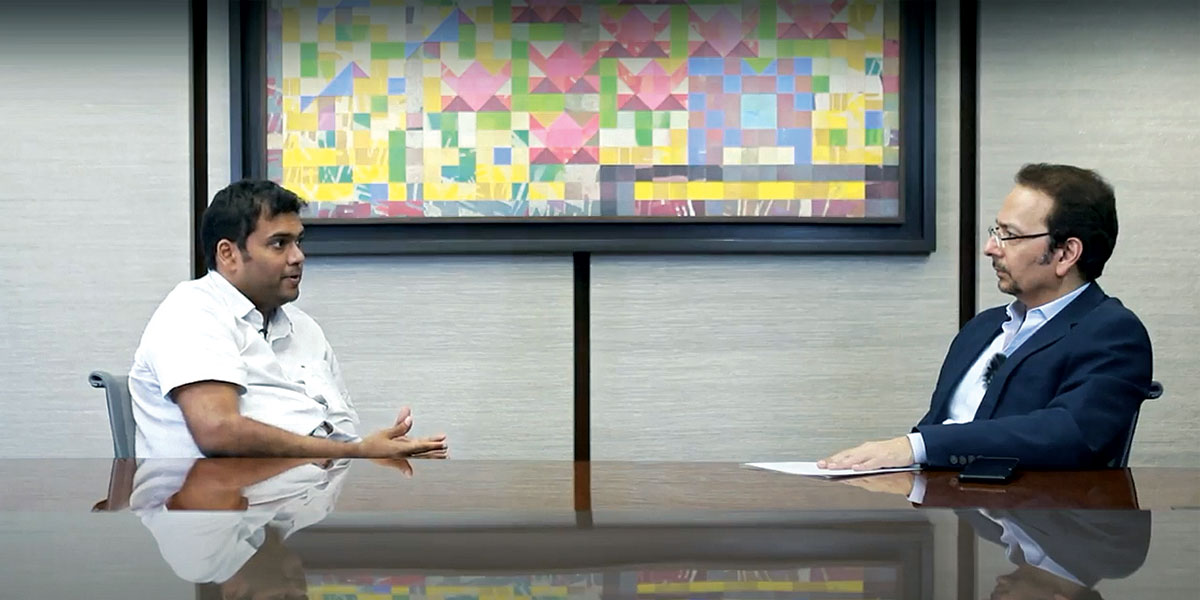 With revenue close to Rs 10 billion in India, Balkrishna Industries (BKT), an Indian multinational group and a global player in the off-the-road (OTR) tyre market, has announced a brownfield ramp-up of its Bhuj plant to increase tyre and carbon black capacity, including advance carbon black, and modernisation and automation of existing facilities. Rajiv Poddar, Joint Managing Director, elaborates upon the company's strategies to overcome challenges and the growing market in a conversation with Pratap Padode, Editor-in-Chief, CW.
As the pandemic is clearing up, can you share the challenges and opportunities that BKT has encountered?
The past two years have been unprecedented and challenging, both physically and mentally. There was so much anxiety among people as they spoke about the new normal. There have been many changes and we may take some time to adjust. Luckily, we are back in the real world and things have eased out. It was different for us in the past two years. First, we had to make many changes in our manufacturing site. There was social distancing at canteens, insistence on hygiene and sanitisation and the need to transport them from their home to the factory site. These were the factors we had to overcome; now that things are back to normal, people have adjusted. Today, we are at our highest from the pre-pandemic. We are nearly about 35 per cent over pre-pandemic.
That must have hit your supply while demand was still there?
Fortunately, we were able to supply as well when there was a good demand during the pandemic. Steps were put in place; in the past two years we focused on diminishing stress in our manufacturing units and reducing physical labour by combining the best of modernization, automation, and superior quality.
Can you give us any examples of automation that you have introduced during this time?
With a focus on seamless service, we continue to improve our world-class offerings that are infused with the best quality, durability, and reliability. To further integrate connectivity into its workings, BKT recently undertook an estimated capacity expansion of Rs 450 crore. which emphasizes technological upgradation of existing equipment and installation of automated material handling systems. Such as at the final finish area, we have inserted more cameras to give a better picture to the workers, who check each and every tire before its shipped. More so, there is motorisation on the drums, so the tyre turns and revolves on its own reducing physical labour. We also try to motorise any kind of material movement by introducing machines has helped reduce physical stress on the workers. This has had a big impact on relieving worker stress and physical load. Thus in turn ensuring upscaling to integrate digital and physical aspects of manufacturing, to give customers nothing but the best.
Furthermore, it continues to use technology to transform the industry, with each and every tire it produces undergoing 500 tests in its production cycle at our state-of-the-art R&D centre.
But now there is another calamity happening in Europe that is causing other supply disruptions – rising fuel costs, and rubber prices.
Not only for tyres…across the world and channels with the oil price and commodity prices rising, everything goes up. But at the end of the day, people factor it in. Today, rubber prices are at their peak in a few years; that has not been adapted to. Supply and logistics are other issues as fuel prices are up; availability is yet another. So, all these challenges are a part of the industry. It's how you manage them and move ahead that matters.
Fuel and rubber prices are going up, shipping containers are at an all-time high, plus there are blockage in shipping. So, how do you cater to all this?
Yes, and the biggest issue is availability of raw materials, keeping aside the costing. We need to get the raw material into the manufacturing plant to manufacture tyres – that is my first victory. Pre-pandemic, we invested in carbon black and we have our own carbon black manufacturing facility. So, 30 per cent of raw material is self-manufactured. That is a huge chunk and has given us a major advantage today. Also, BKT is one of the few companies with in-house - tire mould production facilities, which provide us with major autonomy and ensure enhanced quality control throughout the entire supply chain. Second, rubber prices are going up. So, you absorb a little bit and pass it on to the end-users. That's how you offset it. You cannot do it overnight and in the longer picture there is a lag, but you pass on some pricing.
Is the overseas market accepting the 'passing on'?
They are, as it is a natural phenomenon. Everyone is aware of the commodities price rise; we cannot pass on the 100 per cent price rise. You absorb some if it and try to pass on some of the lag.
Tell us about your latest Bhuj factory coming on stream and how are you looking at the Indian market.
India as geography is of growing importance to us. We are developing India-centric products, be it for agricultural tyres or mines. For instance, we have a new range of mine tyres – Mineforce – specifically designed for the Indian market, keeping in mind the requirements of the end-user in India and the soil and weather conditions. The products are established in both sectors and are being manufactured in our units in Bhuj and North India. Speaking of the Bhuj factory, we just announced our next brownfield project to go on stream. The plant is ready and being ramped up slowly for commercial production, which has started in phases to reach full capacity. Also, our channel partners are the same and distribution is now pan-India. We now have over 1,200 active dealers across India selling to end-users. In terms of brand promotion, we have just signed Mr Ranveer Singh as the face of the brand. During the ongoing Indian Premier League, we sponsored eight teams out of 12. Now, you have the product and distribution in place and the promotion as well. So, the whole cycle will come together again.
What do you aim to achieve in the Indian marketplace and what are your objectives?
Our objective is to have the top 10 per cent market share across the globe and similarly, in India, we have to obtain a 10 per cent market share in off-highway tyre manufacturing. Currently, we are at 5-6 per cent globally and roughly 6 per cent in India. There is a good opportunity and scope to grow.
Tell us about the new 'largest' tyre that you have developed. What was your research on this as a gap that needed to be filled?
The journey of these tyres started way back in 2007-2008, when we saw the gap in OTR tyres for mining. We started off with smaller 25-inch tyres and went up to 29, 33 and then 35. Gradually, we went to giant 49 and 50-inch tyres. Now, we have launched the super-giant 57-inch tyre and will soon be coming up with a 63-inch tyre as well. These tyres were already present in the industry and we are the first Indian company to produce and manufacture these in India.
How do you plan to work with the OEMs in this segment?
BKT has been constantly developing newer products and increasing capacities to meet the requirement of varied machine/equipment operating parameters, in line with OEM upgrading and innovations. We are already working with the top two in the mining sector companies (across the globe) and it becomes easier for them as well to have a local manufacturer. It's a win-win situation for both and that's where we score.
You have certain special features in the tyre; for instance, it does not cut. What has gone into the process?
We have developed a cut-resistant compound, and we offer these products with a heat-resistant compound so that when you do longer and higher runs, the heat generation of the tyre is handled by the compound.
What are the new trends in tyres?
The trend is to make the tyre smarter. This basically means better communication on the heat they are generating and the pressure. If you are able to get this information before the tyre is deflated, you can better combat the outer conditions. Hadronisation is also happening in the industry, such as our radial tyres for the mining sector. Low aspect ratio (low pressure on the soil) is there on the mining side and that is again something we are working on. We are not just followers but also developers on a par with anybody from the western world for tyres that have the capability to exert lower pressure on the soil.
With the ongoing European situation, are there any disruptions in your global strategy?
The markets we are strong in continue to be strong and are not yet affected by the war. Overall, Europe and Western Europe continue to remain strong, so we do not envisage an issue. We hope the war gets over soon as we are not sure about the market in the future. As of now, we are not so affected by the war.
Do you also see opportunities in overseas acquisitions?
We believe in organic growth and are not actively looking into acquisitions. We will continue our manufacturing in India and grow through the brand of BKT itself. But we are always on the lookout if the government looks to infrastructure build-up or redevelopment. That spells an opportunity for us as more tyres will be consumed and we are always ready to supply, whether in India or overseas.
Given the Government's National Infrastructure Pipeline and the emphasis on infrastructure, where do you see the growth between India and overseas?
If you see the journey in the past five years from our product basket in India, our revenues were close to a couple of Rs 1 billion (Rs 100 crore); this is now in excess of (Rs 10 billion) Rs 1,000 crore. India will always be the market we will focus on, especially with the opportunities from the infrastructure development plan.
What about skilling of people? Isn't it a big challenge as well?
BKT has a firm belief in training - in-house training, outdoor training, actually user's training and fleet owner's training - we are conducting various types of training as per requirements from clients and customers.
Related Stories