CONSTRUCTION WORLD Person of the Year 2020 (Public Sector)
01 Nov 2021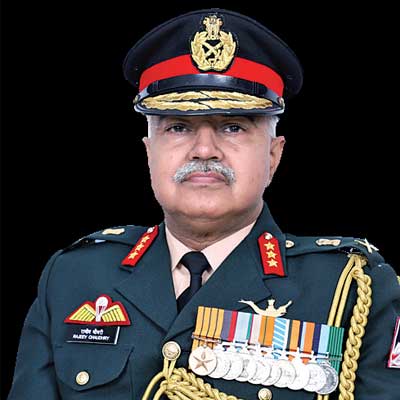 Lt Gen Rajeev Chaudhry, Director General Border Roads (DGBR) 
Meet a man who's on track to achieve great heights and make the nation proud! Lt Gen Rajeev Chaudhry is Director General of the Border Roads Organisation (BRO), which, under his leadership, has many achievements to its credit. In the most recent news, at an altitude of 19,300 ft in eastern Ladakh's Umlingla Pass, BRO has constructed the world's highest motorable road, which will help provide connectivity to boost socioeconomic conditions and tourism prospects. It reached another engineering milestone recently with the construction of Chandra Bridge located at the North Portal of Atal Tunnel, Rohtang. The 100-m-long, 12-m-wide heavy steel superstructure bridge is a technical marvel in bridge construction and BRO completed it in only 100 days. 
Lt Gen Rajeev Chaudhry assumed the appointment of Director General Border Roads in December 2020.
An alumnus of the National Defence Academy, he was commissioned into the Corps of Engineers in December 1983. He spent a large amount of his service with troops in difficult areas, including the Far East, Rann of Kutch, Joshimath, the plains of Punjab, deserts and five tenures in Jammu and Kashmir. He has also been part of operations like Brasstacks, Trident, Bajrang, Rakshak and Parakram. Lt Gen Chaudhry has commanded 418 (I) Fd Coy, 62 Engr Regt and 471 Engr Bde, where he was awarded the Vishisht Seva Medal for distinguished service. He was also responsible for conducting the first and only engineer brigade exercise with the US engineer brigade, Yudh Abhyas, in March 2012.  Further, he was nominated as Ex Director of Force 18, one of the largest multinational exercises on humanitarian mine action, in March 2016. What's more, he was selected for planning and preparing the initial designs for the first strategic command post with CBRN protection in the country after the nuclear tests in May 1998.
The general officer is a graduate of Defence Services Staff College, Higher Command, and the National Defence College. He has served as senior instructor of the Bomb Disposal School at CME, where he spearheaded the project to transform it into an Explosive Devices Wing. He also has to his credit the creation of the first ever IED Rg in India at CME. He has been commander of CTW and commander at the Faculty of Comb Engg at CME. Further, he had a successful stint as chief engineer, Southern Command, and, thereafter, ADG LW&E in QMG's Branch.
Related Stories