20 Lives Lost in Tragic Samruddhi Expressway Girder Collapse
01 Aug 2023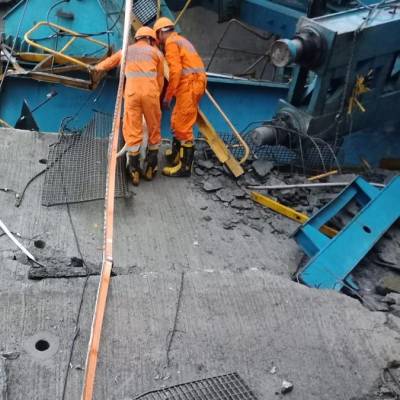 At least 20 people lost their lives when a girder launching machine collapsed in Shahapur tehsil, located in Maharashtra's Thane district. The incident occurred at Khutadi Sarlambe village during the construction of the third phase of Samruddhi Expressway. The girder machine, a special-purpose mobile gantry crane used in bridge construction, malfunctioned, resulting in the tragic accident.
The bodies of the deceased have been transported to Shahapur Government Hospital for autopsy, while the injured have been taken to nearby Shahapur Gramin hospital. The rescue efforts involved the combined efforts of local police, highways administration workers, and cranes to extract the workers who were trapped under the girders.
Various agencies, including the police, NDRF (National Disaster Response Force), fire brigade personnel, and local organizations, are actively engaged in the rescue operation.
Eknath Shinde, the Chief Minister of Maharashtra, offered his condolences to the affected families and announced an ex-gratia payment of Rs 5 lakh to each of the deceased's kin. Deputy Chief Minister Devendra Fadnavis expressed sorrow over the incident and ordered a thorough investigation to be conducted by experts.
Prime Minister Narendra Modi also expressed his grief for the tragedy and conveyed his deepest condolences to the families of the victims. He announced an ex-gratia payment of Rs 2 lakh from PMNRF (Prime Minister's National Relief Fund) to the next of kin of each deceased person.
See also:
Govt issues new guidelines for Safer Highways with enhanced Signages
India Opens New Road Safety Facility to Reduce Fatalities


Related Stories