India's Most Admired Construction Brands!
01 May 2022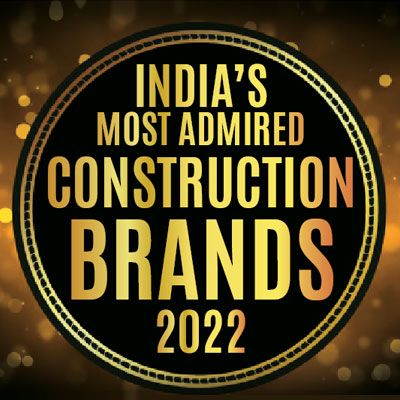 A perception-based survey followed by bringing together a power-packed jury panel and CW arrived at its Top 10 Most Admired Construction Brands for 2022
Tech giants seem to be dominating as, for the third year in a row, Apple, Amazon and Microsoft rank first, second and third, respectively on the Fortune list of World's Most Admired Companies. This was based on a poll of some 3,700 corporate executives, directors, and analysts.
Considering that the infrastructure sector is key driver for the Indian economy, spurring big opportunities for the construction segment, the contributors to the sector – construction brands – and their role should not go unrecognised. Last year, in 2021, the CW team created a robust process to recognise and determine what we have coined as India's Most Admired Brands. And for the second year in a row, we once again set ourselves on the journey that polled over 1,000 senior and middle management executives from within the industry, to identify the brands that make it to the much-admired list.
About 140 construction brands were put to vote (which contribute a turnover of Rs 8 trillion per annum). These spread across multiple categories such as contracting, real estate, cement, steel, construction equipment, construction chemicals, paints, tiles and sanitaryware, and glass sectors. Parameters taken into account included: financial performance, scale and speed of project execution, commitment to customers, corporate governance, ethics, best business practices, social responsibility, adaptability, eco-friendly and customer-friendly policies and transparency, amongst others, as they perceived them.
The respondents – belonging to and working with these industries – were asked to vote for 10 companies, with a provision to add a name if they felt it was missing from the list.
The Top 20 Brands were put to a Jury on April 27. This Jury comprised of:

Sandeep Goyal, Chairman of Jury, Chairman, Rediffusion
Sanjeeb Chaudhuri, Chairman, IDFC First Bank
Vikram Sakhuja, Group CEO, Madison Media & OOH
Akshaya Gujral, Chief Sales Steering and Distribution, ArcelorMittal Nippon Steel (AMNS) India
Dinesh Singh, Vice President-Merger & Acquisition, Voltas
Ketan Kulkarni, CMO & Head-Business Development, Blue Dart
Shreepad Shende, Banking and Marketing Professional
Amid the discussion, the jury shared their observations and recommendations on the shortlisted brands as well as the assessment process. Excerpts:

The brand value is like the stock market value – news rather than actual results influences the movement.
Adopt an environmental, social, and governance (ESG) metric as it is a criterion considered by investors as well as is the single biggest challenge faced by the industry.
Look at companies that are complying to Sustainable Development Goals (SDG).
Allow the perception-based survey to include certain weightages; it would only help make the process full-proof and transparent.
A B2C brand could be looked at from a consumer mindset to understand what they feel.
Masonry is one of the most important influencers and their perspective should be brought in.
Consider including well-defined attributes so that we know, in quantitative terms, where the company stands.
Consider parameters that can be measured such as operating margins.
Commercial vehicles were not considered in the list as a majority on the jury panel was of the opinion that these companies do not have a major placing in the construction sector.
It was observed that this year not a single real estate player has made it to the cut.
Ten Top Brands were selected by each individual jury member, which comprised the total jury vote (See 'winners' box).
All these have been featured here and they share their views on what they think got them on this list.
This is not just it! Deliberations will go on during this year; if you'd like to know whether your brand was featured in the list, or if you would like to participate in this exercise, write in to us at marketing@asappmedia.com. Meanwhile, read on…

WINNERS
Related Stories