This smart city has completed six major smart roads
01 Feb 2023
Long Read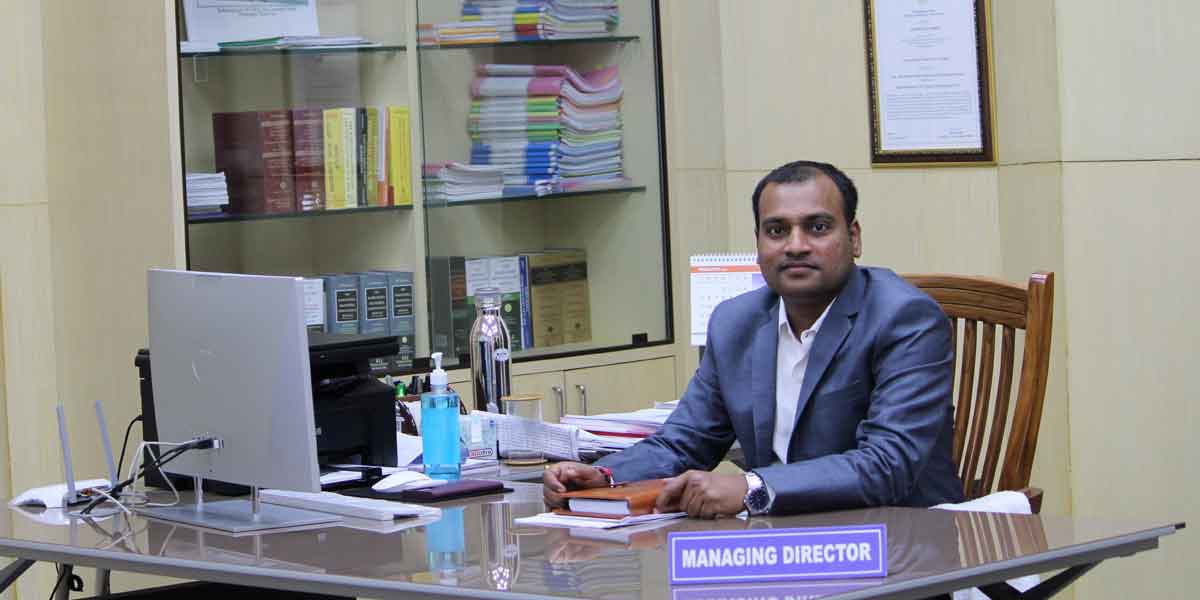 Popularly known earlier as the 'Manchester of Karnataka', Davanagere is part of the Phase 1 cities of the Smart City Mission. With achievements such as the Award of Excellence in Urban Transport and the Vivekananda Sustainability Award under its belt, the smart city SPV has been implementing ICT-related initiatives to make the citizens of the entire city feel inclusive. Veereshakumar, IAS, Managing Director & CEO, Davanagere Smart City Ltd (DSCL), shares more in a conversation with SNEHA IYER.
Davanagere Smart City recently bagged the 'Award of Excellence in Urban Transport' from the Ministry of Housing and Urban Affairs. Tell us about the initiatives taken by the city that contributed to this success.
We won the award for the successfulimplementation and monitoring of traffic junctions through CCTV cameras and generating e-challans by the police department.Public messages are announced through 40 PAS to achieve lane discipline in traffic junctions. Through this, we have been able to reduce accident rates drastically. By using CCTV footage and nine video analytics features,authorities are solving several cases within a matter of hours. We have been able to make the city safer and reduced mortality rates. We have also installed digital display boards and VaMS boards to display precautionary messages about traffic and crime violations from the police.
The city has set a precedent for urban infrastructure. Please elaborate on the efforts taken towards infrastructure in the areas of surveillance systems, traffic analytics, e-governance and solid waste management.
Most of the city is covered by surveillance cameras. There are 213 cameras,which are a combination of PTZ (pan-tilt-zoom) and fixed cameras at 109 locations. These cameras are monitored exclusively by the police department at a dedicatedpolice command-and-control centre.
City entry and exit locations are covered under the ANPR (automatic number plate recognition) cameras, which assist the Police department in keeping a close eye on the vehicles entering the city. These cameras automatically capture speeding and red-light violations, along with the violation time, date, location and image of the license plate that is auto-pushed for challans. The ATCS (adaptive traffic control system) has allowed us to adapt to real-time information of traffic density and automatically change the traffic cycle time.
On the waste management front, all solid waste management vehicles are monitored through an ITS application by the corporation staff at the ICCC (integrated command-and-control centre) for distance covered, trip completion, footprint of the vehicle, and more. Owing to this, we have been able to address any sanitation issues efficiently and redirect vehicles to the needed areas.
Also, please highlight upcoming projects along with their cost.
Davanagere Smart City has moved into Phase 2 of the ICT project, which is an extension to the completed ICCC. This project will have unmanned aerial vehicle surveillance of the city at fixed time slots. The path would be such that the entire city is covered. Additionally, drones will have an auto recharge function and seamless captured data transfer when at its base station.We have partnered with Tera Soft, an IT and ITeS company from Hyderabad, for this project. The cost of the project is Rs 61.8 million, inclusive of OPEX.
The city has been working towards redeveloping and modernising its bus stations, heritage areas and creating smart roads. Where do we stand on the progress?
The SPV has undertaken a smart bus shelter and modernised the existing one. The bus stands are connected and monitored through the ICCC, which allows passengers to receive updated bus timings for arrival and departure. We have executed the project in a PPP model and completed it in two phases at a cost of Rs 80.3 million. In all, we have built 104 bus stations witha five-year maintenance period.
We have also revived Kalyani, a central area in the ABD,as a picnic area for all. Further, the Clock Tower of the city has been modernised at a cost of Rs 31.4 million while still maintaining the old infra and heritage aesthetics. The Kalyani project has received various acclamations. The RV College of Architecture in Bengaluru is currently doing a study on the area.
So far, the smart city has completed six major smart roads, awarded at a cost of Rs 461.5 million and completed 2,860 m of roads with a plan to develop infrastructure of 3,180 m.
Davanagere has also been placing an emphasis on sustainable development. Please share the progress.
Davanagere Smart City has strived to improve city services and urban management of residents.And sustainability has been a key area for us. Under the quality education goals,the city has undertaken a smart education project to develop 53 smart schools in three phases at a cost of Rs 100million. It is a small step in the education sector that could be a giant step for government school children.As per the climate action goals, we have plantedover 11,000 saplings for afforestation projects in Davanagere. To reduce energy and operational costs while delivering reliable, safe and efficient services,we have installed solar rooftops on eight government buildings. In fostering resilient and sustainable development, we have been able to achieve our goals through developing major and secondary stormwater drains in the city. A total of 69 km of drain network has been developed at a cost of Rs 1.2billion. This project has also been a personal favourite. For this achievement, we received the Vivekananda Sustainability Award in 2022.
Tell us about the projects being undertaken for sanitation and hygiene. Any infrastructure projects and related procurement activities in the pipeline for this?
DSCL has installed napkin vending machines and incineration units at 40 locations in women's college and hostels.Additionally, to make up for the gap of non-operating traditional units, we constructed 29 e-toilets across the city. The project had a total cost of Rs 34million with five years' maintenance. It has been well received by the elderly community. Since the initiative, we have seen the usage of toilets increasing.
What is the total smart city budget for the city, and where is it being sourced from?
The smart city budget has been allocated through the MoHUA under CSS (Central Sponsored Scheme). The SPV has been incorporated under the Companies Act and has a budget of Rs 10 billion. This is split 50:50 between the Government of India and Karnataka.
Related Stories