Design Revamp!
01 Sep 2021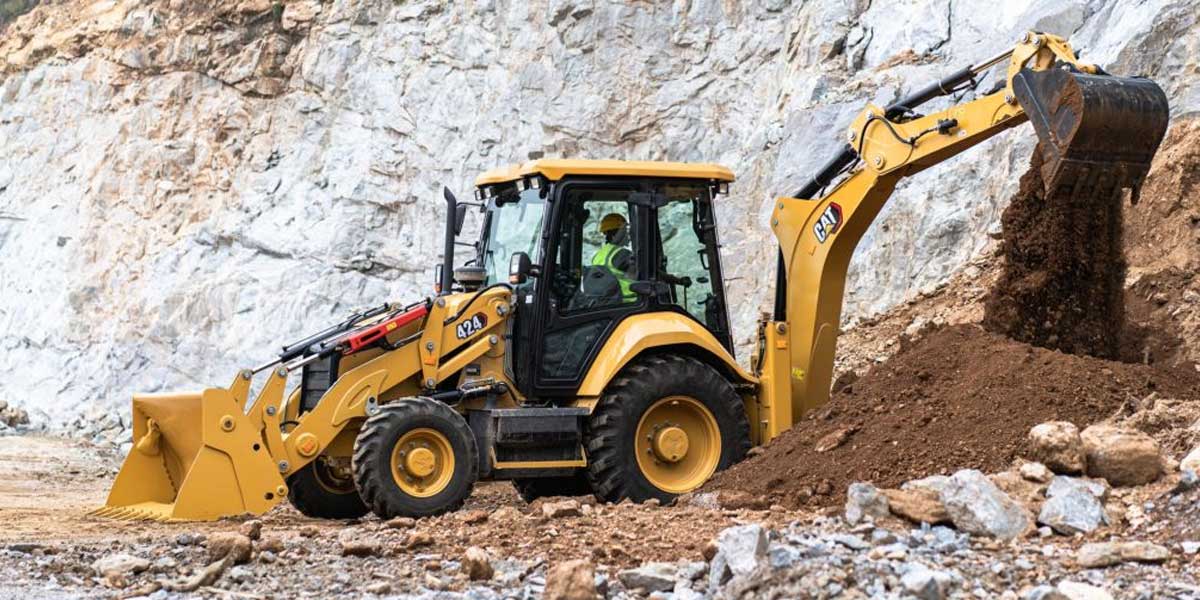 A complete design transformation for the new Cat® 424 Backhoe Loader delivers more performance, fuel efficiency, options and comfort.
Featuring a completely revamped, stylish and modern design, the new Cat® 424 Backhoe Loader retains the rugged reliability of the Cat 424B2 and gives customers more performance, fuel efficiency, options and comfort while lowering owning and operating costs. 
More performance while saving fuel
The new 3.6L Cat C3.6 engine powers the 424 Backhoe Loader and delivers 41.3 per cent higher peak torque to improve machine performance. Its CEV Stage V compliant design improves fuel efficiency by up to 10 per cent over the 424B2 model. New Eco Mode operation optimises engine characteristics and pump displacement to increase fuel efficiency an additional 10 per cent over standard mode, without limiting engine RPM using Caterpillar innovative eco technology.
The 424 introduces a new, stronger parallel lift loader arm design that delivers high breakout forces and improved material retention when lifting the loader bucket. The 424's design delivers a 15 per cent increase in lift force and 30 per cent increase in tilt performance, while offering faster cycle times and smooth control. 
The excavator style boom offers better accessibility over obstacles and improved loading efficiency in confined spaces. Providing strong stick force, the machine's 60-40 split between boom and stick delivers better reach over trucks for ease of loading. Digging performance and material retention are improved by the 205-degrees of rotation offered by the hoe bucket. 
The machine's proven variable displacement piston pump now delivers a 14.8 per cent higher rated capacity of 132 lpm hydraulic oil flow at 2200 rpm. Load-sensing, close-centered hydraulics provides oil flow to meet system demand for superior fuel efficiency. 
More comfort
The new stylish cab integrates roll-over protective structure and falling-object protective structure to protect operators and give them a safer environment in which to work. Redesigned mountings at the cabin's four corners lower vibration feedback to improve operator comfort further. 
As an industry first, the Cat 424 is introducing windows integrated into the door's design to improve cab ventilation while operating or roading the new 424. To further improve workstation comfort, air conditioning with 14 ducts facing the operator is available. 
A new display center with soft key controls delivers fast and efficient setting of critical machine functions and offers clearer visibility of the fuel and coolant temperature gauges and tachometer. Aiding in machine troubleshooting, full text diagnostic descriptio ns and instruction pop-ups are visible to the operator on the display.
Now standard on the new 424, Product Link™ systems track and transmit crucial operating data via VisionLink® to help improve fleet management. Product Link notifies key company personnel of machine fault codes, service reminders, fuel levels, machine utilisation, hours and location. 
More robust
Now offering a narrow frame design to allow it to fit in narrow lanes and trucks, the structures of the new 424 and the components they support are designed for high performance, giving the longevity customers have come to expect with this class of Cat backhoe loader. The loader arm and buckets feature a heavy-duty torque tube design that stands up to aggressive loads. 
The new machine design also offers several more options for improved functionality.
(Communication by the management of the company) 
Related Stories