Infrastructure in the Year of the Pandemic
01 Dec 2020
Long Read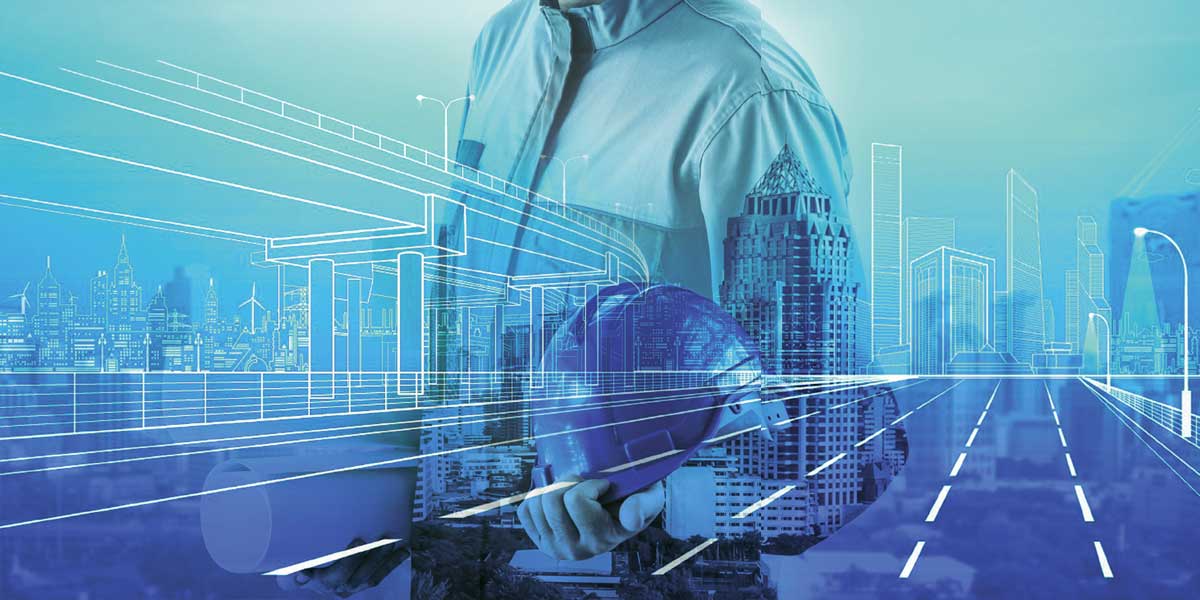 Where do fund diversions to contain COVID-19 leave India's infrastructure development story? How can infrastructure be developed more sustainably, in a way that generates badly needed jobs?
The Center for Strategic & International Studies (CSIS), a US think-tank, recently observed that economic trends in the Indo-Pacific prior to the pandemic forecast, among other things, showed a heightened focus on closing the infrastructure gap.
Then COVID-19 struck and Indo-Pacific countries that particularly struggled to contain the pandemic, such as India and the Philippines, had to put infrastructure development projects on hold in order to address the immediate impacts of the crisis: health, poverty, unemployment, breakdown of supply chains and services, and struggling SMEs. "Much of this cutback on infrastructure investment has happened at the level of states," observes Dr Pronab Sen, Country Director for the India Programme of the International Growth Centre (IGC). Going forward, CSIS expects these countries to face more severe economic contractions.
So, will closing the infrastructure gap remain a focus point?
Yes, responds Rajeev Vijay, Executive Director, Government and Infrastructure Advisory, Knight Frank India. "Infrastructure will continue to be a priority sector as it is a core part of the economy and demand for it exists. We are lagging behind in providing infrastructure, so there is more or less always pent-up demand that immediately utilises it."
However, where will the funds for infrastructure development come from?
As infrastructure projects are characterised by high capital intensity and long gestation periods, often leading to a funding gap, Elias George, Partner and Head, Infrastructure, Government and Healthcare, KPMG in India, suggests strengthening the bond market, public investment and catalysing private investments.
Meanwhile, Vijay sees the need for a shift in how the Government goes about creating infrastructure. On one hand, the Government needs to focus on managing the cost of implementing infrastructure projects. And in this context, Vijay points out that NITI Aayog is promoting programme and project management techniques that could usher in 5-15 per cent cost savings by better governance, risk management, change management and reducing delays. He also advocates reforms in the approval process because project-related changes take too long to resolve. "Decision-makers need to be empowered to speed up the approval process to avoid the kind of major time and cost overruns that the Ministry of Statistics and Programme Implementation documented last year—as many as 412 infrastructure projects, each worth Rs.1.5 billion or more, suffered cost overruns of over Rs.4.11 trillion."
On the other hand, the Government needs to prioritise capturing the true value of infrastructure projects by focusing on their alternative sources of revenue, continues Vijay. "For instance, Delhi and Mumbai airports earn more than 50 per cent of their revenue from non-aero sources, much in line with international trends. But by and large, infrastructure agencies are not able to capture the true value that their infrastructure project generates. Rail and metro authorities, the National Highways Authority of India (NHAI), and other PSUs in this space should be able to significantly earn from monetising their land bank and creating long-term, revenue-generating assets on their lands in partnership with the private sector. Alternative sources of revenue must become part of project development along with the structuring and phasing of the infrastructure project. This dual focus would create a flow of funds that would enable agencies to plan their next projects."
A resumed focus on infrastructure is expected to help alleviate the current state of mass joblessness. Infrastructure is a powerful catalyst for socioeconomic development. The infrastructure industry per se makes up 6 per cent of the global GDP and workforce. Government investment in infrastructure has an annual multiplier effect of 0.4 to 2.2 times on the GDP. Infrastructure can help generate at least 10,000 jobs for every $1 billion invested. 
However, "job generation from infrastructure investments depends on the kinds of projects taken up," points out Dr Sen. "Smaller projects such as rural roads, residential housing, small and medium irrigation, etc, tend to be labour-intensive, and should be prioritised to generate jobs. Larger infrastructure projects, such as highways, power plants and high-speed rail, which are vital to continue the growth process, necessitate the greater use of technology for timely completion and do not generate employment at the same scale. As infrastructure has value only when it is ready to facilitate economic activity, adhering to timelines is essential."
The challenge is, smaller infrastructure projects typically lie in the domain of states, which are short of funds, as Dr Sen says. "What we need is strong collaboration between the Centre, which has funds, and states. So far, we have seen some increase in funds allocated to NREGA but no increased allocations to other employment-generating schemes like the Gram Sadak Yojna or micro-irrigation projects."
KPMG has predicted that infrastructure is set for a big leap after the pandemic recedes. George expects India's transition to renewable energy, the creation of modern urban infrastructure, farm-to-market and transport logistics, and domestic aviation to lead the rebound. Meanwhile, he expects India's unique ability for frugal innovation and jugaad to help tide over the current crisis. 
Indeed! In a year when challenges spanning the key Ms of management—men, materials, money, markets—left many struggling to get any work done at all, leaders of companies engaged across key infrastructure sectors told CW that other Ms, namely, machines and methods, helped them get ahead despite the pandemic.
Airports
"We invested in automation which we had earlier thought was too expensive."
"Our work did not qualify as 'essential' during the COVID-19 lockdown, so our work came to a standstill until June," says Dr Milind Deshpande, Chairman and Managing Director, Vishal Infrastructure, which is implementing a cargo hub at the new international airport in Bengaluru; runways in Ranchi, Jabalpur and Kolkata; and has just been awarded the Chauba airport runway. The company has recently completed a runway extension in Vellore and air side works in Madurai.
"By June, the monsoon had set in and we had to contend with poor weather conditions," continues Deshpande. "Mobilising labour was another key challenge, especially in Bengaluru and Kolkata, where migrant workers got the opportunity to travel home."
To tide over the labour scarcity, Vishal Infrastructure invested in automation which, interestingly, "we had earlier thought was too expensive", to quote Deshpande. "For instance, we were using labour to feed and segregate material in the asphalt plant, which we have now automated. We were using labour for runway markings but are now using machines for the job. Demolition is another task we are now doing mechanically. Also, wherever possible, we are focusing on upskilling and redeploying labour, especially those with some basic education, as plant operators, drivers and so on."
Now that labour is returning and the monsoon is over, the company's work has resumed in earnest but Deshpande expects it will take another two months for the situation to normalise.
With regard to the flow of work, as the privatisation of airports is on the cards, the Airports Authority of India (AAI) is going slow on some projects, observes Deshpande. "Other tenders are coming out and contracts are being awarded but it remains to be seen whether payments are made promptly. So far, some payments have come through but with airports working at barely 10-25 per cent capacity, we hope other payments are timely. Unlike roads and rail, the AAI does not have a minister at the helm to push through project payment mechanism and other reforms; that is a constraint."
Deshpande also notes that though the Government has given contractors time extensions and returned bank guarantees for the value of work already completed to ease their cash flow, faster decision-making would help make up for the time lost to the pandemic. "For instance, labour security clearances used to take two days; now, they take 21. These and other procedural inefficiencies could be weeded out."
Ports
"Essar Ports was able to ensure minimum human intervention through our mechanised facilities."
Demand supply mismatches impacted shipping volumes initially, the lockdown impacted cargo and manpower movement, and social distancing with enhanced safety checks impacted productivity, says Rajiv Agarwal, CEO and Managing Director, Essar Ports, elucidating the three key challenges faced by the ports sector.
These constraints impacted costs and revenues, built up inventory at jetties, and delayed ongoing projects.
Eventually, some restrictions were lifted and the Indian ports sector regained momentum and observed a spike in traffic. After an initial dip in April 2020, Essar Ports has seen terminals along the western and eastern coasts come back to pre-COVID level performances. For the six months ended September 30, 2020, the company recorded revenue for 23.8 million tonne of cargo. "The recovery has been quick owing to increased demand from the power, steel, mining and oil sectors," shares Agarwal. "However, the overall revival in cargo volumes and the sector will wholly depend on how quick the demand and actual consumption meet the gap."
For FY 2021, Agarwal expects to report similar numbers as FY 2020 when the company registered a growth of about 23.5 per cent in cargo throughput.
"Adapting, mechanisation and innovating with state-of-the-art operations was the biggest opportunity of 2020," says Agarwal. "Essar Ports was able to ensure minimum human intervention through our mechanised facilities. Digitisation has eased working and led the change. Going forward, it will be the way we conduct business."

Rail
"Initial supply chain challenges were overcome through our vast vendor network."
Tata Projects, along with its consortium partners, is executing five important packages of the Eastern Dedicated Freight Corridor and two packages of the Western Dedicated Freight Corridor. When the pandemic caused sudden disruptions nationwide, Tata Projects faced some labour shortage issues and pressure on its supply chain system, shares Vinayak Deshpande, Managing Director, Tata Projects.
"We overcame the challenges posed by labour issues by using automated track-laying machines to build the freight rail line," he says. "Our highly automated track-laying machine has minimised the need for labour and delivered very high productivity. Such automated systems are the answer to overcoming challenges. In addition, more cranes and other equipment were deployed to ensure that work continues unabated."
Worker welfare initiatives such as providing facemasks, sanitisers and washing facilities; providing temporary housing and food arrangements at project sites; and deploying trained medical personnel at project sites helped build trust in the company and this, in turn, helped bring back workers to worksites, continues Deshpande. "After conforming to various governmental directives, we have commenced work at most of our project sites that are located outside containment zones."
As for the initial supply chain challenges, these were overcome "through our vast vendor network and long-term relationships with various suppliers, which ensured that materials and supplies were quickly provided at worksites so that work continued without any delay." 
Metros
"Strictly following all the Government advisories and SOPs to prevent infections, is increasing costs."
"While most sites have reached the pre-lockdown labour strength, there is still a severe dearth of skilled labour at ongoing metro sites, such as in Ahmedabad, Mumbai and Bengaluru," shares SV Desai, Whole-Time Director & Senior Executive Vice-President (Civil Infrastructure), Larsen & Toubro (L&T). "Manpower is reluctant to return to site for fear of the virus; while having to strictly follow all the Government advisories and SOPs to prevent infections is reducing productivity but increasing costs. Local labour is expensive and the extra training required to bring this relatively 'raw' labour up to acceptable standards drains resources and negatively impacts profitability."
To tide over this situation, L&T has 'imported' labour from other states, even at times flying them in, to maintain progress at site. However, such steps add to costs. Where necessary, to maintain speedy progress, deliverables have been re-prioritised, work patterns and schedules re-organised, and employees and workmen re-oriented to the 'new normal'. New subcontractors have been activated, several of them local. "In some cases, we are deputing our personnel to visit villages and small towns with our subcontractors to identify and convince workmen to return to work," shares Desai. 
He foresees the labour issue sorting itself out completely by the end of Q3, when the migrant workforce will start returning. 
Procurement has been another challenge. "While the distribution of essential commodities has improved and prices are stabilising, a full recovery is pending. Hence, several project sites have been forced to realign their procurement plans," adds Desai.
To tide over supply chain concerns, L&T has sourced new vendors, and explored and used new avenues of delivery. "In some cases, where vendors are stocked out or unable to deliver owing to transport issues, we have taken over the entire logistics planning." 
Liquidity is another issue where Desai feels that while the Central Government has taken several fiscal and monetary steps to shore up the economy, there is still a desperate need for more. "Both the Centre and state governments are concentrating their monies on combating the pandemic. And with the private sector still not confident or convinced about investing, how will infrastructure development get a move on in the post-COVID era?" he muses.
To improve the situation, he advocates continued funding from multilateral agencies like JICA, the World Bank, IMF, etc, which is happening, like the recently announced packages for constructing the High-Speed Rail project. Many such projects need to be kickstarted.
Last, but not the least, the Covid-19 cloud has had a silver lining: "L&T has used this opportunity to introduce more automation and digitalisation for greater efficiency," says Desai.
Roads
"Digital technologies (drone surveys) were used to monitor the progress of work."
"Skilled labour shortages, staff movement restrictions, restricted working hours and supply chain disruptions were our biggest challenges," shares Sanjay Londhe, Director & CEO, Projects, Ashoka Buildcon.
"Skilled labour shortages in Gujarat and Karnataka were overcome by effectively deploying locally available labour and air-transporting skilled labour and other staff from various parts of the country," explains Londhe. "Early on, supply chain issues were overcome by consuming earlier stock and extra material. Thereafter, some materials and machinery parts were bought at higher rates to ensure work continuity and the construction schedule and method were augmented to work with the available materials. These measures entail effective risk management skills and planning. Throughout, we enforced the 6-Ss: self-declaration, safety, self-isolation, social-distancing, sanitisation, self-discipline."
"Digital technologies (drone surveys) were used to monitor the progress of work and understand difficulties at the field level and, thereafter, digital platforms were used to hold virtual meetings to discuss concerns with all the stakeholders, including clients, and fast-track the identification of solutions. For instance, in six-laning the 40-km stretch between Khairatunda and Barwa Adda on the NH-2 in Jharkhand, 10-km was obstructed. With the support of the local administration, we were able to make available the obstructed part for early completion."
"Relief granted by the Government of India under the Atmanirbhar Bharat programme, payments made on the progressive basis instead of the milestone basis, was effectively availed, which helped maintain the company's cash flow," continues Londhe. He attests to working at more than 90 per cent of the previous year's performance level and expects to surpass this performance level as a result of the Central Government's continued push for road infrastructure and adequate work.

Mining
Recovery Expected
The sudden drop in demand following the lockdown and uncertainty surrounding a recovery put production plans in disarray, says Kameswara Rao, Leader - Energy, Utilities and Mining, PwC India, of the key challenge the mining sector faced this year. "Dispatches after the release remained uneven as end-use industries took stock of their prospects and cash flow, resulting in an inventory build-up. Logistics and supply chain disruptions led to shortages of critical spare parts and consumables, even as a shortage of contract labour hit site operations. The industry is not unused to these challenges but the situation was prolonged vis-à-vis, say, being hit by an adverse weather event."
"Business continuity, operations not being carried out optimally because of restrictions, a lot of migrant workers fleeing, and a fall in demand as various manufacturing units shut down were the big challenges for the mining sector," says Subhankar Mitra, Managing Director, Advisory Services, Colliers International India.
"Weak demand from key end-use industries was the primary challenge," observes Harish Krishnamoorthy, Consultant, Metals & Minerals Practice, Frost & Sullivan. "Other issues were business disruption, non-availability of the requisite workforce, restrictions on the free movement of material and disruption of port operations."
Even now that operations have resumed, Krishnamoorthy notes that the industry is facing increasing costs and mine productivity issues as commodity prices come under the scanner owing to continuing supply disruptions and the impact of economic uncertainty on demand.
The most common reaction to the turn of events was "to explore cost reduction and manpower optimisation", says Rao. "A few resource companies passed on the cost-cutting outcomes to customers to revive demand or offered deferred payment facilities for supply to regulated and non-regulated sectors. Some end-user industries such as steel turned to export markets in China and Southeast Asia. Original equipment manufacturers quickly upgraded their online platforms to reach their customers remotely."
Interestingly, while the initial response to the crisis was to conserve cash or drive offtake, Rao points out that these measures are now getting embedded in the longer-term strategies of companies.
In response to the labour crunch, certain types of mines, particularly open cast, tried to deploy more heavy machinery, observes Mitra.
Mitra expects the sector to record a V-shaped recovery, particularly coal; as manufacturing picks up pace, demand may increase. 
Rao expects the resources sector to bounce back very strongly, with end-use demand being generated by the Government's strategy to drive infrastructure spend, deregulation across several sectors including commercial mining, and demand from manufacturing as it responds to the new policy initiatives. "Resources companies are expected to focus on setting up management processes for a larger scale of operations, more integration and resilience of operations, a strong push for mechanisation and digitisation of operations and workforce skills upgradation," he adds.
The positive in all this? 
"These initiatives should result in a more competitive industry better placed to address future risks and user needs," says Rao.
Warehousing
"We launched a Tenant Communication App for easier and faster communication with customers."
"As warehousing managers, our challenge and priority since the beginning of the pandemic have been to ensure seamless operations of all our industrial and logistics parks for clients," says Rajesh Jaggi, Vice-Chairman, Real Estate, Everstone Group. 
"We revisited our hygiene and safety standards and processes, partnering with CBRE, Deloitte and Microsoft for new standardised operating procedures, and equipped our parks with appropriate sanitisation and virus protection protocols [masks, daily temperature checks, disinfection of private and transportation vehicles]."
"We informed our tenants about our international standards and assured them about the preventive measures in place," he adds. "In fact, we launched a Tenant Communication App for easier and faster communication with customers."
"As warehouse developers, material procurement and labour issues were the biggest disruptions to work," continues Jaggi. "Consequently, we have seen some delays in project deliveries in Q2 and Q3." 
That said, the future outlook seems positive, he believes. "Some industry reports have forecast good recovery after Q4 2020 and a pick-up in H2 of FY 2021. We are confident of future growth because India is one of the largest consumption markets in the world, which will grow the requirement for storage and warehousing, and we are well positioned to provide world-class warehousing and industrial parks infrastructure."
Jaggi believes organised national-level players will have an edge over the unorganised sector as tenants will look for the highest degree of hygiene and safety standards. And bigger players will be able to take forward the ongoing conscious shift towards the technological advancement, modernisation and optimisation of warehousing operations and the development of Grade-A acilities and infrastructure. If COVID-19 persists for a longer period, Jaggi sees companies adopting technology faster, which may have a long-term impact on human interventions.
He would like the Government to make policy-level decisions to cope with the variable demand-supply metric post COVID-19. 
 - CHARU BAHRI
To share your views, write in at feedback@ConstructionWorld.in
Related Stories