CSR is an integral part of business: VP, Wonder Cement
01 Aug 2021
Long Read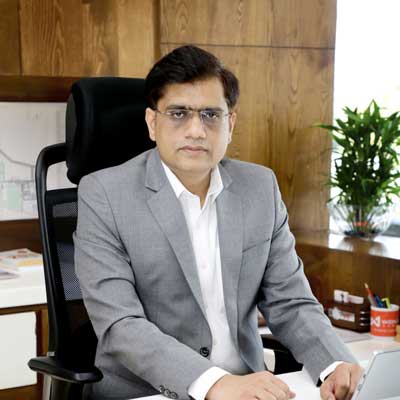 At Wonder Cement, CSR helps in maintaining harmony with nearby communities. Based on need assessment, the company plans and executes various initiatives which helps in generating a sense of trust in the community for Wonder Cement. ICR Team interacted with Nitin Jain, VP, Wonder Cement.
How important is CSR activity for your company and what impact does it have in your business?
Concern to social and environmental wellbeing along with corporate and business operations has been in existence traditionally in India since ancient times that got legislative shape through the clause of CSR under section 135 of the Companies Act 2013. The experience from traditional benevolent practices by the corporate sector has substantially demonstrated that those business enterprises that had greater concern towards social well being as well as environmental sustainability gained more trust in the consumer market as well as more repute in the business industry. For our business, CSR has been an integral part of business strategy formulation and is in our practice since beginning. Envisaging manifold beneficial impacts on the society through CSR initiatives, we have undertaken community initiatives even before the commissioning of the project and have continued with it to a greater extent. It helped us in establishing three cement units in very short span of time.
Corporate social responsibility also helps in building a positive image of the brand and hence gaining customer loyalty. Do you agree?
Wonder Cement's philosophy is service first. The company always focuses on catering to the needs and desires of society and its customers in the first place. Undoubtedly, our CSR activities have earned invaluable appreciation and respect from the society in general and customers in particular. Our CSR initiatives are based on community needs which caters to them equally irrespective of gender, age, and castes. Intensity of our CSR programme execution reflects the commitment of our management for the wellbeing of neighbouring human communities and resultant synergistic social environment for businesses to operate.
Do you think a socially conscious image is important to remain in the competition today? Does it give your business a competitive edge?
Yes, it is very much essential for a company to be socially conscious. Business image can't be manufactured, it is built up on every day's business action and programme implemented in the community. CSR helps us in maintaining harmony with nearby communities. Based on need assessment we plan and execute various initiatives which helps in generating a sense of trust in the community for Wonder Cement. Our social intervention like Hunar empowers women with stitching skills and Hunar SHG uninterrupted supply of safety jackets and masks, even during pandemic and lockdown. Wonder Arogyam programme takes preventive steps to control vector borne diseases in Nearby villages which control absenteeism due to poor health. Wonder Sarchana programme is developing infrastructure for government schools, health centres, roads and water harvesting structures. We have programmes for all stakeholders who ensure and provide a conducive environment for plant operations.
More cement companies are doing CSR activities around energy efficiency. What are your plans on this?
We are already implementing energy efficiency initiatives under our 'Wonder Eco Green Initiatives'. We have not only provided LED bulbs to villagers but also, we have established high efficiency solar powered pump sets for uninterrupted supply of drinking water to villagers, which helps them saving in bills of power consumption as well as uninterrupted water supply through solar power. We have fixed more than 900 LED streetlights in partnership with village panchayat and users, which has led to better civic facilities for the villagers and increased public safety. 'Wonder Eco Green Initiative' also focuses on increasing green cover in villages in a sustainable way. We have developed 'Panchphal Udhyan' (Fruit Orchard) in collaboration with village panchayats. These Panchphal Udhyan are established with good quality fruit plants along with rainwater harvesting facilities and safety fencing for sustainment of orchard. These orchards are maintained by village panchayat through MGNREGA, which in turn also provides employment guarantee to villagers. Apart from above community initiatives our manufacturing units also have all modern energy efficient machinery and systems in place and regular efforts are being done to reduce power use.
Could you brief us on what kind of CSR activities do you conduct?
Year 2020-2021 brought many challenges with the onset of Covid-19 pandemic. We constructed Anicut and carried out pond deepening work in two villages for conservation and storage of rainwater. A Panchphal Udhyan (Five-Fruit Orchard) over 10.82-hectare area was also developed in a village. Our Farmer development programme is a regular intervention which is supporting 200 farmers for doubling their farm income through organic farming, establishing orchard, adopting multi cropping patterns under our 'Wonder Eco-Green Initiatives'. Plantation drive and distribution of fruit saplings to villagers through 'Wonder Vriksha Rath' is also done at large. Covid 19 provided an opportunity to renovate the government schools which was difficult to carry out during regular school days. 'Wonder Udaan Programme' is developing five government schools with all required infrastructure facilities like construction of classrooms, renovation and waterproofing of old buildings and raising of the main boundary wall etc.
Furniture sets for 1044 students and 50 computers for establishing three computer labs in Govt Schools were also provided. Wonder Udaan programme also includes setting up modern sanitation facilities for students. 'Wonder Sanrachna' is a flagship programme of rural development for creating lots of infrastructure like road, community hall, boundary wall for government buildings, etc. in peripheral villages. During FY2020-2021 we constructed CC road of 830 m along with streetlights setup. 'Wonder Hunar programme' has created and is nurturing 20 Self Help Groups of Women for their empowerment. They are provided trainings on various income generation activities and work through Hunar Production Centers. Hunar groups are regular suppliers of safety jackets, masks and sweaters, etc. as per requirement of personnel of the plant. We also supported the organisation of 'Fort Festival – Chittorgarh' as a part of our support to cultural heritage.
Please tell us about various partnerships/ committee associations, if any, you are involved for CSR projects?
We have a dedicated team for conceptualisation and execution of CSR programmes. Most of the programmes are piloted with the Government Department and technical support is taken as per requirement from organisations like Krishi Vigyan Kendra and Technical and Agriculture University. During pandemic, what CSR activities did you carry out and how has it helped you in sustaining and remaining competitive?
Through the Wonder Arogyam Programme we proactively provided all materials required for prevention of Covid like sanitiser, masks, PPE kits and support for infra development to government hospitals and provided oxygen concentrators, cylinders, etc. for the affected people. Apart from this, we also developed 130 kitchen gardens for ensuring nutritious food availability to families. We also supplied ration kits to 1,700 families. Sanitisation work was done on regular intervals in nearby villages. Please tell us about your future plans in CSR. Based on need assessment and current scenario we are committed to holistic development of society with special emphasis on water conservation and income generation activities, through local entrepreneurship development and infrastructure development in 22 villages for more than 20 thousand people. We have developed a road map for carrying out CSR activities in the vicinity of our plant at Nimbahera for fulfilling the requirements as per need of community.
Can you tell us about energy-efficiency initiatives in your company to achieve low carbon footprint?
WCL prides itself in being a plant of the 21st century. It is centrally controlled, fully automated and equipped with German technology, which is one of world's best and the hallmark of latest industrial development. WCL plant is fully automated with latest technology and state-of the-art machinery. In cement manufacturing process, energy cost constitutes almost 66 per cent of manufacturing cost. Energy management is the process of monitoring controlling and conserving the energy. WCL believes in continual improvement and to achieve this, 10 cross departmental teams are working with PDCA methodology at our NBH plant under energy management initiative for improvement in plant performance by continuous reduction in Sp. power consumption. We have installed green energy like solar and wind energy project for manufacturing unit. Under energy management initiative, we are doing meeting with all energy teams, inviting suggestion from team members for identification of action points and implementation of energy management initiative action plan for reduction of power consumption and improvement in productivity. WCL also rewarded by RECA award in 2020 for their effort toward energy conservation. Reduction in SEEC provide significant contribution to achieve low carbon footprint.
What are your views on using alternative fuels?
Wonder Cement is committed to increase usage of alternative fuels to enhance and strengthen environmentally sustainable manufacturing practices and contribute towards the cause of circular economy.
Related Stories