Sudhir Chiplunkar, COO, L&T Metro Rail (Hyderabad)
01 Aug 2021
Long Read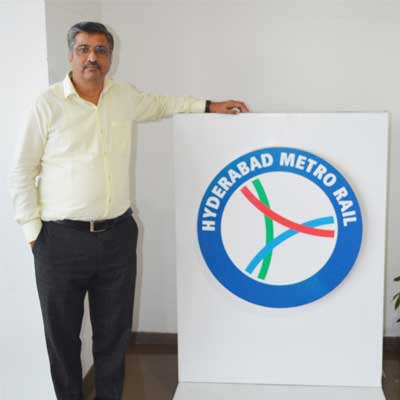 The Hyderabad Metro Rail project has seen the transformation of L&T from a contractor to a concessionaire, and is touted to be the world's largest metro project in PPP mode with technology as a key USP. Transit-oriented development (TOD) also plays a significant role in L&T's operations and maintenance (O&M) model. That said, the pandemic-induced restrictions coupled with lack of last-mile connectivity, low ridership and increased operational cost have led to losses in operations. L&T Metro Rail Hyderabad has reportedly been making a loss of about Rs 5 crore a day, while its earnings are just Rs 1 crore a day; L&T is reportedly in talks with the state government to help overcome its losses. Sometime last year, reports also indicated that L&T was looking to exit the project as part of its overall plans to move away from non-core businesses.
In conversation with SERAPHINA D'SOUZA, while Sudhir Chiplunkar, COO, L&T Metro Rail (Hyderabad), opted not to comment on how the organisation is strategising to overcome pandemic-related losses, he spoke on technology adoption in the railways and metro sectors, how these sectors have progressed, and more. Excerpts:
You have over three decades of experience in the implementation of mega railway and metro projects. How have you seen these sectors evolve in the past decade?
I have been with the metro sector for the past nine years, before which I was with the Indian Railways. As far as metro is concerned, there is tremendous thrust on adoption of new technologies in every aspect of the project, right from the concept stage to commissioning. In fact, our Indian metro system today is on a par with any other metro system in the world, whether it is the signalling system (CBTC), modern lightweight aluminium built rolling stock or the adaptation of BIM. Right from the project stage to asset management, we are focused on digitisation.
You have been with the Indian Railways for 23 years in senior managerial positions. How have you seen the railways sector progress in terms of accelerating adoption of digitisation?
Although I am not part of the Railways now, I keenly follow developments. In the railways sector, too, there has been a lot of emphasis on modernisation and upgradation of technology and there is a continuous object-oriented approach in achieving these objectives. In the past decade or so, there has been tremendous emphasis on upgradation.
There has been a rapid increase in pace of electrification as well as upgradation of signalling systems and digitisation of asset maintenance. Recently, the Centre for Railway Information Systems (CRIS) has awarded works for implementation of an asset management system for locomotive maintenance (SLAM). This will be deployed all over the maintenance sheds for digitisation of asset maintenance. Apart from that, the Dedicated Freight Corridor (DFC) is getting commissioned in a phased manner, which is a boon for overall traffic development. Certainly, there has been a lot of emphasis to keep up with the world.
Can you highlight the cost benefits of the adoption of software technologies for these sectors? What is the kind of cost-effectiveness seen over a period of time?
To put a figure to cost-effectiveness is difficult. But, certainly, adoption of technology is a win-win for the operator and user. Even today, the biggest example of computerisation is the passenger reservation system of IR; it has made the life of travellers easy and systems and procedures simple. On the project side, in metro, there is a BIM where you have all the drawings in a Cloud-based system, which makes work efficient and fast. It minimises mistakes and clashes and improves overall efficiency. Nowadays, every upcoming metro project is ensuring 100 per cent BIM implementation.
L&T Hyderabad Metro is known to have used technology in every aspect of the project. It is also notably the first metro project in India to use communication-based train control (CBTC) technology.
Right from the start, the project team laid emphasis on innovation and bringing in new and state-of-the-art technologies—not just in signalling, but in every aspect, whether it is rolling stock, signalling system or civil construction methods. In fact, Hyderabad is the first metro with a 25 kV AC traction system with three-car train formation. This was chosen keeping in view the traffic requirement as well as the emphasis on regeneration. A special provision was laid during the design stage to ensure high reliability of components of the HV system of the train so that overall reliability remains high. As for CBTC technology, again, we were the first to take it up in India. Here, the main advantage is that shorter headways can be achieved with dynamically moving blocks and it also requires less maintenance because of fewer components. Now, every upcoming metro project in India has a CBTC signalling system.
As for the construction aspect, our station designs are sleek and we went in for the wing and spine type of system in which the total station width is reduced. Thus, we do not occupy the footpath areas much, providing improved space on the street level. Here, we went in for modular construction with precast segments, thus reducing construction time and minimising inconvenience to traffic during the construction phase.
Futuristic solutions, such as face recognition, account-based ticketing system, artificial intelligence (AI), machine learning (ML) and Big Data are entering metro systems.There is also talk of superior user experience using augmented reality (AR) and virtual reality (VR) in this field. What are your views on this? And what about O&M costs?
Any new technology has two advantages. It makes the user's and provider's life easier, and also has the benefits of low maintenance cost and fewer complications. Unless a technology has these two advantages, it doesn't get inducted into the system. All these new features will help metro operators and also make the life of the passenger easier. For instance, earlier, we had a closed loop system, while last year we entered the QR-based ticketing system, which is very convenient. We are trying to increase its use by making passengers aware about the advantages.
Efficiency and sustainability are buzzwords today. The L&T Hyderabad Metro has promoted green and eco-friendly travel with reduction in carbon emission and fuel consumption. It also has 17 IGBC LEED Platinum-certified metro stations and its Nagole Metro Station recently achieved the CII's 'IGBC Performance Challenge 2020 for Green Built Environment Excellence Award' under the 'Transit Buildings - Metro' category. What sustainable methods were used for design and construction of the project to ensure energy and water conservation and the other efficient measures undertaken?
The metro by itself is an efficient transit system on account of steel to steel friction being low and use of electricity as fuel, which has the advantage of regeneration. Our trains have a state-of-the-art, converter-inverter based propulsion system, which has the capability to pump back energy to the source, i.e. electric grid during braking mode. Moreover, our metro trains have a 25 kVAC system that has greater receptibility for regenerated energy. We are able to pump back 33 per cent of energy received by way of regenerative braking.
Additionally, when we constructed the stations, the alignment was made such that when you enter the station you have a rising gradient and when you leave, it is a falling gradient. That gives us a natural advantage for braking as well as acceleration. Apart from the energy regenerated, which is almost 25 million units per annum, we have also opted for solar power and have started almost 8.3 mw of solar plant capacity in our depots as well as stations, which gives us about 10 million units per annum. This amounts to almost 15 per cent of our total energy consumption. And we want to take it further up to 15 mw. This apart, every station and depot has water-harvesting pits. In depots, our train wash plant uses recycled water. In fact, 17 of our stations are green-certified by IGBC and the Nagole station is the best station in the sector. Our project planners placed a lot of emphasis on sustainability, clean energy and energy conservation, and this is certainly giving us good results.
The 69.2-km project also had the Commissioner for Metro Rail Safety (CMRS) conduct an inspection of new upgrades at various metro rail stations across the three corridors....
Every metro project, before commissioning and opening its operations for passenger services, is inspected in detail by the Commissioner for Metro Rail Safety (CMRS) along with a team of officers. Hyderabad Metro was opened in a phased manner and every such opening was preceded by the CMRS inspection. However, the recent CMRS inspection in February 2021 was on account of a software upgrade of the signalling system. The Hyderabad Metro network has three interconnected corridors and, earlier, each of the three corridors had its own specific software. Our new signalling software upgrade is an integrated software for all three corridors. With this upgradation, any train can work in any corridor under ATO/ATP protected mode without having to change software or run in a degraded mode.
What measures are being taken in metro station premises and inside trains for the health and safety of commuters during the ongoing pandemic?
We do a thermal scan of all passengers at the entry point. We have provided hand sanitisers at entry and exit points. We mandate that each passenger wears a mask. We have also made markings inside coaches and guide standees to maintain physical distancing. The normal capacity per train is to carry about 975 passengers, but during COVID we have restricted it to about 180 passengers. Apart from this, we ensure frequent sanitisation of all touchpoints, such as handrails and grab poles inside trains as well as railings of escalator and stairs, lift buttons, etc, at stations. We are maintaining 75 per cent fresh air in the AC system apart from cleaning the AC filters every alternate day. We aim to provide a safe journey to our passengers.
Related Stories