Brookfield's Ecoworld LEED recognised for water efficiency
01 Aug 2021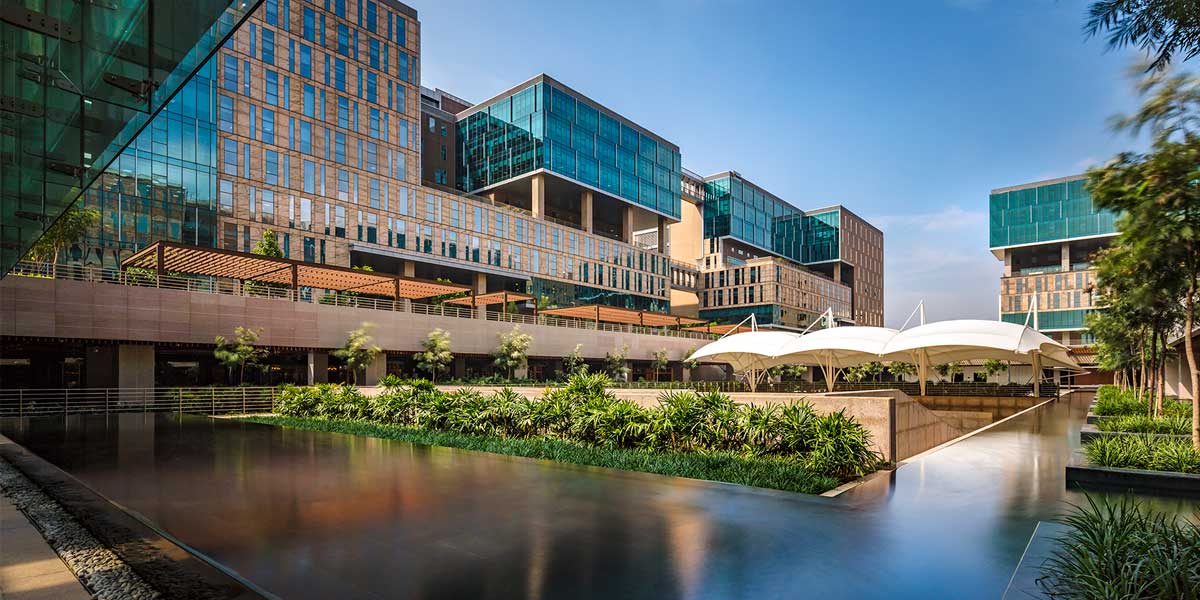 In accordance with the Leadership in Energy and Environmental Design (LEED) certification programme, Ecoworld, managed by Brookfield Properties, has achieved high scores under the rating system's water efficiency credit category. The project has undertaken various measures to recycle and reuse water in its facilities and make changes that create less pressure on the environment, specifically taking into consideration the issue of water scarcity in Bengaluru.
LEED, administered by Green Business Certification Inc (GBCI), is the most widely used green building programme in the world with over 107,000 registered and certified commercial projects across 182 countries and territories. India is currently the fourth largest market in the world for LEED and the state of Karnataka was ranked second in the Top 10 States for LEED in India in 2019, which ranks Indian states in terms of cumulative gross square meters (gsm) of LEED-certified space. Up to May, Karnataka had 327 LEED projects, covering 1.2 billion gross sq ft (gsf) of space. LEED's water efficiency category, under which Brookfield's Ecoworld has achieved high scores, includes strategies such as reducing outdoor and indoor water use, building-level water metering and optimising process water use and water metering.
Performance tracking
With over 14 buildings spanning 45 acre, Ecoworld is one of the largest corporate spaces in southern India. Its entire campus initially achieved LEED Gold certification in 2011 and has recently recertified to LEED v4 GOLD in 2018, demonstrating a continued commitment to improving both sustainable operations and wellbeing of occupants.
Brookfield Properties is also tracking the performance of 11 of the certified buildings on the campus through the Arc performance platform, a total area of 6.45 million sq ft, with an average water score of 80 out of 100. In pursuit of a high-water score and its use of LEED, Ecoworld has been able to recycle 100 per cent of wastewater through a renewed sewage treatment plant (STP); the treated water is, in turn, used for irrigation. In total, the campus recycles about 93,145 kl of water every year.
Improvement and innovation
Brookfield Properties has taken numerous steps to achieve LEED V4 Gold certification at Ecoworld. "For instance, we have installed permanent water meters to measure the total usage of potable water for the entire building," shares 
Alok Aggarwal, CEO and Managing Director.
The firm also ensured efficient door plumbing fixtures, STP water treatment for flushing and basement cleaning, and seamless landscaping with drip irrigation, which helped it achieve about a 45 per cent reduction in usage of potable water across the campus. "We have also connected floor AHU drain water to the STP raw water tank to harvest about 15 per cent of water. Besides, we constantly treat used water and reuse it for non-human touch activities, while making sure any excess treated water in the building is being utilised efficiently for central avenue irrigation purposes to achieve zero discharge," adds Aggarwal.
Water conservation technologies
The project has implemented online real-time monitoring of STP water to check and rectify variations in the parameters to reduce loss of water. It also has sensor taps and mist-type aerators installed across all common areas of the building, thus ensuring about 80 per cent of water savings in restrooms.
"We leverage additional tertiary water treatment (Transwater) for STP-treated water, which helps us save around 20,000 l of water per month," observes Aggarwal. "Apart from this, Brookfield has also invested in storm water management. Here, grassy channels, permeable pavements, recharge pits, plantings and soil are used to allow storm water to seep into the ground before it moves into sewers, minimising runoff pollution throughout the process."
"Environmental, social and governance excellence is core to how we conduct our business across the globe," he continues. "In sync with this vision, we constantly strive towards operational efficiency and optimal utilisation of natural resources to reduce our carbon footprint. Achieving high performance in water efficiency under the LEED green building programme is a testimony of the effectiveness of our initiatives and encourages us to continue improving and innovating our services and operations in sync with evolving business dynamics."
Water positive
Bengaluru is one city that is increasingly witnessing contributions from sustainability leaders to go green. "Interest and awareness about healthy workspaces both before and during the pandemic and the potential to measure and improve sustainability performance have given rise to a growing number of green building programmes in the region," avers 
Gopalakrishnan Padmanabhan, Managing Director, Southeast Asia and Middle East, GBCI India.
"Ecoworld has been a strong advocate for LEED and its strict adherence to the rating system's green parameters has enabled it to meet its sustainability goals, while also helping to keep its corporate space and employees stay safe and healthy," he adds. "Its contribution towards saving and recycling water is commendable. If all corporates were to try to achieve this, the city could find itself in a situation where it's no longer water stressed but instead water positive."
Indeed!
- SERAPHINA D'SOUZA
Related Stories