Span of Success
01 Dec 2020
Long Read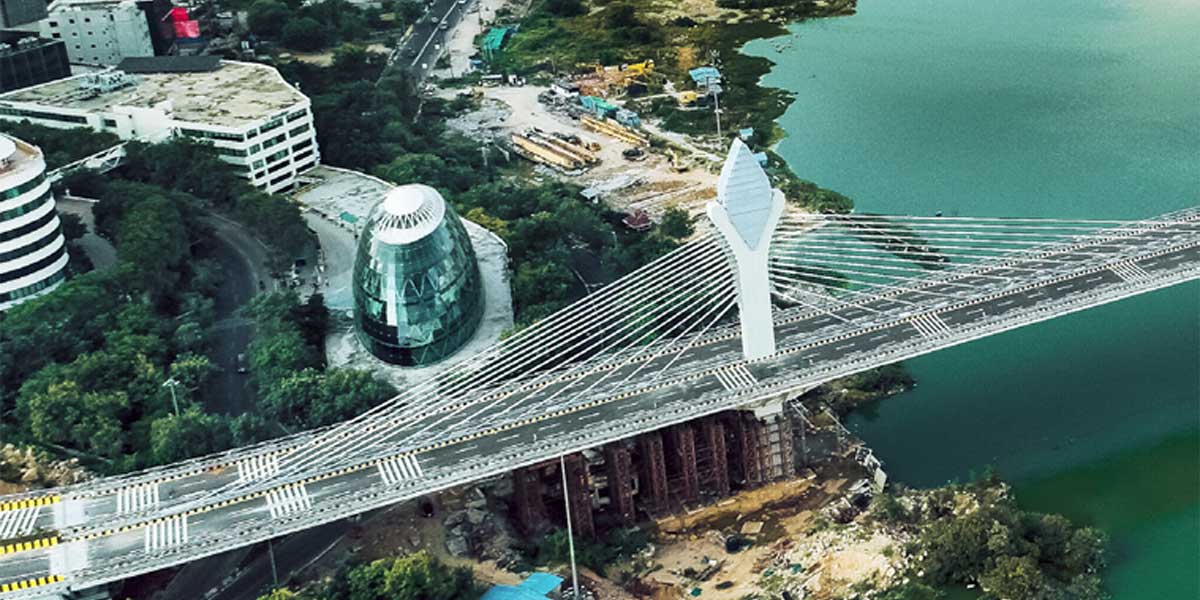 L&T has completed the construction of the Durgam Cheruvu cable-stay bridge in Hyderabad, the world's longest precast segmental span of 233.85-m in concrete on a cable-stay bridge.
Hyderabad certainly has reason to celebrate! The newly constructed Durgam Cheruvu cable-stay bridge eases traffic and reduces commute time. What's more, it has set a record for being the world's longest precast segmental span of 233.85-m in concrete on a cable-stay bridge. Constructed under Telangana's Strategic Road Development Programme, and recently inaugurated by KT Rama Rao, Minister of Municipal Administration & Urban Development Industries, IT&C, Telangana, the construction of the bridge was completed by Larsen & Toubro (L&T) and it was dedicated to the people of the city.
"Our association with this young state of Telangana has been rich and we are proud to have delivered yet another pearl to the City of Pearls," says SN Subrahmanyan, Chief Executive Officer & Managing Director, Larsen & Toubro. "Infrastructure development should ultimately improve the life of citizens and this bridge will certainly improve connectivity within the city of Hyderabad manifold. We are also grateful to the Telangana government for having reposed their faith in us once again to deliver world-class infrastructure once again. And we are happy to have delivered to their complete satisfaction."
Speaking on the USP of the bridge, SV Desai, Whole-Time Director & Senior Executive Vice-President (Civil Infrastructure), L&T, elaborates, "It has the world's longest precast segmental span of 233.85-m in concrete for a cable stay bridge. We have constructed it despite extremely challenging conditions and terrain using a total of 428 mt of high-tensile strand, 26,600 cu m of concrete, 4,800 mt of steel and 287 mt of stay cables. We are happy we delivered the project in time even during these unprecedent times of the pandemic."
While the entire bridge with its approaches at both ends is 764.38 m, the cable-stayed bridge portion is 435-m long and 25.8-m wide with a total of 52 stay cables. The 53 CC (cement concrete) segments of the bridge are supported by stay cables sourced from Germany. The approach viaduct and solid ramps are 309.8-m long with 1.8-m wide footpaths on both sides.
Hyderabad is another Indian metro notorious for its traffic and this bridge will ease traffic flow towards HITEC City. Studies have revealed that the average time taken to reach the ITC Junction from Jubilee Hills (Road No. 45) is anywhere between 25 minutes and 30 minutes. The Durgam Cheruvu bridge will reduce commute time from Jubilee Hills to Madhapur from 30 minutes to a mere 10 minutes and the distance from Mind Space to Jubilee Hills by 2 km.
Why an extradosed cable-stay bridge?
An extradosed bridge is a cross between a girder and a conventional cable-stayed bridge, wherein the deck is directly supported by the pylon and the tension of the cables acts more to support it vertically. The cable stay acts as a prestressing cable for the concrete deck. Hence, the deck is comparatively thinner and the span length more in an extradosed bridge. Precast engineering has significantly reduced execution time and costs.
The world's longest precast segmental span The bridge has the world's longest precast segmental span of 233.85-m in concrete for a cable-stay bridge. Although extradosed bridges are commonly constructed using the balanced cantilever erection method, in this case, a back span was constructed with complete staging from the ground and then the main span was constructed by cantilever erection with precast segment using a derrick crane.
Speedy construction
The precast segments were made ready by the time the anchor spans were casted in-situ, which speeded up construction. Precast segments of 3.5-m length and weighing 155 tonne were cast or fabricated in a casting yard and transported to site for erection while the derrick crane was designed and fabricated by L&T.
Challenging conditions and terrain
The bridge has been constructed in extremely challenging conditions and terrain with a lot of the work happening at 20-m above ground or above water. Executed within contractual stipulations, the 4.7-m depth of the precast elements was a challenge as was the task of transporting the huge precast elements from the casting yard through the busy, round-the-clock traffic near the site and erecting them at site. A unique aspect of the project was the casting yard that was synchronised with a load-out jetty that substantially reduced cycle time.
The bridge is equipped with aesthetically pleasing, first-of-its-kind carriageway lighting and will be a major recreational and tourist attraction for citizens with its specially designed footpath. Apart from the cables and the lighting system, everything else has been sourced from India making this bridge a shining example of the 'Make in India' movement.
- SHRIYAL SETHUMADHAVAN
Related Stories