Happening segments in the mining industry
01 Dec 2019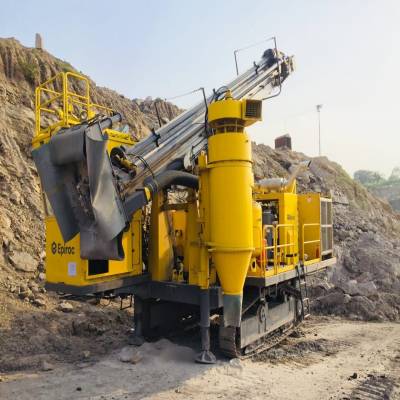 Photo courtesy: Epiroc Mining India
Coal mining is the most important sector of the mining equipment market followed by iron ore and then limestone, according to Dimitrov Krishnan, Vice-President and Head, Volvo CE India.
"Between 2015 and 2020, Coal India has targeted almost doubling its output to 1 billion tonne," continues Krishan. "The iron ore market is stagnant because of a lack of new licenses for production owing to environmental clearance delays and lower commodity prices. Activity levels in the limestone market have been low over the past two to three years, with cement plants running between 50 per cent and 70 per cent of their capacity. However, we are seeing some investment in this sector, which is translating into new equipment purchases."
Animesh Nandy, Business Line Manager-Drilling Solutions, Epiroc Mining India, outlines the prospects of the key segments: Coal, iron ore and limestone.
"The coal segment comprises about 80 per cent of our blasthole drill business; this segment is dominated by the Government and growing at a snail's pace," he elaborates. "That said, 2020/2021 looks good as planned capital investments of Coal India are being implemented. Purchases of 381-mm drills by South Eastern Coalfields and 311-mm drills by Northern Coalfields along with 250-mm and 160-mm replacements are encouraging. Requirements of drills and feeder breakers are expected to be lined up at Singareni as well. Opening up the sector to 100 per cent FDI might attract global mining companies and boost demand in the long term."
"The projected demand for iron ore and spike in global prices has boosted demand for drills," continues Nandy. "We see movement from small private contractors as well as biggies such as NMDC, Steel Authority of India, BSP, Tata Steel, etc. Enquiries have increased for popular models like IBH10, IDM 30, IDM 45 and DMH. We hope investments by the likes of the Vedanta Group, JSW Steel and Tata Steel will augment market potential."
"Limestone is one of the most exciting segments we are eyeing now, as Epiroc offers a very exhaustive range for this segment," he adds. "This segment currently leads in technology implementations in surface heavy earthmoving machinery (HEMM), typically because limestone is a highly price-competitive commodity and any variation in the cost per tonne can make or break the health of a project. Also grade control for the limestone factor is critical for the type of cement being manufactured."
Krishnan is positive about the long-term prognosis for mining, expecting a CAGR of between 5 per cent and 7 per cent in the next three to five years.
Newly launched mining equipment
Tata Hitachi has launched three wheel loaders in the 6.5-11 tonne segment for three mining applications (and for use in ports): mining, slag handling and block handling. These include the ZW310-5A, ZW370-1 and ZW370-1 models, all of which are imported.
Komatsu offers shovels, loaders, drills, draglines and long-distance conveyors and crushers. "We are hopeful that Komatsu's high-angle conveyor will be deployed in Indian mines soon," adds Samaresh Mitra, National Sales Head – OE, Komatsu Mining Corp. Group, Joy Global (India).
"After the success of the Mark-I IBH 10 with customers such as Ultratech Group and Technoblast Mining Corporation, both in the performance and support areas, we are planning to launch the Mark II version in early 2020 for limestone and iron ore mining," shares Nandy.
"Technoblast is planning to procure one more Mark-1 IBH 10 for its expansion projects," says Sachin Saxena, Vice-President, Technoblast Mining Corporation.
"Also, we offer a range of electric drills made in India for customers who have access to cheaper electricity," adds Nandy.
- CHARU BAHRI
Related Stories