---
---
NHRCL expedites works for upcoming Mumbai-Ahmedabad Bullet train project


The National High Speed Rail Corporation (NHRCL) has set the ball rolling on fast-tracking the pre-construction work of the Mumbai-Ahmedabad Bullet train that stretches across 508 km. The High-Speed-Rail (HSR) line is estimated to cost Rs 1.08 trillion and will be expected to become functional by 2023 following the boost in construction.
---
Road Ministry to use plastic for NH construction


The Ministry of Road Transport & Highways (MORTH) is encouraging the use of waste plastic in highway construction, especially on National Highways (NH) within a 50-km periphery of urban areas with a population of 0.5 million or more.
---
Editor's Desk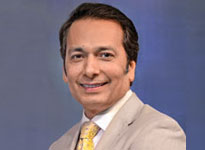 Pratap Padode / Founder & Editor-in-Chief
Here's why we need 20 L&Ts
While several scoff at the idea of a target of $ 5 trillion economy, I read between the lines. For the first time, the theme of our country's leadership has changed since 2014.
THE BIG 5 SHOWS
25 - 28 November 2019
Dubai World Trade Centre