Metro rail to energise Chennai real estate
01 Mar 2023
Long Read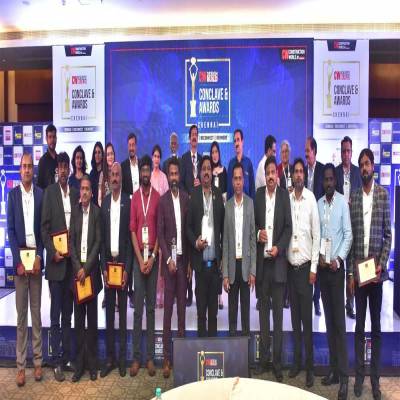 As per report by Housing.com, the sales and launches of real estate in Chennai in 2022 were only higher than Kolkata among other metropolitan cities in India. At the recently concluded Construction World Design Build (CWDB) Conclave and Awards in Chennai organised by FIRST Construction Council, experts suggested, even in the backdrop of ongoing sluggishness in real estate, the residential segment will continue to drive growth in the Chennai real estate market and initiatives like metro connectivity will aid it.
Like other major cities, Chennai has experienced a sluggishness in the real estate market. However, the inception of the metro has always acted as a price booster in the backdrop of this situation. Earlier Thirumangalam area of Chennai experienced a 15–35 per cent surge in land values near metro stations. Rates increased 8–10 per cent in Bengaluru's CBD micromarket as well as a select SBD areas like Indiranagar, CMH Road, Jayanagar, Malleswaram, Yeshwanthpur, and Rajajinagar.
The 7.4 km first metro line which opened in 2015 connected important areas including Airport, Government Bus Depot, South Chennai, and the Central Business District. Now the 118.9-km Phase II project of Chennai Metro Rail being built at a cost of Rs 61,843 crore is set to cover another 93 km in the coming years and the plan is to extend it till Parandur, where a greenfield airport has been proposed. This development experts have suggested that this will have a positive impact on the real estate scenario. T. Archunan, Director - Projects, Chennai Metro Rail Corporation confirmed this when he informed the audience that, "Once we publish the alignment for a new metro line, construction activities and real estate densification is witnessed within 300-500 meters on either side of the line. By the time we complete the project in five years, the cost of office spaces and housing increases."
For ensuring timely completion of mega infrastructure projects including metro rail projects Ashwin Moghe, Sr. Vice President, Aditya Birla Group (Ultratech Cement) suggested the implementation of the PDCA cycle "The PDCA cycle," he clarified "is a continuous loop of planning, doing, checking (or studying) and acting which makes way for a simple and effective approach to solve problems and manage change."
Residential sales in Chennai grew 8 per cent YoY in 2022
Source : Housing.com
V. Nagarajan, Editor and Publisher, A guide to Chennai real estate points out that in the current scenario Mount Poonamallee road and GST corridor are some of the areas poised for growth, adding that the metro rail is catalysing growth of real estate especially in the GST corridor.
Source : Housing.com
The residential segment has been a resilient player in the Chennai real estate market and a lot of this is attributed to developments which unfolded during the pandemic. Vikram Vidyala, Senior Executive Director, Zonal Head – South, CBRE says "The pandemic has definitely accelerated the demand for residential units as people have realised the importance of owning a home and having a comfortable and safe living space. With remote work becoming the new norm, people are also looking for homes with more space, amenities, and a better work-life balance. This has resulted in a shift towards larger apartments with additional rooms and balconies, and even towards independent houses and villas. Moreover, with interest rates at historic lows and attractive payment plans being offered by developers, the affordability of buying a home has also improved, which has further boosted the demand for residential units."
Even in the office space segment too the story has been quite buoyant. According to Knight Frank's India Real Estate 2022 study, the post-pandemic expansion in Chennai's various industries, particularly IT, ITES, and health, appears to have sparked a historically high rate of demand for commercial spaces on a lease basis. The research states that around 6.5 million square feet were absorbed in 2022. The majority of office space transactions on OMR took place in the Kandanchavadi, Taramani, and Kottivakkam neighbourhoods.
Though the residential and office segment is doing well, It seems that the retail space in Chennai is taking a beating Ramkumar K, President, Association of Professional Property Consultants of Chennai says "The organised retail in Chennai Real Estate has reached a point of saturation with about six million square feet of retail. However, there is still a lot of interest in retail activity across South and West Chennai. Data centres thankfully are witnessing a growth trajectory in Chennai, more so because the government is promoting investments in this space."
Though the year began with a dose of uncertainty in the global housing market which had real estate investors worried pan India, it was realised that the impact of this development will not haemorrhage the real estate scenario in India and a growth of 8 per cent has been predicted by the market experts. So overall, even though there may be some challenges and uncertainties in the Chennai real estate market in 2023, it is still expected to grow steadily, with a focus on affordable and well-connected properties that cater to the changing needs of buyers and investors.
Related Stories