Sans Souci illuminates' residence with luminous brilliance
01 Sep 2023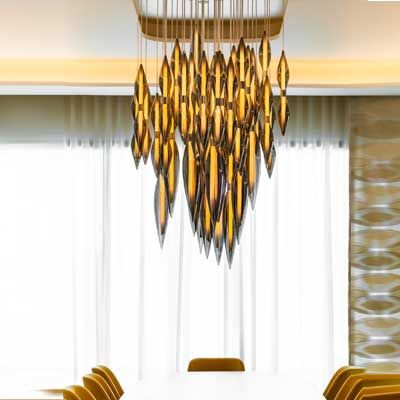 Renowned Czech luminary powerhouse, Sans Souci, celebrated for crafting bespoke ornamental illuminating apparatus, glass artifacts, and architectural elements for ventures spanning the globe, has enriched a Dubai-based residence with its resplendent luminosity.
Impeccable interiors beckon for lights that astound, harmonising with their inherent splendour and elegance. Within the opulent realms of a Dubai abode, an exquisite narrative of superlative existence unfolds, courtesy of the legendary luminance crafted by Sans Souci.
A pair of illuminative marvels graces the confines of the residence nestled within the Four Seasons Private Residences Dubai at Jumeirah—a stand-alone bastion of lavish dwelling, commanding a panoramic vista of the Dubai canal. Situated within a stone's throw from the eponymous hotel, this enclave offers a privileged enclave where denizens bask in exclusive access to its opulent amenities and bespoke services.
Four Seasons Private Residences Dubai at Jumeirah epitomises opulent living, occupying a coveted realm within the heart of the cosmopolitan cityscape, a quintessential address that ranks among the most esteemed and sought-after destinations within the dynamic core of the UAE's capital.
Sans Souci derives wisdom from the annals of ancestral glass craftsmanship, harnessing the essence of bygone generations to breathe life into their artistry, firmly anchored in the Czech heritage that bestows unrivaled excellence upon their creations. The brand stands as a virtuoso in the realm of forging innovative architectural embellishments, encompassing a repertoire that spans from intricately designed railings and staircases to resplendent tables, celestial skylights, stately columns, and a pantheon of other masterful manifestations.
Related Stories