Luxury home theatres by MADS Creations
01 Jul 2021
Long Read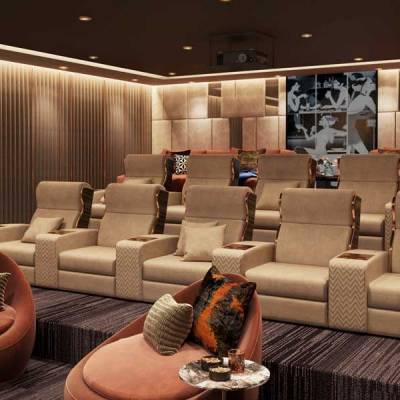 Home, the safe haven for one today has become the place for everything from work to entertainment. This has led to interiors makeovers with designated spaces for entertainment with a variety of home theatres. MADS Creations has crafted luxurious home theatres that can be enjoyed with family with an acoustically sound environment fitted with plush seating and mood lighting.
Luxurious and elegant home theatre
This home theatre offers super comfortable seating at different heights for convenient viewing of the screen. The recliners are made of wood with leather upholstery and metal details on the sides. The orange easy chairs are clad in velvet. The end tables have a metal base with stone top.
Wall panels made of fabric with metal strips are also affixed with light fittings to illuminate the room and create a warm, cosy environment. The back wall has a contract art placed in the centre to create an aesthetic for this room which instantly uplifts its aura. Throws and cushions add colour to the space. The carpet tiles on the floor take care of sound-proofing.
Contemporary chic home theatre
Pinched fabric paneling and a wooden paneling create the perfect acoustic environment, as well as add layers of details to the walls in this home theatre fitted with light fixtures mounted on the ceiling for illumination and mood lighting.
The deep loungers upholstered in plain velvet fabric in a deep blue shade show a stark contrast from the walls bringing an instant brightness to the room. Chic and stylish coffee tables made of wood with PU finish are placed between the loungers for people to enjoy a snack, meal or a drink while experiencing the home theatre.
A shelf created in the hollow of the wall acts as a storage and display for décor, trophies of entertainment reels that one would need in this home theatre.
Related Stories