Anirban Sen of Epiroc: Companies are moving more towards green & clean operations
01 Aug 2021
Long Read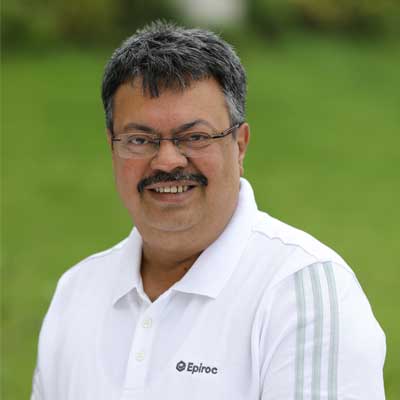 Anirban Sen, Underground Business Manager, Asia Pacific & India – Underground Division, Epiroc Mining India, speaks on government's focus on Atmanirbhar Bharat, and how it would catapult growth for the CE market.
In light of the plans of infrastructure creation and reforms in mining, what opportunities do you foresee for underground mining equipment?
Safety and sustainability will be the key factors for underground mining in the future and companies focussed on these two key factors, will always have the edge. We are seeing a trend that the big players in underground mining are focusing on environmentally friendly equipment and operations. Companies are moving more towards green and clean operations and want to reduce their carbon footprint. Moreover as underground mining is labour intensive, companies are looking in autonomous or semi-autonomous machines to embrace and promote safety in this domain.
The Indian underground mining is poised for growth and we feel that there will be abundant opportunities for battery electric vehicles and autonomous or semi-autonomous fleet in years to come.
How has the second wave of Covid-19 impacted the underground mining equipment industry?
The second wave of Covid-19 has a massive impact on timely deployment of machines in terms of delivery. The wave has affected supplies from various sub suppliers leading to major cascading effect on deliveries. We have also seen increase in prices of input materials like fuel and steel, which ultimately had a considerable effect on our production costs. The fluctuations in currency exchange rates as well shortage of containers with added delay due to Suez Canal episode had not only increased in our input costs but also delay in receipt of components from our overseas suppliers. So overall the second wave has a long cascading effect, which would take manufacturers some more months to cover.
What is the current scenario of underground mining in India? Which are the minerals mined by underground mining?
In India, underground metal mining operations are present in pockets. The major minerals mined are zinc and copper. Apart from these two, we have limited production of gold, manganese, uranium, silver and lead.
Most of the mines in India are owned by the public sector. There are very few players in the private sector who can also be considered as pioneer in this field in India and they are taking great strides in introducing new smart and green technologies in the country.
What are the major risks involved in underground mining?
Safety is of utmost importance for people working underground. Accidents can happen due to geological disturbances like instances of fatalities due to rock fall. There can be accidents due to incorrect machines deployment or advice. Fatalities have also been seen due to insufficient ventilation leading to high presence of obnoxious gases. Apart from the above factors, accidents can take place if you, while working in underground, are not careful and do not undertake ownership of your own safety.
Which are the major equipment used in underground mining applications?
Epiroc has been a proven underground mining supplier. For more than 140 years, Epiroc has been a leading supplier of mining and rock excavation equipment. Today, in addition to offering a comprehensive range of products, we also help clients optimise underground mining projects. We can help with operator training, equipment optimisation, service plans, financing and more. Our team will address your specific needs to create solutions focused on increasing productivity and safety in your mine. Our portfolio includes machines for underground drilling, loaders and trucks, ventilation systems, rock reinforcements, raise boring and mechanical rock excavation equipment, tools for such excavations and other excavator attachments.
With the government focusing on the vision of 'Atmanirbhar Bharat', how would it catapult growth for the construction and engineering equipment market?
While we have been present in India for the past 60 years, Epiroc India is already traversing the path of 'Make In India'. Availability of talent, skill, service and cost efficiencies in production and facilities have given momentum to more of the manufacturing to happen in India. With good innovative solutions, equipment are manufactured in India not only for Indian markets but also for global markets. The Government should encourage more and more international players to start operations in India and soon we will see India as a major hub for equipment for such heavy engineering segments.
What are the new developments in equipment and technologies in underground mining? How IoT and digital technologies are evolving in underground mining?
Epiroc has a wide range of mining and tunnelling equipment ranging from face drilling rigs, ventilation systems, bolting equipment, continuous loading and haulage equipment. Epiroc has made tremendous progress with its digital and automation solutions, providing mining and civil engineering customers with increased safety, enhanced operational excellence and improved productivity. Epiroc is in sync with the times and provides the customer with reports and real time scenarios for all applications.
Our goal is to make our customers' value chain and operations smarter, safer and seamless.
We achieve that by:

Long term commitment and strong partnerships
Automation solutions based on proven rig control system
Open systems and standardisation for mixed fleets
Telematics solutions based on interoperability platform
6th Sense is our answer to our customers need for digitalisation to make their operations safer and more productive. Under this umbrella we have gathered a suite of solutions and a holistic step-by-step approach to make change happen. Implementing new technology can be challenging. That is why our 6th Sense approach is based on close OEM – customer collaboration and continuously addresses people and process changes. The steps to success are called insight, control and optimise. This model has proven many benefits for our customers and for ourselves such as speed and quality on deployment.
The model can also be used to find out where in the value chain there is room for optimisation as well as for continues improvements.
Epiroc and our collaborative partner Mobilaris Mining Intelligence™ have set the industry standard for modern digitalised mines, widely used by industry leaders in all continents like state-of-the-art real-time 3D situational awareness for both control rooms as well as for all miners in mobile apps or allowing people/asset tracking and systems integration that opens the lid and enables transparency and empowerment for everyone just to name a few.
Why our customers choose this approach and suite of solutions when going for digitalisation is clear when looking at the results:
Examples from underground operations

35 per cent increase in utilisation of connected Simba production drill rigs globally
30 per cent increase in drilled meters with automation and Teleremote
20 per cent higher productivity from 6th Sense improvement project; analysing bottleneck and improving process
Up to 25 per cent reduction in complete evacuation time with Mobilaris Mining Intelligence
Up to 50 per cent reduction in energy cost for ventilation with Serpent Automatic (ventilation on demand)
What is your take on the future trend of underground mining in India?
Mining has been considered as conservative industry since long but now we are seeing shift towards intelligent mining across the globe and the same will also hold true for underground mining in India.
Automation and digitalisation is the future of underground mining.

The ore grade would continue to decline in the future and this will put pressure on the industry to adopt new technologies to provide more economical ways to extract the ore deposits.
The mines would continue to go deeper and deeper which will bring many challenges such as rock support, deeper operations and ventilation, etc.
Safety and sustainability are now key focus areas of the mining companies as the standards in safety, health and environment become tougher. Corporates are taking many initiatives in this lines.
Automation and digitalistion would also play key role in attracting the young talent to the industry when deciding on their profession in comparison to other alternatives such as IT.
Automation and digitalistion calls for new ways of working and we at Epiroc call it "6th Sense". Our 6th Sense underground solutions is the Epiroc way to optimise our customers' value chain through automation, system integration and information management – enabling a smart, safe, seamless operation.
Related Stories