AVIATION & AIRPORTS
India's first private jet terminal inaugurated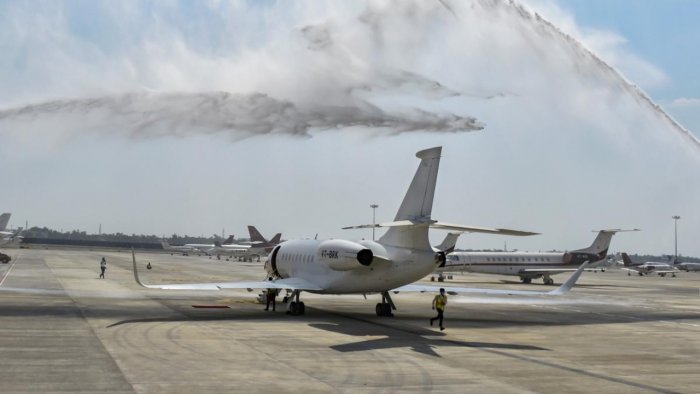 India's first private jet terminal inaugurated
Image courtesy: Deccan Herald
Union Civil Aviation Minister Hardeep Singh Puri inaugurated India's first and exclusive terminal for private jets at Delhi's Indira Gandhi International Airport on 17 September 2020. The terminal built over a period of one and a half years at the cost of Rs 1.50 billion is expected to result in faster movement of business jets and chartered aircrafts. 
The new terminal had been ready for use since July this year but a final green signal by the Bureau of Civil Aviation Security (BCAS) was awaited. The operations on the new terminal will begin from Sunday.
The terminal was built by Bird ExecuJet Airport Services which is a joint venture between Bird Group and ExecuJet Aviation Group. Reportedly, nothing was imported for the construction of the terminal and it is purely India made.
Spanning over an area of 8 lakh sq ft it has 57 dedicated chartered aircraft parking bays and can handle 150 private jet flights per day and 50 passengers every hour.
The terminal building consists of spacious passenger lounges, food and beverage sections, 24x7 personal concierge services and common processing area.
The terminal has an immigration and customs area. Facilities for crew members and staff such as restrooms and briefing area are available in this new terminal.
Approximately 40 Central Industrial Security Force (CISF) officers will be securing the premises by carrying out frisking of passengers etc. to ensure high standards of security at the terminal. Additionally, the terminal will have an access control system; Wi-Fi enabled services, and an integrated perimeter security control system to bolster security.
Earlier the private flights were boarded along with the flights of commercial passengers and had a similar process for boarding as that of non-premium price payers. The terminal now introduces exclusivity for premium price payers and will help them fly in no time. It will also help in using business jets as air ambulance to fly to remote areas. Although, private aircraft will still have to compete for take-off and landing slots with commercial flights. 
It is anticipated that the inauguration of this terminal will boost general aviation as operations of private jets fall under the general aviation category.
Opinion Poll
Question : Which among these would you pick as factors that have a maximum impact on time and cost overruns?