Magicrete introduces lightweight concrete ALC wall panels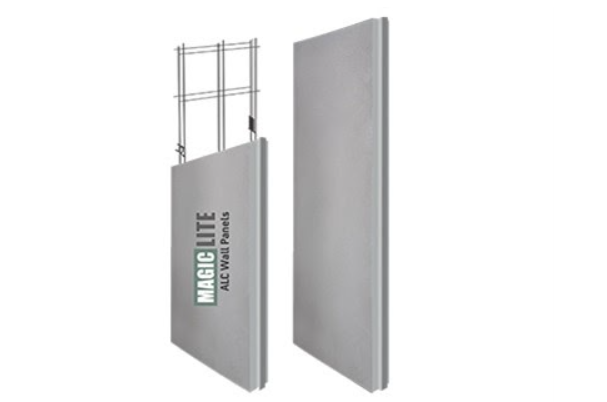 Magicrete introduces lightweight concrete ALC wall panels
Jun 03 2021,05:06 PM CW Team
Magicrete introduces Autoclaved Lightweight Concrete (ALC Wall Panels), a significant shift in wall construction technology in India. ALC Panel technology has witnessed high success in global markets and offers durable and high-quality construction in the shortest time possible.
Magiclite ALC Wall Panels is the classic green construction material that includes features desired by builders, engineers, and architects for a long time in the construction industry.
Its benefits exceed the traditional wall construction practices such as concrete blocks and clay bricks in terms of durability, fire resistance, thermal insulation, and installation time.
ALC Wall Panels are strengthened with corrosion-protected steel, making it a lightweight but heavy-duty product. It has the highest thermal rating in the industry (K-value: 0.16). Its cellular structure gives a well-insulated interior, which keeps the indoor cool in summer and warm in winter. As per studies, it has conserved up to 30% in air-conditioning charges.
MagicLite Panels are extremely resource-efficient, guaranteeing environmental effect. The panels have close air pockets that result in outstanding sound insulation (STC rating of 44 DB), sufficiently suppressing the outside noise. Its 4-hour fire rating permits thinner wall sections, thereby expanding floor space for the buyer.
They come in full height lengths (from floor to ceiling) with various thicknesses and are 600-mm-wide.
The pre-launch of MagicLite ALC Panels witnessed massive product recognition by some of the leading builders and architects in Mumbai and Delhi and is currently being used in a premium residential project of a Tier-1 builder in Mumbai.
Magicrete is one of the most considered new generation building materials brands in India to produce quality AAC blocks.
Over the years, it has ventured into a broad range of building solutions, including Construction Chemicals (tile adhesives & waterproofing solutions) & Precast Construction Products.
From the past decade, Magicrete products have been used to construct more than five lakh homes. The company was founded in 2008 by Alumni of some of the most notable technical institutions in India, including IIT Delhi, IIT Kharagpur, and IIM Lucknow and funded by Motilal Oswal Private Equity Advisors.
---
Also read: Charming kids rooms by Essentia Environments
Also read: Watch out for these 6 bathroom design trends