Watch out for these 6 bathroom design trends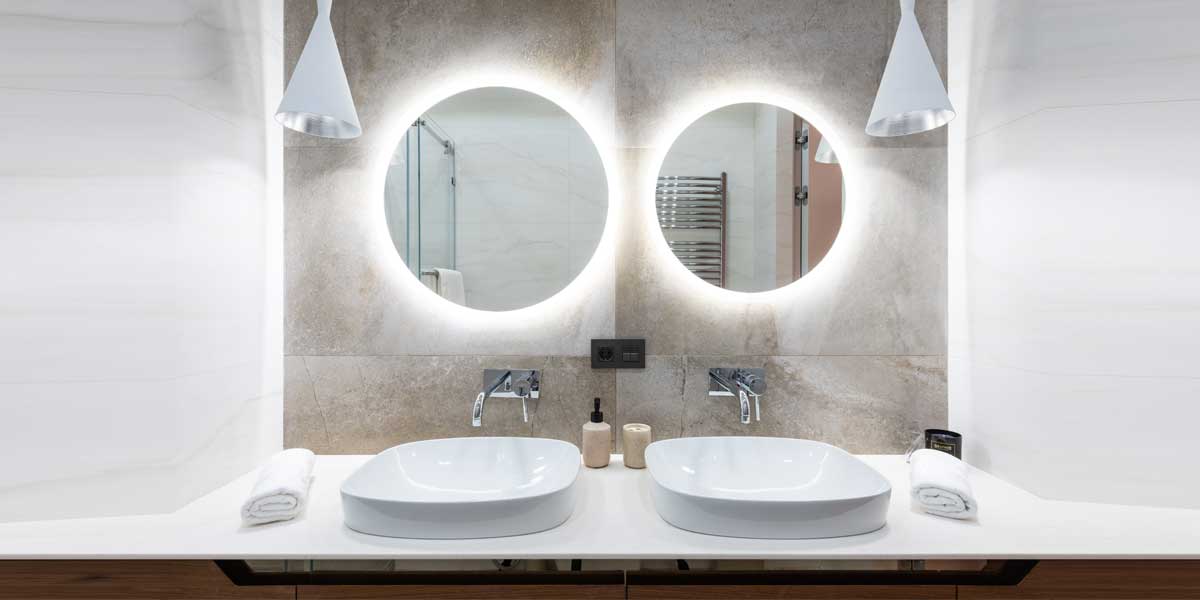 Watch out for these 6 bathroom design trends
27 May 2021 CW Team
Bathrooms are fast evolving into personal havens for homeowners. This has inspired designers to think out-of-the-box to create innovative bathroom solutions. CW DesignBuild gives you a lowdown.
From fittings to tiles and from lighting to cladding, every material that goes into creating a bathroom, which is your private sanctuary, plays an instrumental role. With lockdown and work from home being the order of the day, your home bathroom is valued today not only for its functionality but also for its aesthetic appeal. It is also interesting to note that with salons and spas being unavailable, clients are happy to create a spa-like ambience in the bathroom for relaxation. Naturally, all this has led to a change in design perception for bathrooms. Added to it is the drama of innovative fixtures and fittings, stylish textures and patterns and automation. Bathroom remodelling is a challenging task for interior designers today. Let's take a peek at the top 6 trends that are ruling the charts.
1.Smart features: Automation is the way forward. Smart toilets made waves in 2020 with features such as seat warmers and built-in deodorizer. Come 2021, technology for bathrooms has received an upgrade and today, we are looking at smart showers, automatic sinks, built-in Bluetooth music systems, colour therapy based lighting and temperature controls. A hi-tech bathroom dictates a minimalist design, even as LED panels and remote controls find a place in its design.
2. Luxurious and lavish: Bathrooms are turning into well-appointed spacious rooms that take care of your specific needs. Sanjyt Syngh, Founder, Sanjyt Syngh Design Consultancy, says, "Besides being bespoke and unique, it is also about introducing convenience and comfort. Let me explain this with what we did in one of our recent projects. We took almost 1200 square feet of space from the plate and converted it into a luxury bathroom. Apart from the usual walk-in wardrobe as a part of the space, we created a salon within the bathroom. It included a manicure, pedicure station upholstered in beautiful Italian leather. There were shampoo and make-up stations, too. This entire space had access to concealed storage, which housed multiple trolleys for make-up, hair and other salon products and equipment. A huge vanity with appropriate lighting, too, was added."
Abhishek Chadha, CEO & Founder at The KariGhars, says, "Designs are now about introducing luxury into the bathroom and marbles are a perfect choice. One can simply use marble patterns to just incorporate all-white or all-black bathroom interiors with little accents in accessories. An accent wall can be created by the use of patterns of various coloured marble or just a feature marble wall to fabricate the iconic luxe feel."
"Open style showers are all the rage this year. A finishing touch to the area can be provided by including a shower glass with a smoky finish, or a fluted texture to it. Not only are these fashionable, but are also great at hiding stains better than the transparent glass screens. Choose a look that complements the entire bathroom design. While smoked glass offers a more Bauhaus style effect, fluted glass goes perfectly with traditional decor," he adds.
3. Experiment with colours: Dull boring colours are replaced by stylish monochromes and pop colours to suit your fancy. Grey makes way for black for a more staid look while bright colours for accents are used to uplift the mood every time you visit the bathroom. A fun element can be added with the use of wallpapers, which is a trend that's making a definite comeback.
4. Totally tiles: "The current trend is to use cladding materials that are focused on textures, which could be contrasting yet subtle. Large-format tiles are in, however, marble remains a classic choice. Bathroom fittings in metallic coloured finishes have replaced the mirror finish chrome," says Founder of A Square Designs, Interior Designer Ajay Arya.
According to Chadha, "Designers are playing with textures and colours that tiles can be created in and used as. Metallic tiles are the new trend. It can be used as an accent over the sink or by the shower and offers highly opulent interiors. The shine from the metallic shade coupled with the mirror and lighting will give the room a spacious illusion. One can also opt to go for highlighted patterned tiles on the wall that present a depth to the bathroom dimensions and showcase the room further with the lighting aesthetics used."
5. Light it up: Certain concepts such as floating vanities, wooden accents and sleek storage spaces have elevated the functionality of a bathroom. This makes lighting an instrumental part of bathroom design. "Floating vanities, back lit mirrors and accent lights add up to create a luxe feel," points out Arya. Metallic fixtures with sustainable LED lighting solutions are a big part of bathroom design trends.
Chadha elaborates, "Lighting is extremely important not only for its practical reasons but also for the aesthetic purposes it serves. Minimalist and linear lighting allow other elements to shine in the bathroom more brightly. Consider opting for a mirror with integrated lighting for a better ambience. Hanging lights can lighten up a dark corner and also become the focal point of the bathroom."
A bathroom is a private space and it reflects the personality of the homeowner more than any other nook in the house. With these trends, you can create a perfect haven to relax and rejuvenate yourself.