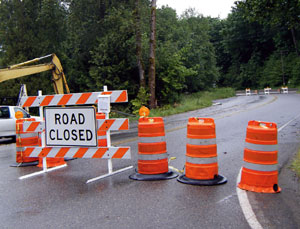 Silence zone
01 Feb 2013 CW Team
Proposed guidelines by the Brihanmumbai Municipal Corporation (BMC) to control noise pollution at construction sites are expected to bring relief to city residents, discovers
SHUBHANGI BIDWE
.
As construction activities soar in the city of Mumbai, so does noise. Wherever you go, sounds of hammering, blasting and drilling assail you; this can even become a major health concern, especially for elders and young children. With this in mind, in December 2012, the Bombay High Court directed the BMC to frame guidelines to control noise pollution during construction activities.
Implementation issues
The proposal was tabled recently with the municipal secretary by Dilip Lande, Group Leader, Maharashtra Nav Nirman Sena. "The noise pollution caused by these construction activities adversely affects people living around construction sites," he says. "Builders should therefore adhere to the BMC guidelines and lay a partition around their site. This will prevent the spread of noise to surrounding areas. It will also prevent dust from spreading as while transporting materials by truck, a lot of mud spills on the ground, making the soil wet and causing accidents. The builder, therefore needs to clean the roads after the day's work is complete. Again, this should be mandated in the agreement." The mandate is yet to see the light of day, but it has garnered many supporters. Rajiv Kukunoor, Chief Engineer, Development and Planning (DP) Department, BMC, also upholds the need for such a proposal. "BMC will ensure strict implementation and the perpetrators will be severely punished," he iterates.
Banishing noise
For his part, Jagdishkumar Gupta, Chairman and Managing Director, J Kumar Infraprojects, recommends the use of noise barriers and barricades during construction activities.
"We generally install barricades during the construction of our projects," he affirms. "This also prevents infiltrators from entering construction sites. The use of soundproof generators also ensures efficient execution of projects."
Another important issue is the use of noise-free equipment for construction activities. The prescribed noise level is 75 decibels for compactors (rollers), front loaders, concrete mixers, cranes (movable), vibrators and saws used for construction activities. Anand Sundaresan, Managing Director, Schwing Stetter India, is in tandem with this proposal. "In the industry, whatever equipment we use causes a certain amount of noise pollution," he points out. "So if the BMC specifies a maximum noise limit for construction, it is absolutely right. The use of non-vibrating equipment, which is readily available today, is also an important decision." He cites the instance of concrete pumps that make a lot of noise.
"To counter this, we have introduced a noise reduction canopy that can be used to encase these pumps," he adds. "This will help eliminate noise pollution."
Not everyone's aboard Not everyone is on board with the new proposals, though. Asit Patel, Managing Director, Gujarat Apollo Industries, terms this, "a very impractical law." He adds, "Passing this law can adversely affect equipment sales as it will prevent a contractor from even launching an aircraft inside the construction site, making transportation of materials harder. Instead, the construction work should be rescheduled."
While suggestions and opinions fly back and forth, the BMC is yet to arrive at a firm decision. Till then, the noise rages on.
To share your views on this report, write in at feedback@ASAPPmedia.com
Discover the Cement Expo! Click the button below to explore all the event details.
Opinion Poll
Question : What are you most interested in Construction Technology?