New car air purifier tackles India's biggest airborne problem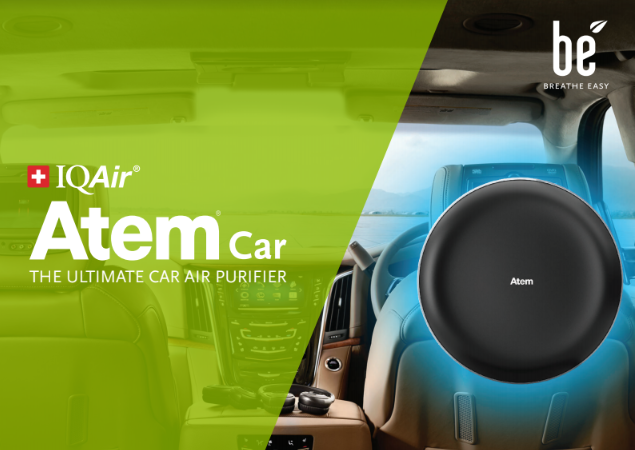 New car air purifier tackles India's biggest airborne problem
An indoor air quality (IAQ) solution provider has launched a new product,to eliminate toxic fumes and gases from traffic pollution and purify the air inside cars and is available in India.
The IQAir® Atem Car by BreatheEasy Consultants Pvt Ltd is a quiet and compact car air purifier. According to the company, the product can clean the air in the car up to 20 times per hour and capture a range of road and in-vehicle air pollutants. Its technology provides filtration of in-cabin air pollutants by combining different media types, including a particle filter that filters all types of airborne particulates━including the dangerous PM2.5, allergens, road dust, diesel particles and even bacteria and viruses━and a gas phase filter which adsorbs a wide range of odours and chemicals.
The filter uses air filtration technology which is tested and certified to capture a wide range of in-cabin air pollutants, all compact housing designed to blend into any vehicle cabin.
The IQAir® Atem Car is made with Swiss engineering and German workmanship. The features of IQAir® Atem Car air purifier as specified by the company are:
A high-efficiency filter specifically designed to remove fine pollutants such as PM2.5, ultrafine particles, allergens, diesel soot and pollen with a minimum efficiency of 99% at 0.3 µm. A gas-phase filter media also adsorbs odour and chemicals.
A filter ID chip to monitor the life span of the filter.
Automatic operation means that once plugged in and switched on, the IQAir® Atem Car turns on and off automatically with the car's ignition.
Other salient features include:
Airflow adjustment
Airflow indicator LED
The IQAir® Atem Car app
Crash tested car mount
Car power cord—12-24V
The IQAir® Atem Car is exclusively made at IQAir production facility in Germany and is covered by a two year warranty.
Written from a company news release.
Opinion Poll
Question : How will the Union Budget 2021-22 impact EPC projects?